The internet is full of tips about how to improve your website, grow your traffic, and how to "earn links" (and hence rankings) by writing great content. That's great and everything, but it's also pretty infuriating if you have a brand new website and no traffic yet.
If this sounds like you, you may well be asking:
How can I earn links (and rankings) when I have no traffic?
Without any way to earn links, how am I supposed to get traffic?
It's a vicious cycle, and the truth is that one of the hardest aspects of SEO and internet marketing is making a start and getting the ball rolling.

But the good news is even brand new websites can leverage content marketing to start earning links and building traffic. The aim of this post isn't to make you an SEO expert, it is to help you to do (arguably) the most important three tasks that befall any brand new website on the modern web:
Start producing great content
Generate targeted traffic
Start 'earning' links
Avoid Time Wasters
There are plenty of advanced SEO strategies you can use later, but while you don't have any traffic, many of these things will make a negligible difference. The risk is focusing on the minutiae will take away from time spent doing something more useful and effective.
Start With On-Page
Your very first goal should be to get your website in order. It doesn't need to be perfect, but it needs to look good. Don't worry about getting indexed or whatever, just worry about what your first visitors will think when they arrive.
This means that your first few goals should include:
Write your first blog post (here's a good how-to from Mack Collier)
Create a few more blog posts
Ensure your blog front page looks presentable
Create a list of all of your pages and posts
For each post, create a unique title and description
Ensure your site looks good and works on all browsers
Numbers 2 and 5 in particular will be ongoing tasks, so while these steps are important, don't get bogged down in the on-page SEO at the expense of starting to actually drive some traffic. Try to make good habits now and keep your alt tags in order and your titles and descriptions the right lengths.
Generating Traffic
As soon as your site looks presentable and lived in, you need to start driving some traffic to it. Without traffic, no one will find your content and you certainly won't earn links. So where should you start? There are plenty of options, but here are four which I have found to be particularly effective:
Option 1: Blog Commenting
Commenting on blogs which are relevant to your niche is an important way to become known. You will have the opportunity to show off your expertise and give a little insight (your comment must be useful) and you get a link back to your site.
Now I should note that blog commenting is NOT directly beneficial for SEO. But that's not what we're trying to achieve here. We want to generate traffic and get the attention of the right sorts of people.
It can generate a little bit of traffic
The traffic it generates is likely to be highly targeted
People who read comments are often influencers
It is a great way to get on a blogger's radar
The power of commenting on blogs is in the types of people whose attention you can attract. If your comments are insightful and show you as an expert in your field, then when people read your comment your personal brand will be boosted. In particular, it is a sure way to get the attention of the owner of the blog, and that person is likely to be an influencer in your niche. For more insight, I recently wrote a post at ThinkTraffic.co.uk detailing a full strategy for blog commenting as a way to drive traffic.
Option 2: Industry Forums
Every industry has them, forums where people hang out and help each other with whatever issues they might have. Quora is an example of a more generic site, but there are also more specific ones.
At Think Traffic, a lot of our traffic comes from business forums where we participate and help small business owners with their SEO related questions. This is normally very good quality traffic, although with fewer content creators then generated by commenting.
Our favourite forum for small businesses is UK Business Forums. Another good forum in the UK we use is Business Labs. Of course which forum you use depends on where you are and what you do (I have no affiliation with either).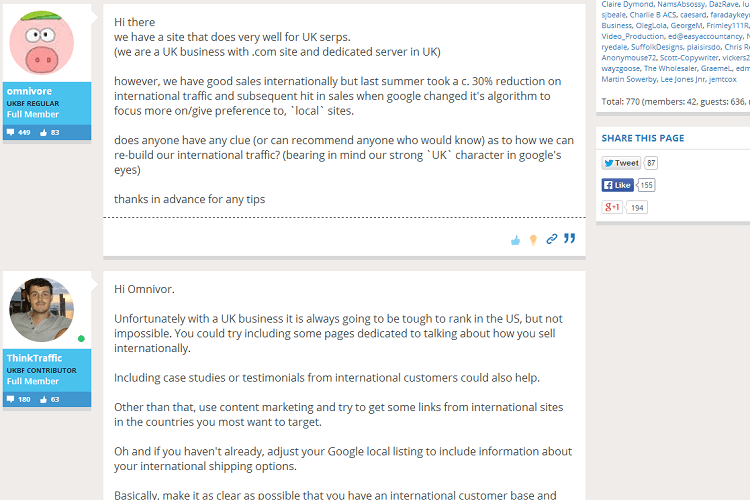 (the start of) A typical conversion in the UK Biz Forums SEO category
Some forums can be spammy no doubt, but many forums exist with highly engaged audiences either looking for help or eager to help others. When looking for forums to use, read past threads and see what sort of questions are being asked and what sorts of topics are being discussed to see if they are a good fit.
Option 3: Paid Traffic
Remember that for now you are trying to get the social ball rolling. Even if paid traffic isn't part of your long term marketing strategy, a little paid traffic now could help to get the ball rolling for your business.
To pull this off you need to use social traffic sources and drive traffic to your blog and your content. This stage isn't about selling, it's about getting your social audience established. If you have the budget, this can push your marketing forward.
Option 4: Social Media
Generating traffic from social media isn't nearly as instant as the first two options, but getting your social media accounts started now will help you to seem more established and credible in the next few weeks as you start using content marketing.
Content Marketing
You have almost certainly heard this phrase banded around a lot lately, but the reason it that it works, really well. But only if you do it right. Once you have followed the steps above, you should have a trickle of traffic, and content marketing is how you will grow that to a steady flow.
Step 1: Set a content schedule
One of the most important steps is being consistent. Setting a schedule and sticking to it will ensure that you adapt your mind to the content writing thought process, and this will help you to write better content. Aim for two posts per week if you can, but whatever you do, stick to your schedule.
Step 2: Continue commenting
Keep up your blog commenting, because this is how you will drive traffic to your content. The more you do it, the better known you will become and eventually bloggers will start to notice.
Step 3: Link bait
The most important thing is taking the time to write really awesome content, but there are other ways to increase your chances of getting your content linked and shared. Here are a few:
Write posts in response to other bloggers' posts
Agree or disagree with other bloggers (explain why)
Find old content and update it
Link to other bloggers (and tell them)
Guest Posting
The strategy I have outlined above can work on its own. The whole thing is based around the principal of producing consistently great content and getting the right sort of traffic to see your content until you eventually get traction and your content starts generating its own traffic.
But guest posting in the right way is a powerful way to boost this traffic and can get your content noticed faster.
You have probably already heard of guest posting and you know that it is a controversial topic right now, but everyone agrees that doing it in the right way is a great way to build traffic and find a new audience.
Guest posting the right way usually includes the following:
One great guest post per month is better than 100 ok ones
Use blog commenting and social media to get noticed
Reach out to bloggers who already know you (see above)
If your links are nofollowed, that's absolutely fine
If a post does well (get's you traffic) ask to write for them again
Follow up on posts, respond to comments
Just as with blog commenting, the more you guest post, the more recognizable you start to become and eventually you will find that bloggers even ask you to guest post for them.
And Finally… Be patient
As you start building more traffic there will be more you can do in terms of SEO and optimizing your site. But for a brand new website, if you want to build your traffic base as quickly as possible, this strategy is hard to beat.
As with everything though, you get out what you put in. Many websites have gone from zero to several thousand visitors per month in only a few months using strategies like this. But in those first weeks it can be slow progress. The more persistent you are, the more the more recognizable you will become, and the more credible you will seem (and often, credible = linkable).
Featured image created by author. Second image via Wikimedia Commons.