Editor's Note: This article explains local marketing strategies for a particular niche, but these techniques can be applied to any local business or franchise that is in a highly competitive commodity or consumables space such as fast food, coffee or business centers.
When it comes to deciding where to fuel up, consumers are using mobile devices to make split-second decisions based on these factors: which gas stations show up in the search results, if the local listings include marketing materials, and if their ratings and reviews make them more appealing than the gas station across the street.
This means in a competitive market of gas stations, store owners have to keep up with their marketing efforts. A multi-channel web marketing strategy is crucial to capture and retain consumers. This effort includes standard web searches, mobile searches, and more importantly – managing the ratings and reviews within the local business listings.
The Three Important Questions
There are three marketing questions to be answered:
1. Can your location be found in desktop and mobile search results for something as simple as "gas stations"?
2. Do you have your most current marketing materials in your local business listings on multiple search engines, 411 websites, social communities, business directories, and mapping websites?
3. If your location can both be found and have made marketing materials available, are you also managing the ratings and reviews in order to be competitive with nearby alternatives?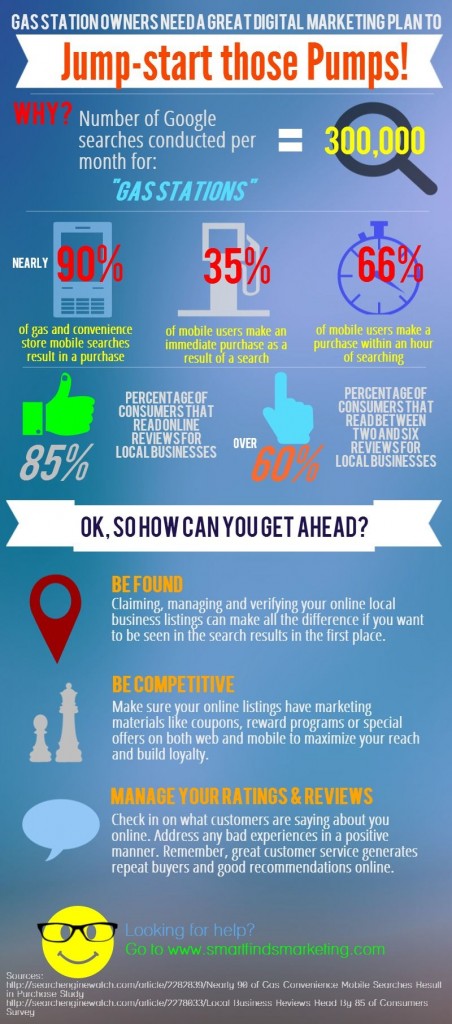 Why Does Your Gas Station Need to be Found in Search?
Google's keyword research tool indicates monthly searches for gas stations and convenience stores in the United States are high:
gas stations………….301,000
gas station…………..135,000
gas station near me…….74,000
gas stations near me……60,500
nearest gas station…….27,100
The volume of searches with these terminologies alone exceeds 500,000 searches per month in the U.S..
Will Consumers Buy if They do Find You?
A July 2013 article published by Search Engine Watch reported that, "Ninety percent of all searches on mobile related to gas and convenience stores resulted within a purchase. Of that, 35 percent of smartphone users intend to buy immediately; 66 percent intend to purchase within the hour." This shows that being found in a search for "gas stations" is very likely to result in a direct purchase within one hour of the search.
Relying on Only Mobile Apps For Your Marketing?
Gas station and convenience store owners tend to associate themselves with several mobile apps that depend on consumers sharing gas prices. While both of these are good marketing channels, they should not be the only channels.
You can benefit significantly from expanding your marketing channels to include both desktop and mobile searches. Store owners should not be quick to assume consumers owning a mobile device use a specific app to search for gas prices, because studies show that users more often use search engines to find gas stations.
Information Accuracy and Information Marketing Is Essential
"Eighty percent of mobile searchers in this category are looking for gas and convenience stores within a 5-mile radius. The majority (55 percent) seeks location info and 34 percent look for directions." [Search Engine Watch] If you have not claimed and updated your business listing information in the search engines, how can you expect to be found in the first place?
Merchants who have an accurate and consistent profile across multiple sources have a better chance of gaining customers and conversions.
Ratings and Reviews Stars Need Management
Let's assume you can be found, your information is accurate, and you have your most current marketing materials available on both web and mobile searches. The next major marketing element will be consumer ratings and reviews, which tend to be permanent and available in the search results. In June 2013, Search Engine Watch shared the results of a consumer review survey which showed that 85 percent of local consumers are paying close attention to the ratings and reviews from other local consumers.
Not only do stores need to establish their presence on the web and mobile, but it is equally important they focus on maintaining a positive image to solidify their competitive advantage. Be sure to check in regularly on sites like Yelp or Google Places to see what your customers are saying about your store. Bad review? Be sure to respond but keep your comments short, positive and professional.