Gary Illyes, Webmaster Trends Analyst at Google, opened up SEJ Summit Chicago with a twenty-minute presentation about what AMP is, why publishers should be using it, and what the future of AMP is (hint: it is going to keep growing and will likely roll out to product pages).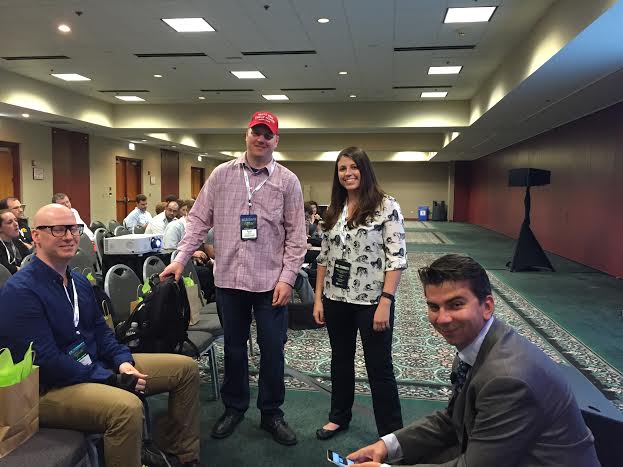 Here are a few of the top points he made during his presentation.
Why AMP?
According to Gary, for the first time this summer more Google searches were completed on mobile devices than desktop. And with terrible load times and too many ads, the user experience on the web is horrible for most users.
"We have this beautiful thing, the web. It is full of cats and chocolate, but we as humans have ruined it."
This matters because 40% of people will abandon a mobile site if it takes more than three seconds to load. This poor user experience means publishers are faced with new challenges. Because of slow time times, users have a poor perception of mobile web experiences. Which makes mobile extremely hard to monetize.
Gary encouraged attendees to "Make the Mobile Web Great Again". And AMP is the way to do it.
AMP pages are designed to create fast pages that are easy to implement. We already know how to make fast web pages – according to Gary that includes using less java, lower image resolution, parallelize the loading, limiting the number of hosts, and caching pages.
Four Building Blocks of AMP
HTML 5 (AMP HTML)
JavaScript
Custom Styling (CSS 3)
Global Proxy Cache
Gary said the most important building block of AMP is Global Proxy Cache, which has the largest effect on page speed.
Benefits of AMP
According to Gary, AMP pages are seeing an average of less than one second median load times, which is four times faster than average. In fact, the median load time for mobile responsive sites is a whopping 20 seconds. This is terrible for user experience, and AMP aims to change that.
In fact, Gary says 90% of publishers are driving greater engagement with higher CTRs and 80% of publishers are getting more views, and the majority of publishers are seeing higher eCPMs, which means more money.
The Future of AMP
According to Gary, Google is expanding AMP vertices to include Google News, Google Now, Play Newsstand, and Now On Tap. During the question and answer section, Gary said he does expect AMP to expand to product sites like Amazon.
Currently, AMP is not a mobile ranking factor. However, it could be in the future, as Gary didn't directly say it wouldn't be. Fellow speaker Carolyn Shelby chimed in to say that some of her sites at Tronc have seen an increase in mobile views by implementing AMP, just because those stories are shown in the AMP carousel.
Moving forward, site owners should work to speed up their websites, pay attention to AMP announcements from Google, and start talking to their developer about AMP.
Editor's Note: Article will be updated with information from the AMA panel at 1:20 pm C. We will also be streaming it live on Facebook!