Driving traffic to your website or Fan page through Facebook advertising is becoming a popular trend these days. And for good reason too! Facebook is easily capable of sending you thousands of highly targeted visitors! But with all of the advertising Facebook users are subjected to, what can you do to make your ad stick out?
Traditionally, Facebook ad click-through rates (CTRs) are pretty horrible. From my research I've seen that an average performing ad will have about a 0.02% CTR. A few weeks ago when I had decided that I wanted to use Facebook ads to drive awareness to a contest I was running called RavenHunt, I found my ads falling into that average category (or worse!). I had setup these two ads: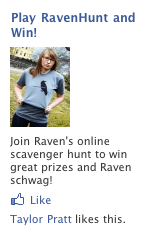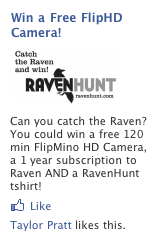 The "Play RavenHunt and Win!" ad had a CTR of 0.017%, and the "Win a Free FlipHD Camera!" advertisement's CTR was higher at 0.022%. Not bad CTRs by Facebook standards, but I wanted something more. So I asked myself, "Self, if you were the target audience for these ads and were putzing around on Facebook – what would make you click on an ad?" What I wasn't considering was that my target audience (Internet Marketers) are used to these types of ads. In fact, they are the type of people who create ads just like these.
So that's when I decided to get silly. People love to laugh, and it was my theory that if you had a funny enough ad you'd be able to increase your CTRs. Additionally, I knew that I needed images that naturally drew a person's attention to them. I needed kittens and puppies.
And that's when I created these two ads that doubled my CTRs: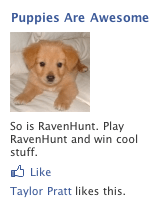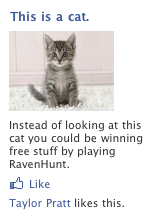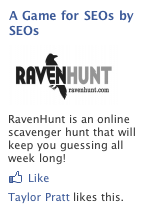 The "Puppies Are Awesome" ad had a CTR of 0.04% and the "This is a cat." ad was just shy of that at "0.039%". So by adding some fun to my Facebook ads, my CTRs increased. That got me thinking again – is there a way to combine the two approaches and still maintain a higher CTR?
And that's when I created the ad, "A Game for SEOs by SEOs":
This ad had a 0.06% CTR and didn't go overboard on the silliness. Instead, it spoke to it's target audience more appropriately, and still had a less than standard headline.
It just goes to show that with the right creativity and the right amount of effort, you can make significant differences to your Facebook ad campaigns. Now if only I can get that number up to 0.1%. Stay tuned.
Taylor Pratt is the Product Marketing Manager at Raven Internet Marketing Tools. With Raven you can conduct research and analysis, manage link building campaigns, track search engine trends, instantly produce ROI reports for SEO and SMM campaigns, and collaborate with team members with intuitive multi-user features.