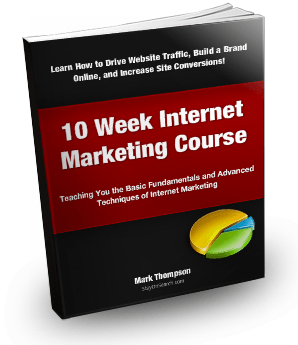 Today, I am really excited to announce a free 10 week Internet Marketing course that I have been working on over the past few months. It is jammed packed with some of the most up-to-date tips, tactics, and strategies that are valuable to both a novice and advanced Internet Marketer.
The course was designed to help you or your company, create a dynamic Internet Marketing strategy that utilizing all of the different ways you can drive traffic, build your brand, and increase revenue.
What's Included in the Course:
Each week you will receive a new training module that is focused on a specific aspect of Internet Marketing. Here is the course outline.
Week 1 – Strategy: Understanding Your Goals and Setting Expectations
Week 2 – Market Research & Analysis: Know Your Target Market Before Spending Marketing Dollars
Week 3 – Paid Search: Using Pay-Per-Click Strategies to Drive Relevant Traffic that Converts
Week 4 – Search Engine Optimization: How to Gain Free Exposure and Traffic Through SEO
Week 5 – Content Creation: Creating Compelling, Valuable, and Viral Content
Week 6 – Link Building: How to Find Quality Link Building Opportunities
Week 7 – Local Search: Capturing Localized Traffic to Your Website
Week 8 – Social Media: Build Your Brand, Drive Traffic and Form Relationships Using Social Media
Week 9 – Making Money: How to Monetize for Your Website or Blog
Week 10 – Website Analytics/Testing: Understanding Your Audience and Increase Conversions Using Web Analytics
I also have a few special bonuses along the way, so you will want to make sure you sign-up today!