The choices you make aren't as rational as you'd like to think. Your emotion plays a big role in influencing your decisions. This emotional factor is perhaps the reason why most people prefer Coke over Pepsi despite the latter winning blind tasting tests. That's exactly why you should use it to an advantage and tap into your customers' emotions for marketing your brand and products. And what better way to do this than through influencers?
And what better way to do this than through influencers?
Several facts prove how influencers are a great way to reach out to an audience and form an emotional bond with them. According to Nielsen, 83% of consumers trust recommendations from people they know. Acumen also found that over 60% of people across all age groups would try a brand or product that has been recommended by a YouTuber. The reason behind this is that they trust those people and have a positive attitude towards them. They've formed an emotional connection, and they feel like they can relate to them.
Emotional Bonds and Consumer Behavior
Before we get started with how influencer marketing and consumer emotions are intertwined, let's take a look at how emotion plays a role in consumer behavior. According to Antonio Damasio, a neurology professor at the University of South California, emotion plays an essential role in almost all decisions. Psychology Today published an article regarding his findings, which are documented in his book Descartes Error.
Damasio says people associate certain emotions with previous experiences. They then use these emotions to give value to similar experiences they face later on and then make a decision based on those emotions. According to the article:
fMRI neuro-imagery reports shows that customers primarily use emotions rather than information when evaluating brands. Emotions may refer to anything from personal feelings to experiences. Information constitutes factors like facts, features, and brand attributes.
An ad's content doesn't have as much influence on a consumer's intent to buy as compared to their emotional response to the advertisement. The difference between the impact of emotional response and ad content is at the ratio of 3:1 for television commercials and 2:1 for print ads.
Emotion likeability plays the biggest role in whether an advertisement will increase sales for a brand. This means if someone views an ad and experiences positive emotions due to the ad, it's highly likely that they will make a purchase.
The influence of positive emotions on a consumer's loyalty is far greater than that of trust and other brand attribute-based judgments. So even if you find a brand trustworthy, and you feel their product has great features, chances are you won't buy from them if you associate negative emotions towards the brand.
It's clear that a brand is only as good as the consumer's mental representation of the brand or product. If this representation is only made up of certain attributes like features and pricing, the consumer doesn't have any emotional links towards the brand that will influence their preference and action. Positive emotional content in the mental representation will not only encourage sales, but also drive loyalty.
6 Successful Influencer Marketing Tips with Emotions
Understanding how emotions play a role in consumers' purchase decisions is only the first step. Now comes the hard part – getting customers to connect with your brand and products on an emotional level. This is where influencers come to play. The importance of influencer marketing is evident in all aspects of a brand's performance such as conversions, engagement, and brand awareness. It's equally effective in creating an emotional bond between consumers and brands.
People might have never heard of your brand, but they know certain influential individuals. They've identified with them, trusted them, and formed an emotional connection with these personalities. So you can make the most of their influence to get consumers to associate positive emotions with your brand.
Here are a few tips and ideas to help you out:
#1. Forget Big Influencers
The bigger the influence, the more exposure your brand gets. This is where a lot of marketers go wrong in choosing influencers for their brand. This is because exposure doesn't automatically help you create emotional bonds with consumers. If you're looking to just create brand awareness for the time being, top influencers may be a great idea.
When you're looking to form emotional connections, however, you need to focus your efforts on mid-level niche influencers. They could be bloggers or YouTubers related to your business with good engagement and fan following. Unlike big influencers, mid-level influencers often have the time to engage with their audience. For instance, a food blogger may be of much greater help than a celebrity chef in promoting your online grocery store.
Some may even find the time to answer each and every question fans raise. So influencers in smaller niches may have a much better ability to connect with audiences on an emotional level. This means you should be prioritizing relevance over mass reach. When you're searching for the right influencer for your brand, look for higher engagement levels instead of large social following.
Tyson Foods reached out to mommy bloggers and launched a "Play with Your Food" campaign over the 2012 holiday season. The idea was to have these bloggers share pictures and posts about Tyson chicken nuggets decorated in a holiday theme. As a result of this campaign, they managed to get 8.8 million impressions, which exceeded their goal by 70%. By Christmas time, the company had managed to empty their stock of chicken nuggets.
See how Amber and Deborah from Busy Creating Memories created a content providing instructions for kids craft using the nuggets: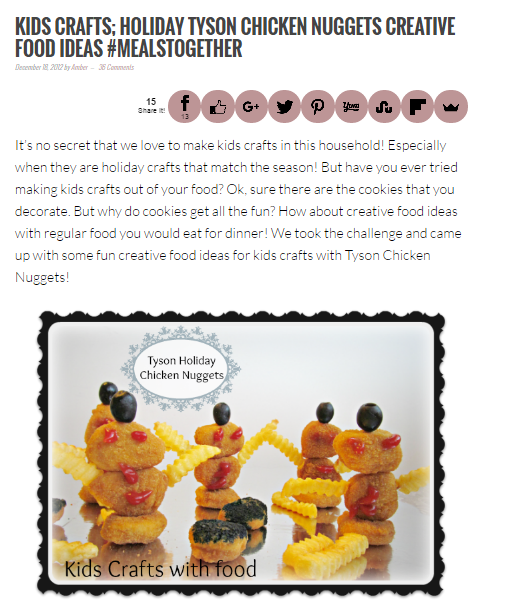 #2. Reward Brand Advocates
In marketing, anyone can be an influencer. So you don't have to limit yourself to well-known personalities. People who are already customers with your brand and love your products are useful brand advocates. Brand advocates are those people who love what you're doing and do everything they can to positively promote you without any expectations. They may not always have a huge social following, but they have friends and family who could just be your next customers.
You can implement these advocates into your influencer marketing by rewarding them. This will make it much easier for them to share their love for your brand. You could provide these advocates with exclusive offers or feature them on your blog or social media. Even the smallest of gestures could encourage them to promote your brand even further and give them a reason to rave about you.
It could be something simple such as sharing a photo taken by fans related to your brand or product. Take the example of Yorkshire Tea, for instance. The brand often shares images sent in by fans and manage to generate plenty of engagement on their Facebook page.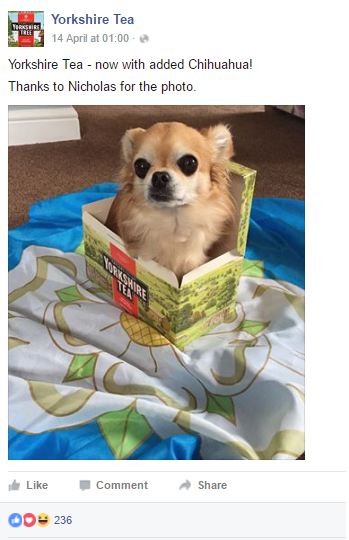 #3. Let Them Do the Talking
Influential people didn't gain a high level of influence out of sheer luck. They managed to build their influence because they know what their audience wants and how they want it. So give them the full reign and let them design the content around the preferences and needs of their audience. If you dictate the way an influencer promotes your brand, their efforts might seem contrived.
The relationship between influencers and their audience is often long-standing. Meaning that the audience has been following their content for a long time and they know what kind of content the influencer produces. Any difference in the way a blog post is framed or any change in content, they're going to detect it. If there's a promotional effort that seems unnatural, the audience is going to lose their trust in your brand. Even if it's the first time they've heard of you, it's going to hamper your chances of forming an emotional bond with them.
An excellent example of this is how Gap has an entire website dedicated to content created by influencers. Styld.by showcases looks that have been put together by influencers in the fashion industry. Each outfit has a story behind it, so visitors can easily relate to the influencer and the outfit. The best part is that Gap hasn't limited its definition of influencers to just fashion bloggers but also included publications with a big reach like Refinery29 and Conde Nast Traveler.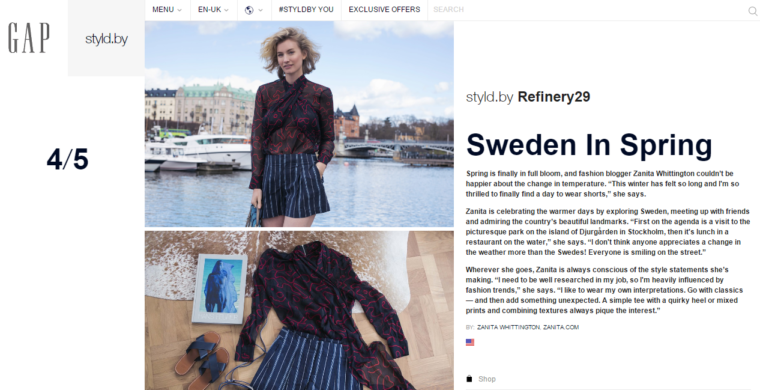 #4. Social Media Takeover
To many people, your brand may just be a company. They see your name and they immediately associate it with the products you sell. It's hard to form an emotional connection in such a way. So even if they like your products, there's no emotional factor that will influence their purchase or loyalty. This means you'll need to humanize your brand; let people know they're not just dealing with another faceless brand, but with other people.
An effective way to do this is by giving control of your social media accounts to a group of influencers for a limited period. This will help you interweave your brand story with a powerful story from the customer's perspective. You also gain access to an entirely new set of audience who can see a whole different side of your company. They will create social media posts on your behalf and help the audience in associating your brand to a public figure.
Maybe you could get a group of influencers to take over your Instagram account for a day or two. They'll post images of them using your product or showing their experience with your brand. A hotel chain, for instance, could have influencers posting images of them enjoying their experience staying at the hotel.
American Express does an excellent job of this by collaborating with mid-level influencers who take over the company's Instagram account. These influencers then post images telling their own story to humanize the company.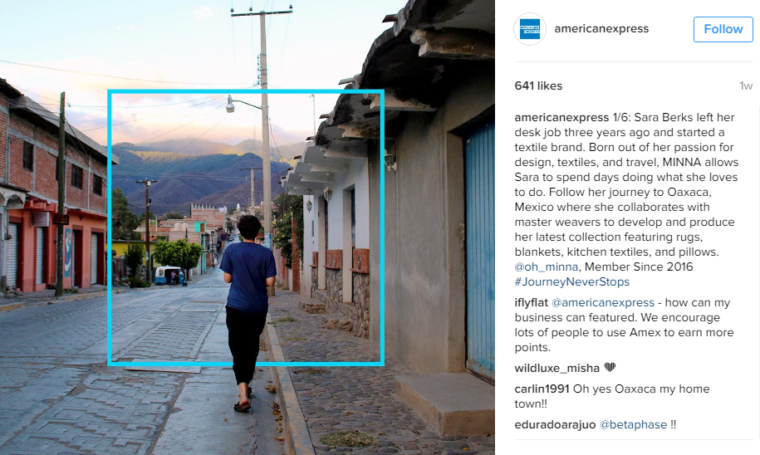 They recently collaborated with Sarah Berks, who has started the ethically-made textile brand MINNA. Amex card's Instagram followers joined Berks as she journeyed across Mexico and collaborated with master weavers to produce her textiles.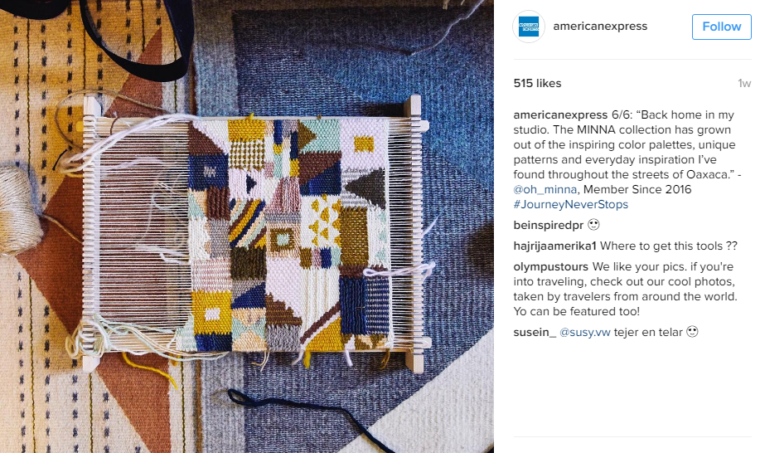 #5. Be a Storyteller
One of the most effective ways to form an emotional bond with consumers is by telling them a story. It could be any story – maybe about your product or brand or maybe about the people using your products. The idea is to let people know there's more to the product than what they see. It's something that they can use and may even form an important part of their lives. Influencers can help you do this even better by telling the story in a way that will resonate with their audience.

If you have a bunch of mid-size influencers who already love your product or service, you're in luck. For instance, your company deals in design software for graphic designers. If you can find a few graphic designers with substantial following on their blog or YouTube channel, reach out to them. They could help you tell the story of how your software makes their jobs easier and so on. Make a series of short videos where each graphic designer shares their experience with your product.
Downy pulled this off excellently with its #SoftSide campaign where they invited influencers to share their thoughts on what the soft side of life means to them. For blogger Jo Lynne Shane, her Downy soft side moment came to her during a half marathon training. Her post regarding this moment alone generated almost 200 comments.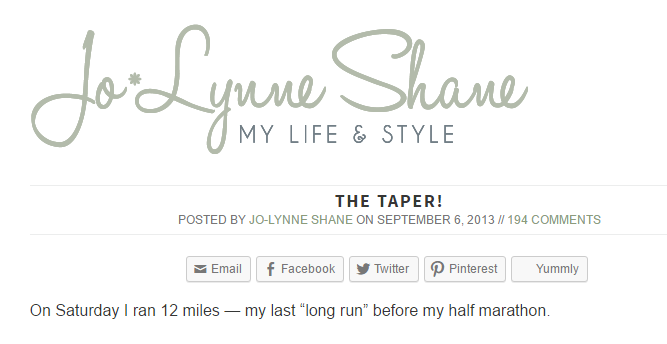 #6. Host Contests and Giveaways
Who doesn't like winning? Give your audience the chance to engage with your brand by hosting contests or giveaways through your influencers. When people have the chance to win something from a brand, they tend to engage better with said brand. So you can use the influencer's reach to promote your contests and get more people to engage with your brand.
Engagement is one of the initial steps to bonding. You can't automatically form emotional relationships with people you've never engaged with. So make the most of influencer marketing and competitions to create this emotional bond between you and your target audience. Create the contest or giveaway in a way that will help people get in touch with their emotions.
For example, you could get people to enter the contest by sharing their stories and past experiences. The winner will get a feature in both the influencer's and your brand's social media accounts along with a gift hamper of your latest products. Even if they don't win the contest, they've significantly engaged with your brand. So there's a chance they've started forming that emotional connection.
Zevia soda ran a giveaway campaign with influential Instagrammers like Jade Melissa offering $500 Visa gift cards to two lucky winners. The only condition for entry was to follow the brand's Instagram page and then tag three of their friends on any of their posts. The post generated over 1,000 likes and the brand now has over 10,000 followers on Instagram.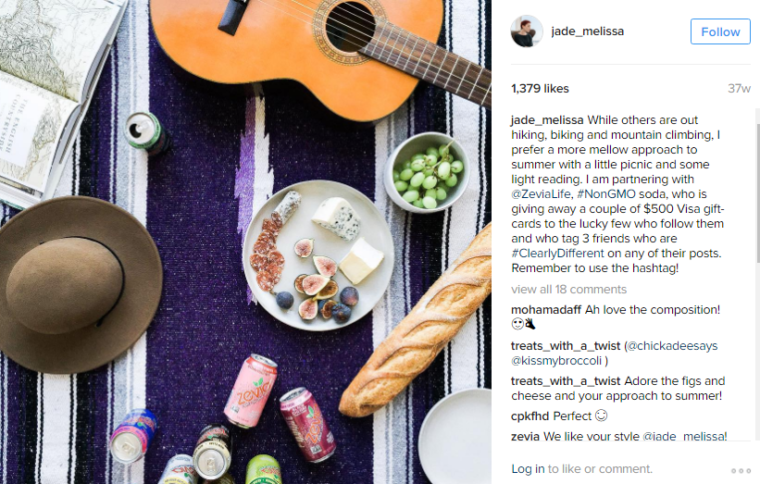 Conclusion
Your choice of influencers will determine the success or failure of your attempt to connect with your audience on an emotional level. Focus on that first and everything else will fall into place. Make sure you find an influencer who will be able to express your brand personality and messages naturally through their content.
After all, you'd want to ensure that the emotional bonds you create are organic and long-lasting. Got any more influencer marketing tips to emotionally connect with your audience? Feel free to leave your comment below.
Image Credits
Featured Image Purchased from: Weedesign /Depositphotos.com
All screenshots and images by Shane Barker. Taken May 2016.