Flickr has just introduced a new feature that it should have done long ago – Flickr2Twitter. If you use Flickr, this new feature would allow you to post uploaded photos directly from your Flickr to your Twitter account. Flickr2Twitter will create a shortened URL for your photo and post this as Tweet to your Twitter account.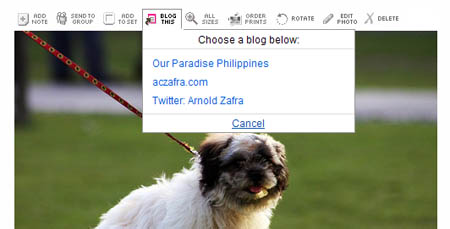 To use this feature, you would need to authorize Flickr to access your Twitter account. You will only need to do this once. After you've allowed Flickr to use your Twitter credential, a new option in Twitter's "Blog This" option will now include your Twitter account. Flickr would also give you the chance to compose the 140 character Tweet then append the URL of your photo.
The Flick team also announced that mobile posting of photos from Flickr to Twitter is now also possible. All you need to do is to enable your Upload by Email settings in Flickr. Once this is enabled, you can post photos from your Flickr account to your Twitter account by sending the photo or video to the unique Flickr email upload address plus "2Twitter".
Flickr2Twitter is a nice feature that will surely benefit both Twitter and Flickr but more so for Flickr as Twitter's popularity will ricochet to Yahoo's photo uploading service. And yes, this in a way adds a new lease of life to Flickr.