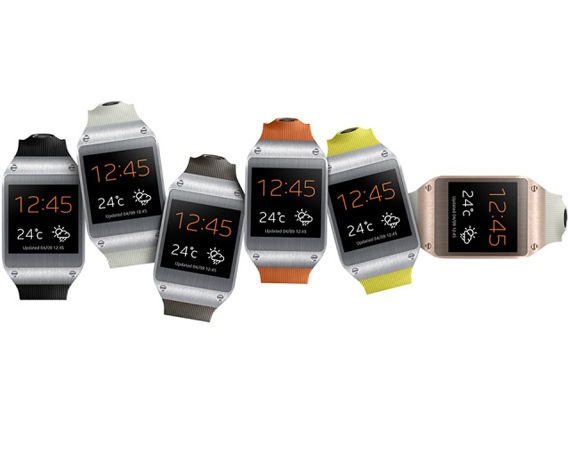 By now you've heard all the buzz, or complaints, about the Samsung Galaxy Gear. Whatever your feelings are on the smartwatch, the wearable tech game just got more interesting. While people are still debating the pros and cons of Google Glass or speculating on what Apple's smartwatch could be, Samsung's game-changing product has arrived.
For those uninitiated, the Galaxy will contain a 1.63-inch, 320 x 320 pixel Super AMOLED screen, a 1.9-megapixel camera, an 800MHz processor, 512MB of RAM and 4GB of storage running on Android 4.3. The camera will be located on the rubber wristband and you can even receive/make phone calls cause there's a mic and speaker in there too. The whole thing can be voice activated and will be the "perfect companion for the Galaxy Note 3."
While that might not impress techies, it's a start. And, what's really going to determine how revolutionary the Gear will be are the apps.
Samsung is promising that the Galaxt Gear is going to be app happy with 70 apps. The bad news? Not all of the apps have been announced. The good news? 16 of the 70 have been announced. The apps that have been announced make the Gear look even more promising. There's some amazing, and useful, apps in the soon-to-be-Galaxy Gear app store. What are they? Stick around and find out.
Atooma
Atooma is an automation app that will enable the Galaxy Gear to respond to "if-then" actions, such as triggering an action during a specific time of day, its location, or battery level.
Banjo
Banjo is just one of several location-based apps to be supported on the Galaxy Gear. This app will organize social media posts by location, so you can keep up on local happenings, as well post live stream photos from anywhere in the world, whether it's your favorite music, sports, or breaking news event.
eBay
For all you all eBay junkies, or hoarders, this is the only commerce app Samsung handpicked to be supported on the Galaxy Gear.
Evernote
We're thrilled to see this included, cause we're big fans of Evernote. The Gear app will easily allow you to snap pics on the wrist strap camera share it to your notebook, since the Evernote app has seamless integration with the Galaxy Note 3. You can also pull content from your account and display it on the watch's display.
Glympse
Glympse is another location-based app that features a real-time location tracking service. On the Gear, people can receive and view messages on a map or respond to location requests.
Highlight
Highlight is yet another location-based app announced for the Gear, as of now. While on the app's homepage you can view a map of the people around your location, and checkout their profiles. The best feature about this app is that you can sneak a glance at your smartwatch if you ever forget their name once you meet up.
Life360
Life360 is another location service app that could be similar to Glympse or Banjo. For now, neither Samsung or Life360 have revealed the specifics.

Line
Line can be used to have IM conversations with friends, or even send stickers if you're into that. Since this is the only announced messaging app for the Gear currently, it's an essential download.
MyFitnessPal
This fitness app offers the ability to monitor your goal progress, scan bar-codes via thew camera and log what you ate and how many calories, and track how active you've been throughout the day. Since the MyFitnessPal app features an in-depth service of calorie tracking, it's one one of the best health apps available.
Path
The popular social networking appPath will allow users to post moments right from their smartwatch, as well as also share their location and receive notifications in a matter of seconds.
Pocket
Users can use the Pocket app to listen to articles and content that they've saved. Yup. You can have your save-it-for-later content read to you aloud.
RunKeeper
RunKeeper is a fitness app that can can track the distance, time, and pace of a person's run without needing to pull out their phones from their pocket, obviously. The app will also include coaching tips and advice to keep you motivated.
Runtastic
Runtastic, which if you haven't guessed by now is another fitness app, will release an app that can track distance, speed, elevation, heart rate, pace and calories burned. There's some other features like workout reminders for those forgetful types.
TripIt
The TripIt app is a nifty tool if you're traveling. With the app on your smartwatch, you can do something like checking your flight status without getting out your phone.
Vivino
Every get lost or confused when it comes to wine? The Vivino Gear app is a must-have then, since it comes with a wine scanner. With the scanner you can snap a photo of any wine and a display of all the info you need to know about that wine appears on your wrist.
Zite
Besides being able to scan your top 10 personalized news headlines with the Zite app, which sounds kinda boring, this app is supposed to also contain smart alerts and notifications to Galaxy Gear. And, get this, this may also be support for Google Glass. Oh, happy day.
Image via Freshness Mag