U.S District Court Judge Susan Illston hands down a ruling to approve the FTC's $22.5-million fine of Google over privacy complaints. However, consumer advocacy groups consider the fine a slap on the wrist. For Internet users, what should be made of Google being assailed on so many sides?
Shortly after hearing arguments from both sides, Judge Illston put her stamp of approval on the FTC's $22.5-million, the largest ever by the FTC for a civil breach. Both Google's and the FTC's lawyers defended the fine and the amount before the judge, but consumer protection groups feel the severity and indications of Google's breach require "a message" to dissuade further breaches.
For readers who do not know, Google and the FTC reached an agreement last year over the company's Buzz social network concerning bypassed privacy settings. In that complaint, Google was accused in this affair of having bypassed Apple software to track user activity.
California-based non-profit Consumer Watchdog tried to block the decision by Judge Illston, suggesting the fine was far too small. The group also contended Google should have admitted wrongdoing in the settlement, which the company did not. Consumer Watchdog, has also petitioned the FTC to sue Google over alleged anti-trust transgressions, suggesting the Internet giant be spun off into smaller entities. In a post on their website the organization condemned the $22.5 million fine:
"Google should be forced to disgorge its monopolistic gains through the imposition of substantial financial penalties. Your change in policy regarding disgorgement over the summer was a welcome step and we urge you to apply it in this case. The payment would have to be significant enough to impact Google's future behavior. Google hardly blinked when it paid half a billion dollars to the United States to settle an illegal drug sales case. The proposed $22.5 million fine for violating the "Buzz" Consent Decree is but pocket change for the Internet giant. Perhaps the amount disgorged could be tied to paying back consumers for monetizing their private information and content without asking them permission or compensating them."
The judge did not agree, but it's clear pressure to rein in Google is rising worldwide. The European Consumers' Organization (BEUC) is investigating potential abuses by Google of its dominant market position. In letter late last month, Monique Goyens, Director General, wrote to EU Commission VP Joaquín Almunia expressing her concerns. I quote a pertinent section of this letter (PDF):
"Google's own services must be submitted to the same algorithm as competing services. Consumers have a right to receive impartial results based exclusively on their relevance to their queries and without manipulation according to Google's own commercial interests."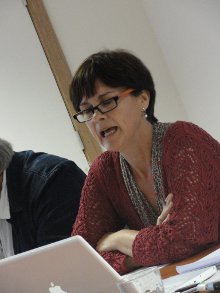 Goyens (at right) goes on to recommend the "European Commission to take a strong stance and protect consumers by exercising its powers." Dated 31 October 2012, this latest plea flies in the face of many news editorials suggesting the European Commission has "relaxed" its position on Google. It's fairly safe to say Google is being assailed on many fronts for, at best, "perceived" abuses of their position. This recent letter, and viable reports from the New York Times and others, seem to support the perception.
An almost continual line of litigation over copyright and other complaints, a recent China shutdown of Google, complaints from people and politicians in the UK Google does not pay taxes, Panda and Penguin brush fires, and a vast minefield of other smaller problems confront Google execs, and ultimately Google stockholders.
Finally, on the consumer front, continual complaints and more corporate pressure over such issues can only lead to a more regulated Internet, though not so many have suggested this result. This aspect it seems, should be of major concern to advocates of a free and open Web.
Is Google in hot water, or is the company testing the powers that be? Stumbling or being strategic, the risks would seem to be the same. We'll keep you abreast of the issues.
Photo credits: Monique Goyens – courtesy ALTER-EU