Yesterday Facebook fans of the White House were given the opportunity to participate in the annual Thanksgiving tradition of pardoning the national turkey. Ever since President Kennedy, a turkey has been chosen to roam free, safe from the Thanksgiving table. This year is the first that the President has given the American people the opportunity to participate in the decision of which bird to pardon.
Facebook users had the choice between two birds, Cobbler and Gobbler.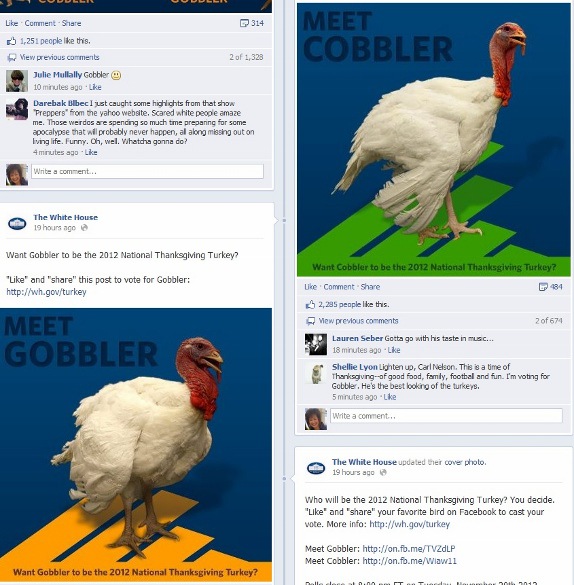 From the official White House blog:
Born on the same day on a farm in Rockingham Country, Virginia, Cobbler and Gobbler may look alike, but they're no birds of a feather. Cobbler craves cranberries, is known for his strut, and enjoys the musical stylings of Carly Simon. Gobbler, a patient but proud bird, loves to nibble on corn and enjoys any music with a fiddle.

Don't forget to tune in to the 2012 ceremony on Wednesday, November 21st on http://wh.gov/live at 2:00 pm ET to find out which turkey has been selected as the 2012 National Thanksgiving Turkey. And for more on how this Presidential tradition came to be check out the definitive history of the Presidential Turkey Pardon.
Polls closed at 8:00 pm ET yesterday, but you can still visit the White House Facebook page to read more about the coming Thanksgiving decision see the votes, and read all the fun commentary.
Happy Thanksgiving to all!