On Thursday February 10, Facebook made some much anticipated changes to their Fan Pages.
For a good part of the day, confusion reigned supreme. Some were excited, some were mad and many were just plain confused. Let's explore the changes and what they mean to you.
There was a glitch that caused the pages to be truncated and there was a lot of speculation that the width of the tabs was being changed. We heard they were being reduced to 500 pixels, 491, 492 and 493 pixels. Don't worry – it's not true. It was just a glitch. From everything I am seeing and hearing, that has been fixed.
This reminds us that we are at the mercy of Facebook and you need to stay current on their changes and be prepared to maintain your page according to whatever changes they may make (with or without advance notice). It's the cost of doing business online but it's still frustrating when changes hit out of the blue. But we breathed a sigh of relief when we found out it was just a glitch.
Now, onto the other changes (most of them really good):
The navigation (links to other tabs) is now on the left side. Facebook did this because they feel that is where people expect the nav to be, since that is where it is on personal profiles. Lots of people aren't crazy about this change (me included). It makes the tabs less prominent and obvious. Like most changes, we'll get used to it and in a few days we won't even notice this change. I think the old style was a little more "idiot proof" – which is always a good thing. But people adapt and they figure things out so ultimately this shouldn't have a huge impact.
But, just in case… it'll be really important that you set the tab you want people to land on because if users aren't seeing the nav and clicking on other tabs, the tab they land on may be all they see on your Page. You may want them to land on the Wall, or a custom FBML tab – you need to decide and make sure the settings are in place. (In the new layout, go to Edit Page, then Manage Permissions and you can set the tab you want them to land on – see the screenshot below, I have chosen to have people land on my FBML tab called Welcome)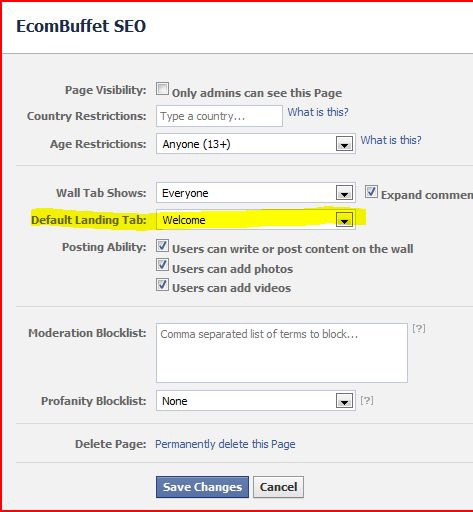 Another new change is pictures across the top of the page (like on the personal profiles). This makes pictures much more important than they were before.
My Fan Page just doesn't have a lot of pictures, so my photo area is looking a little sad and I'll need to get some photos loaded in there. Take a look below – it doesn't look great!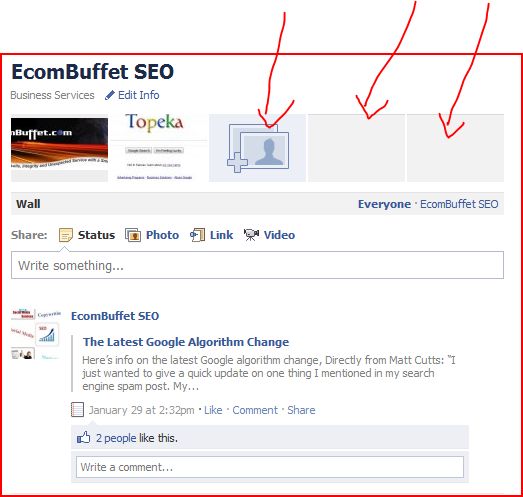 There are lots of cool tricks you do to play with the photos and how they appear. I'll have fun, as soon as I find the time! Make sure you check out your page and see how your photos look and get some added if you need to.
Some other cool changes:
You will be able to receive notifications for your Page, view a News Feed for your Page, and "Like" and post on other Pages as your Page. That means when I am logged in and comment on someone's post or photo or whatever, I will have the choice to have the post be from "Jennifer Henry Horowitz" (my personal profile name) or "EcomBuffet SEO" (the name of my Fan Page). That creates another way to get exposure for your page when you are commenting on other pages. You can flip back and forth between the 2 – so don't worry you don't commit to one or the other permanently. This is a cool new change and people seem really happy about this one.
You can now change the Category you list your page as. This is great. Lots of people don't really understand the category and the impact when they set up the page. You can now go back and change it. (you go to Edit Page, then Basic Information and it's right there on top)
You can choose to receive email notifications when someone comments/posts on your page's Wall. (Go to Edit Page, then Your Settings, the second option is Email Notifications)
There are now two publicly visible Wall filters: "Posts by Page" and "Everyone." So people can choose to only see the posts done by the page admin or posts done by anyone visiting the page.
Page admins will be able to view additional filters, like "Most Recent" and "Hidden Posts."
When people visit your Page, they will be able to view their friends who also like your Page. They will also see other pages that both they and you like. This feature reinforces mutual connections. I like this one!
The text in the little box under your profile pic now appears on the Info Tab (not crazy about this one, I liked having a little blurb there to introduce the page and welcome people)
Although there was no change to sizing of the tabs, there is new sizing for your profile pic on your Page. They have been adjusted from 200×600 to 180×540.
Static HTML is going away (sort of). Here is the scoop:
From the Facebook Developer Blog:
"With our recent launch of Requests and the support for iframe on Pages Tabs, we are now ready to move forward with our previously announced plans to deprecate FBML and FBJS as a primary technology for building apps on Facebook. On March 11, 2011, you will no longer be able to create new FBML apps and Pages will no longer be able to add the Static FBML app. While all existing apps on Pages using FBML or the Static FBML app will continue to work, we strongly recommend that these apps transition to iframes as soon as possible."
This means that if you already have the Static FBML application added to your Page before March 11, 2011, it will work and your custom tabs will work. Phew!
This change will make it a little harder for amateur coders to create the custom tabs themselves. They will need to be familiar with uploading HTML and CSS files to their server and they will definitely need to know how to set up iframes. That's where we can help!
You can feature other Pages that your Page likes, or you can show the admins of your Page. You'll see this in the new "Likes" and "Page Owners" sections on the left side of your Page.
So that pretty much covers the changes and my thoughts on them. We'll see what other surprises Facebook comes up with!
Doing business on social media sites has its own set of challenges (the cost to make changes and stay current if you don't handle the work yourself, the time needed to stay current and learn new features etc) but that's all minor considering the benefit you get. So while I was one of the ones ranting yesterday about the sizing glitch, I had to remind myself that Facebook is offering us a platform to get exposure and build connections – and it's free! So if we need to update from time to time, it's really not that bad!
It'll be interesting to see the introduction of iframes and to see the feedback after people start using that to create their tabs. Stay tuned, I foresee a post or two on that in my future.
As always, questions and comments are encouraged!