Facebook has just rolled out a new feature for its site-wide search box – search suggestion. This is is similar to the search suggestion features offered by major search engines wherein various search terms are suggested via a drop-down menu, as you type the first few letters of your search query.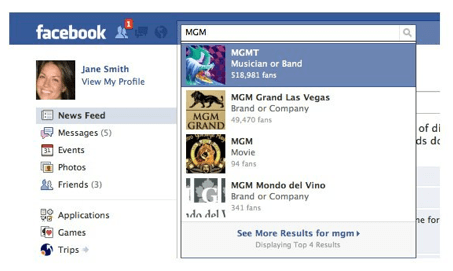 According to the Facebook blog, this new feature is aimed at helping Facebook users to quickly find and connect with people, pages, groups, events at applications on Facebook based on user's preferences.
Facebook's search suggestion features takes into account not only the people, events, groups and Pages that you are connected with but your friends connections as well. This opens up opportunities for discovering new connections while at the same helping you find the information you need on Facebook.
In addition to specific search suggestion, the drop-down menu also shows a "see more results" which if you click will bring you to a full search results page where you can refine your search further or sort the results by categories. Unfortunately I don't see this link yet on the search suggestion drop-down menu. It would be interesting to see how Facebook's search results page looks like and how it compares with the SERPs of the major search engines. According to Facebook this new feature will be rolled out on the next few days .