Real-time search is so hot these days. Almost everyone is getting into the real-time search bandwagon including Facebook which just rolled out its improved real-time search tool. But ok, yes we could take this as Facebook's take on Twitter's real-time search functionality.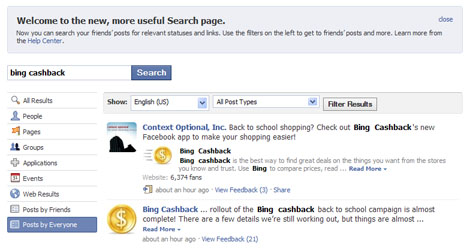 So according to the Facebook blog, we can now search up to the last 30 days of our Facebook News Feed containing status updates, photos, links, videos and notes shared by our Facebook friends. It will also dig into the Facebook activities of other Facebook members who opted to share their Facebook content to everyone, even if they are not our friends. In addition, the Facebook search results page would also continue to contain people's profiles, Facebook pages, groups and application.
Of course Facebook's search engine will still give you all those information outright the moment you hit the search button. You need to click the search filters on the left side of the Facebook search results to filter your results.
Web search is also still enabled, and in case you're not aware and you're interested to know, Facebook's web search is powered by Bing.