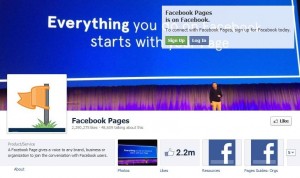 Using its Page Application Programming Interface, Facebook has added an option for Page owners to make "unpublished posts". This type of post does not appear on a Page's Timeline or in fans' News Feed, although they can be promoted with ads.
Prior to this, the social networking giant has required premium homepage ads to be in page post format. Premium homepage ads are those that can be bought by working directly with Facebook. It is designed for large brand building campaigns, and it is sold on cost per impression basis. Furthermore, it is larger than those running elsewhere on the site, and no other ads run next to premium ads.
As stated by their spokesperson:
"This is a change that brands were informed of last month, in which Facebook's premium ad units that point onsite will now also be associated with a Page post on Facebook."
In relation to this, there were reports that a page post ad performs better than other types of ad copy. It can increase engagement by 40 percent, it is 80 percent more likely to be remembered, and it can expand fan rate by 16 percent.
How Unpublished Post Works
The unpublished post feature will be integrated by Facebook ad and page management platforms. This could help owners test various creative options.
Previously, page owners who use self-serve ad tool or Ads API could not run page-post ads without publishing a post on their fans' News Feed. But with Facebook's new feature, businesses can now target non-fans with their ads.
Unpublished post could also be useful for testing potential Facebook content. For instance, a page owner can create a few unpublished posts and then convert them into ad units. Depending on the response, they can now determine which post will be posted on their fans' News Feed, and which will be incorporated on their ads.
This is also useful if page owners would want to reach different segments of their audience through varying messages. The unpublished post feature would enable them to create different ad copies, spread it, and then measure which gets the most response.
Obviously, Facebook's new unpublished post feature gives businesses another way to promote their brand further. Other than that, third-party ad providers and page management companies will now have the opportunity to better serve brands and other page owners that are searching for ways on how they can optimize their social media efforts.