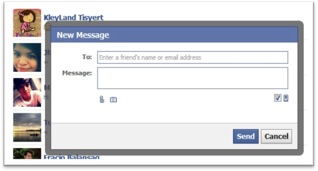 It was reported that Facebook will be transforming its Messages feature into a full-fledged email client, with a new two-panel layout that resembles Apple's Mail on the iPad. The redesigned Facebook Messages will include easier ways to attach files and photos, a collection of emoticons, and keyboard shortcuts.
New Facebook Messages: What to Expect?
The new layout of Facebook Messages features a simple and clean two-panel interface. The left-hand panel lists the latest messages on the Facebook inbox. It will also have a search box, allowing users to search for past messages while reading the latest mail. On the other hand, there's the much larger right-hand panel that serves as the main message area. This is where a user can read, reply and add attachments to messages.
Aside from the change of layout, nothing much was changed on Facebook Messages. The response box remains at the bottom, and it includes options for adding attachments and quick reply check box.
However, the option to send a message to a friend's mobile phone is missing. Although it yet to be known whether this feature will be removed, it would only make sense of Facebook will ditch the option. That's because Facebook Messenger lets users to instantly receive messages from their friends on their smartphone.
In addition, the Message text entry box now includes a smiley icon to easily add emoticons on messages. The option to send a photo or video from a webcam is now focused on sending still images. At the top of the right-hand panel has the "Actions" drop down menu, enabling users to mark messages as unread, open message in chat, keep it to mail archives, delete it and more.
There's also the "New Message" option at the top right area. Prior to this, the option to create a new message is only available in the main inbox view. Keyboard shortcuts were also added on the new iteration of Facebook Messages.
However, the social networking giant is yet to roll out a detailed list of the keyboard shortcuts. Once it becomes available, users can call the list up by pressing Alt + Q for Windows or Control + Q for OS X.
The new layout is not yet available to all users, but Facebook is expected to launch it soon. As of the moment, the network's latest refresh for its Messages is the release of their "@facebook.com" email addresses to users last year.
Source: Facebook Messages Inbox Screenshot | Facebook