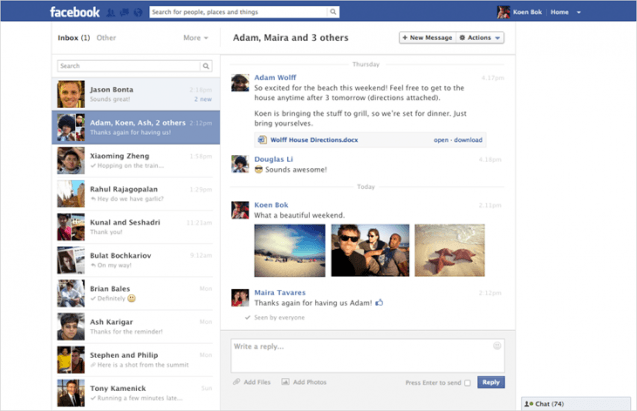 Yesterday, Facebook announced a new design for Facebook Messages that features a new dual-pane layout and several other new features. The new design, which strongly resembles several popular email clients, displays recent messages in the left-pane and whole messages in the right-pane. In addition, the makeover features a search option that is located at the top of the user's screen above the left pane that allows the user to search by keyword or name.
In a recent company blog post, Facebook said the following of the new design:
"The new side-by-side layout lets you click your most recent message on the left to see the whole conversation on the right. You can also bring conversations to life with multiple photos and emoticons."
The messaging system also added several useful commands that can be viewed on either a PC (Alt Q) or on a Mac (Control Q).
While the above image does not feature ads or bookmarks, a Facebook spokesperson has confirmed that is because the image is a mockup. The new feature is already live on select accounts, but Facebook has indicated it will take several weeks to be fully deployed worldwide.
Even though Facebook added email addresses in 2010, the social network has failed to secure a sizable portion of the market share. In an effort to increase the number of people using Facebook email addresses, the company recently replaced 900 million "real" email addresses with Facebook branded email addresses without bothering to inform the account owners.
The new Facebook Messages design indicates that Facebook is committed to pursuing this market niche. Do you think the new design and functionalities will help Facebook email addresses gain traction or is the messaging system facing an uphill battle?
Sources Include: Facebook and Inside Facebook
Image Credit: Facebook