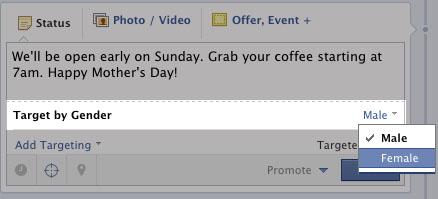 Although a Facebook ads' effectiveness may get all the headlines and convinced a potential client to like a page, keeping a fan engaged is up to its owner. As of the moment, sending a message to all of the business' fans is more of a shotgun approach.
Although options to filter a message such as language and location are available, post go out indiscriminately to all fans most of the time. However, that will change soon with the "Page Post Targeting Enhanced".
Facebook's Advanced Post Targeting Ability
It was reported that Facebook is rolling out a handful of new targeting options, which will enable Pages to send posts to specific fans based on various data such as age, relationship status, interest, gender, workplace, education level and schools attended.
Once this targeting option becomes available to all Facebook Page owners, they can now send targeted messages to specific type of fans. This option will let them make a personalized promotion to their followers who are single or in a relationship. They can send out relevant news to their fans who attended a local university near their place.
The Good and Bad Side of Page Post Targeting Enhanced
If integrated with Facebook's existing geo-targeting tools and scheduled posts option, sending out a highly targeted campaign automatically to engage other users will be easier for Page owners.
Another advantage of the advanced post targeting feature is that it could add a more personal touch to a brand's campaign message. This option could also be used even if the page is not diverse enough to make targeting specific segments of their followers.
However, every targeting option added on Facebook reduces the size of a business' potential audience. That's because the more specific a campaign is, the less number of members will be included in a targeted demography.
Nevertheless, this option till serve as effective marketing and conversion tools if handled effectively.
What Lies Ahead for Businesses on Facebook?
Many of Facebook's new Page options reflect the targeting segments available on purchasing Facebook ads. In relation to this, it was reported that the networking giant has already started rolling out the advanced post targeting options to select Pages. It is expected that all Facebook business profile will receive this feature in the coming weeks.
When that happens, businesses can now tell their teen Facebooks fans that they have "swag", while adults will know that they are a "reputable" brand.
Source: Facebook Targeting Page Post | Facebook Help Center