Well, we knew this was going to happen. With a high user engagement and a massive userbase build up, Facebook has just slipped pass through Yahoo to become the no.2 most popular website in the U.S. Latest data from Compete.com shows that Facebook is not only raking up userbase but user engagement as well as it had 133 million unique visitors last month.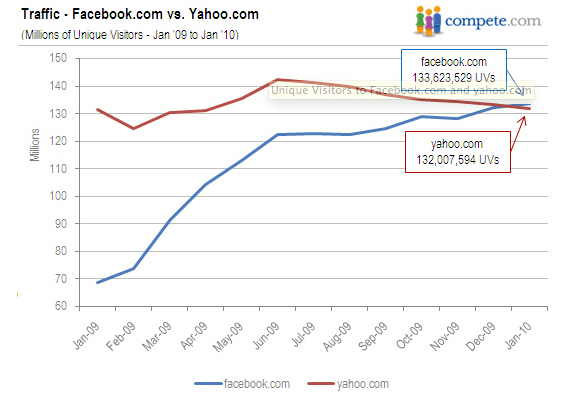 Yahoo's unique visitors were pegged at 132 million, while Google still sit on top. The data don't include visitors from Yahoo.com's subdomains and sub-sites while this does not apply to Facebook since it only have one main domain.
Now here's another interesting point. While Facebook continues to surge ahead in terms of popularity, it is also raking up some statistics when it comes to monthly user engagement or attention. In January, 11.6% of all time spent online was spent on Facebook while only 4.25% for Yahoo and 4.1% for Google.
Site eyeballs have been Google's perennial problem since although it manages to get more site visits, user engagement on the site continuous to slide down through the years. But who knows, maybe with Buzz, Google may be getting those much needed user engagement/attention this month.
If not, then it will only be a matter of time before Facebook possibly steals the number one spot from Google in terms of site popularity in the U.S.