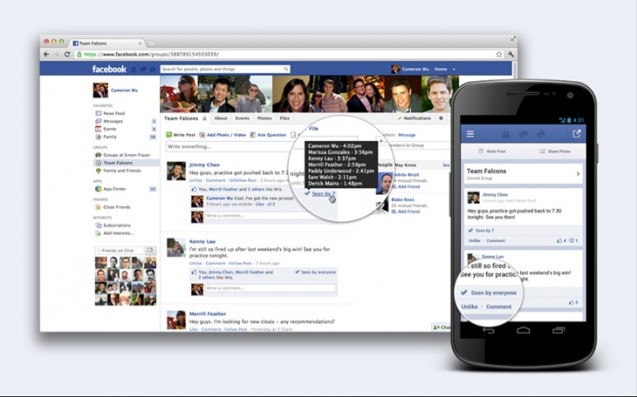 Recently, Facebook launched the new "read receipt" feature, which informs the post author and other Group visitors exactly who has viewed each post. Now each post will include information regarding the number of people who have viewed the post along with a comprehensive list of the names. By simply hovering over an icon on the post, the names of everyone who has viewed the post will be available to anyone who can see the post (not just admin).
Facebook said the following of the new feature:
"Starting today when you visit a Group, you can view who's seen each post. This way you can stay updated on the Group's activity."
Facebook's new "read receipt" feature will report that a user has "read" the Group post if the user has done any of the following:
Clicked on it in the Newsfeed or Ticker
Liked the post
Commented on the post
Opened the Group page where the post is located
At this time, Facebook has not provided users a method for opting out of the new read receipt feature, and even the Group page admin cannot turn it off.
When Facebook was questioned regarding whether or not this feature would eventually include the news feed, the company said they were "not going to discuss what we might (or might not) do in the future." However, in the past, Facebook has quickly banned all apps that provide users with information about who has viewed their profile.
Do you think the addition of the read receipt feature for Group pages is a good idea? What if Facebook starts including read receipts for the news feed? If Facebook adds a feature that would let people know that you have viewed their profile or pictures, would this impact your Facebook usage?
Sources Include: Facebook, TechCrunch, & MSNBC