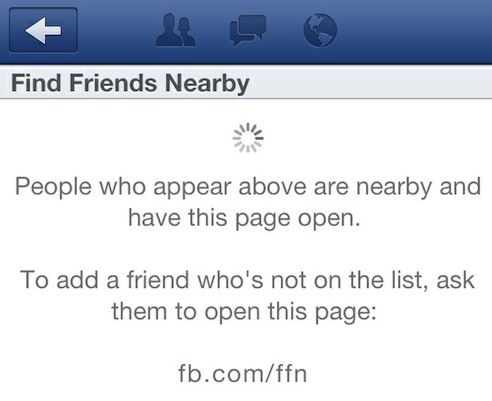 Although Facebook has not yet officially announced it, the social network has quietly launched a new feature called "Find Friends Nearby." The feature, which allows Facebook users to easily find new friends by accessing a Finds Friends Nearby (FFN) page, utilizes location data and a mobile web page to create a list of all Facebook users at a specific location.
Now, instead of typing in a person's name and adding a friend using the normal method, two users that are at the same location can simply visit the FFN page to quickly become "friends" with a quick tap. Since this method will make it easy to locate new friends at parties, sporting events, coffee shops, and a number of other locations, it is expected to gain traction quickly.
In order to use the new feature, the Facebook user must grant the app or the browser access to their current location. After authorizing Facebook to access and share location data, the user is now visible to anyone who visits that FFN page. Some Facebook users are already concerned with the privacy implications of the new feature and are worried that it could lead to awkward moments or stalking. However, once the user exits the FFN page, they will no longer be visible to other people.
Ryan Patterson, who along with another Facebook engineer created the new feature, posted the following comment on a recent TechCrunch post:
"We first heard about the service from developer Roger Pincombe, who himself got the info from a Facebook developer at the Angelhack event going on this weekend: Facebook is a title sponsor, and at the San Francisco event (Angelhack's taking place also in Seattle, Boston, and NYC), and one of its engineers was on site showing off how the app worked with developers. The feature has not been officially launched, but it is live and visible for those seeking it out."
He specifically told me in an email that I should tell other people about it. I (semi-jokingly) asked, "Even TechCrunch?" and he said, "Sure." So here we are.
At this time, there are two ways to access and use the "Find Friends Nearby" feature:
Visit the http://fb.com/ffn mobile webpage.
Menu -> Apps -> Find Friends -> Other Tools, and then tap on Find Friends Nearby.
In addition to helping users locate potential Facebook friends solely on the basis of location, there is already speculation that the new feature will also help users find friends based on common interests as well.
Sources Include: TechCrunch & VentureBeat