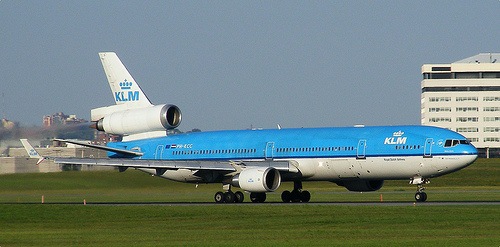 Unfortunately, the fun and celebrations of the Christmas season are often dampened by the stressful experience of holiday air travel. Whether you despise the TSA screenings, lost luggage, or just hate being crammed in a small aluminum tube along with 150 stressed out strangers, there is very little about the commercial airline experience that is pleasant. However, one airline recently announced that they are planning to utilize social media data in an attempt to make the travel experience more enjoyable.
KLM is planning to implement a new system that will use data from Facebook, LinkedIn, and other social networks to allow passengers to easily choose a seatmate that is around the same age or that has similar interests. KLM spokeswoman Gedi Schrijver told the press that the new program, which is named social seating, is expected to debut in early 2012. However, she did not mention if the airline would charge customers a fee to pick who sits next to them in seat 12A.
Although this new service is innovative and has the potential to greatly enhance the overall travel experience, the social seating service could have significant drawbacks. For example, critics are already suggesting that the program could be abused by salespeople targeting new clients, annoying passengers seeking advice from certain professionals, or creepy stalkers looking for their next victim. To combat these potential problems, KLM is making the program entirely optional and will require electronic consent from all passengers enrolled in the new program. Also, they have specifically stated that the program is meant to align people of certain interests and is not meant to be a type of on-board dating service.
Do you feel that the new social seating program will improve air travel or that the risks of a creepy seatmate make this new program a terrible idea? Would you be willing to pay for the service if the airlines charge a fee for this service?
Whether or not this program is successful, one thing is for certain – businesses will continue to find new ways to use and profit off of the data that is readily available from Facebook, LinkedIn, and other social media services.