The power of video is often underestimated. Many people don't realize that videos are a critical component of their marketing strategy. This is because videos are popular with users and extremely versatile. You can create a YouTube channel, embed videos to your content and website, post them on social, use them in your email newsletters, and more.
Another effective way to utilize your videos is by uploading them to Facebook directly to enhance your social profile.
A recent study from Search Engine Journal showed that Facebook native videos received a higher number of likes, shares, comments, and reach. In fact, it seems that Facebook favors native videos over YouTube videos. Videos have a higher average organic reach than status and link updates on Facebook.
With Mark Zuckerberg reporting that Facebook videos are receiving more than four billion daily views, it's time for your business to start uploading them onto your Facebook business page.
First, let's take a look at some components you need to be aware of when creating your video.
Ensure Quality
First things first: it is vital to ensure your videos are high-quality. Screen resolution has improved extensively in the past half-decade. From high-definition to 5K ultra HD, people's eyes have been spoiled with visually exciting experiences, and you have to be able to meet these new expectations of quality.

Now, just because videos are offered in 5K, doesn't mean you need to create them at that resolution. Keep in mind that videos with a higher resolution will also be larger in size, and Facebook has a size limit of 1.75 GB.
When you're shooting a video to upload onto YouTube, consider shooting at an HD quality with an aspect ratio no bigger than 1280px and a frame rate of 30fps or less.
Facebook videos on your newsfeed don't play at HD quality automatically, but that doesn't necessarily mean you shouldn't upload high-quality videos. If viewers are interested in watching your content, they will definitely want to see it in HD. However, it's important to note that videos on your Facebook Business Page is played automatically in HD quality.
Length Matters
A report from Wistia showed that the ideal length of a video is to remain under five minutes. In fact, the shorter, the better.
As videos become longer, the engagement rate of a user decreases significantly. Nowadays, people are focused on efficiency and not many Facebook users are looking to sit through a ten-minute long video for an idea. They're looking for relevancy and quick results.
Try to keep your videos between 30 seconds and five minutes. Of course, you can always create a video shorter than 30 seconds, but make sure you're getting your message across accurately.
Capture Them Immediately
One of the main reasons why people prefer viewing shorter videos is because of their attention span. According to a study, the average attention span in 2015 is 8.5 seconds, which is even shorter than the attention span of a goldfish's nine-second attention span.
Similar to your blog and social media updates, you want to capture your audience right from the start. Attract them with your headline and encourage them to read-through.
Create an engaging introduction for your video that captures your viewers enough to keep watching. You can begin your videos with a question or a concern that your viewers are having; often times, a question that speaks to the viewer can encourage them to stay.
Now that you've created an amazing video for Facebook, it's time to upload it!
Write Something Good About It
When you first upload your video to Facebook, you're prompted with a screen to customize your description and title. The description of your video is also the status update that shows in your Facebook fans' news feed.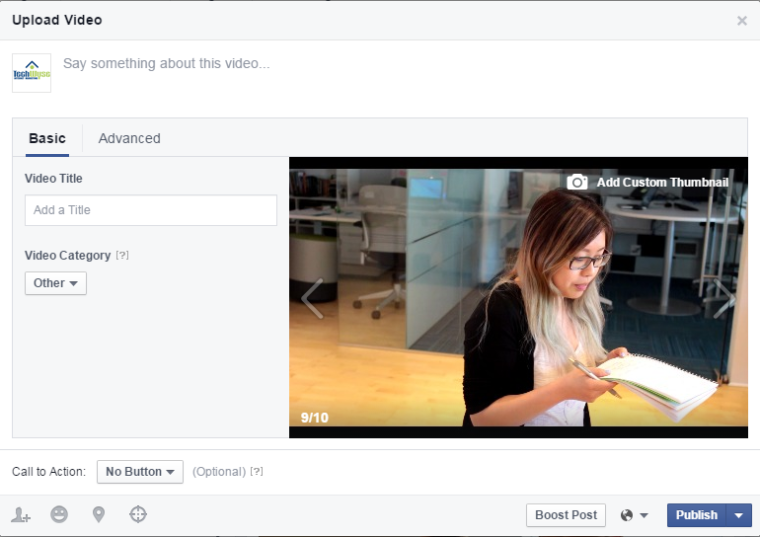 It's not necessary for you to describe the video here. You can use the description as a way to tell the viewers what you've learned from the video, and why you're sharing it with them. You can even include relevant links for your video and additional information you want to include.
Alternatively, writing something humorous or witty will help attract your users to watch it!
Give it a Good Name
Your title is just as important as the video itself, as it helps viewers get a good understanding of what the video is about.
In fact, it can help users to locate the video when they search for the specific keywords.
For example, I want to search for a video my company, TechWyse, has uploaded about our marketing team. I can search it in Facebook and locate the TechWyse Internet Marketing – Meet the Team video in the search results. You'll also notice in the image below that the keywords I searched for are highlighted in the video title and description.
Think of the video's name as a blog title. You want to create interest while ensuring it's something users can easily search for.
Choose the Right Thumbnail
This is one of those small details and adjustments you need to make when you're uploading a video on Facebook. Just like you would with your YouTube uploads, you want to ensure that your thumbnail can attract users to click on the play button.
The thumbnail for my company's TechWyse's Meet the Team video is an excellent representation of what the video is going to be about. It also adds a human touch to our brand.
Facebook gives you ten thumbnail options captured from the video, but you should focus your selection on a part of the video that is either visually captivating or that is an important message which can capture the audience click-through.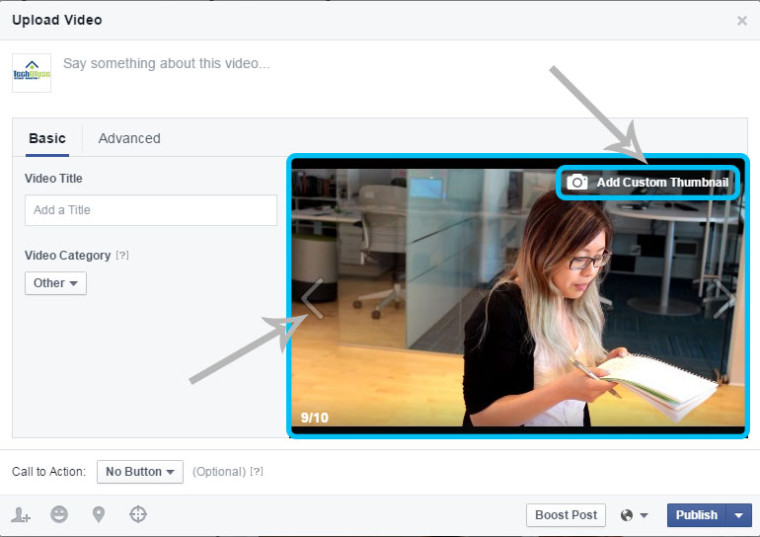 If you're not happy with the choices, you can upload a custom thumbnail for your video, too!
Sort it in the Correct Category
Facebook allows you to sort your video into the category that matches the content best. Although the category is not listed in your video feed or shown to the audience, it helps to keep your videos organized and categorized.
Facebook provides you with the following categories to choose from:
Beauty & Fashion
Business
Cars & Trucks
Comedy
Cute/Animals
Entertainment
Family
Food & Health
Home
Lifestyle
Music
News
Politics
Science
Sports
Technology
Video Gaming
Other
Choose a Call-to-Action
Finally, choose a call-to-action for your video. This is an optional feature, so you don't have to create a call-to-action if it isn't relevant to your video.
You can choose any of the following options:
No Button
Shop Now
Book Now
Learn More
Sign Up
Download
Watch More
Once you've selected the call-to-action you want, you can fill out your website link, a headline, and link description.
Facebook automatically feeds in the information for the headline and link description, but if you want to write something different, you can create your own!

Publish and Go!
Now that you have everything ready, you can publish your video!
Facebook is a great way to increase your brand's reach. With video becoming a popular medium to share information, take advantage of it and connect with your Facebook audience through visuals, sound, and emotions.
Image Credits
Featured Image: Illustration by Cherry Kwan
All screenshots by Cherry Kwan. Taken August 2015.