At Search Engine Journal, we take a lot of pride in having a predominantly female team. So, we jumped at the chance to speak with Elisa Camahort Page, one of the founders of BlogHer, Inc., the premium cross-platform media network and publisher for women. We love us some girl power, especially in the tech space, and Elisa has helped pave the way for women in the industry.[pullquote]"As this year marks the 10th anniversary," Elisa says, "it's an opportunity to look back and recognize how blogging has become this tool for empowerment – economic and personal, especially for women, and the role of women as driving force in social media."[/pullquote]
Elisa is one of the three BlogHer co-founders, along with Lisa Stone and Jory Des Jardins. As COO of the company, Elisa leads the BlogHer conference business, including the BlogHer annual conference, which hosted more than 5,500 attendees in 2012. Elisa also leads the research/consumer insights division, as well as the company's public relations and social media efforts. Prior to BlogHer, Elisa worked as a high-tech marketing executive and consultant.
This year's San Jose conference July 24-26 marks 10 years for BlogHer, and the brand has grown in many ways while still remaining true to its roots. (Exciting note: I will be there on behalf of SEJ covering the event as press.)
After meeting at a conference themselves, Elisa, Lisa, and Jory debuted the initiative to try to answer the question, "Where are the women bloggers?" When they sprouted the idea of throwing a conference around women, they wondered if anyone would be interested.

They pressed forward, and 120 days later they sold out their Santa Clara venue with more than 300 attendees. They were thrilled to discover there was definitely a community, so they formed the company, community, and publishing platform.
Back then, there were blogs, forums, and online communities but weren't the other social media tools, so the overall landscape has radically changed over the years. As a result, each year the event has had to change, too. With over 4,000 regular attendees, the BlogHer conference is constantly evolving. That said, many elements are the same – the platform is still based on community-driven content.
Although BlogHer has come a long way in the past 10 years, we still regularly hear about the small number of women noted among the tech community. This annual event serves as a means of bringing women together to learn from each other and share their common interests.
Well-Known Keynote Speakers and Interviews Empower Women
BlogHer remains one of few conference that's for every kind of blogger, not just mom bloggers, craft bloggers, or food bloggers. This event is for everyone. There are still have the little niche aspects, though they also remain broad to nurture the community to form tribes. "We bring people together with really big moments," Elisa noted.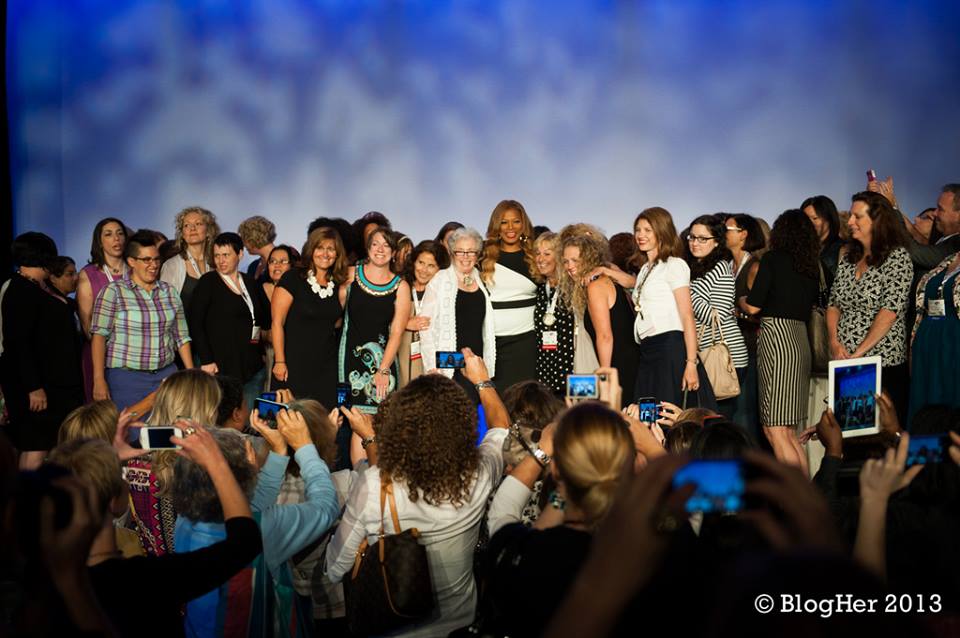 For example, President Obama opened the conference in 2012. Queen Latifah presented the "Voices of the Year" awards last year. This year, Kerry Washington will be there to talk about her work, her causes, and the power of her social platforms to amplify both. Having Kerry there is exciting since Scandal sets an incredibly high bar for TV shows on social media. The cast actively participates on Twitter every week and they go out of their way to make watching the show a very real event for fans (Gladiators, unite!)
Guy Kawasaki will also be at this year's event to interview Arianna Huffington, the chair, president, and editor in chief of the Huffington Post Media Group. After having keynoted BlogHer '06, Arianna will return to discuss the evolution of her business, the evolution of social media, and the evolution of her thinking about wellness.
Also on hand will be Jenny Lawson, a self-made blogger who went on to write a memoir that premiered at #1 on the New York Times Bestseller List. Jenny is a unique case, too, since often bloggers are advised to find your niche in blogging, but she has become wildly successful by remaining broad while having a singular, unmistakable voice. She can make the most mundane things and make them fascinating.
Comedian Tig Notaro will also join the girls at BlogHer '14 to discuss her groundbreaking brand of comedy. Late in 2012, Tig was diagnosed with breast cancer, but she turned that deadly serious stuff into comedy gold during a stand-up act in Los Angeles, delivering a hilarious and heart-wrenching monologue that was instantly legendary. Comedian Louis C.K. dubbed the act one of the best stand-up performances he ever saw, and helped Tig to self-publish Tig Notaro LIVE, which has since been nominated for a Grammy Award for Best Comedy Album.
It was just announced the closing keynote will cover the "Intersection of Race, Gender, Feminism and the Internet," and include this rockstar line-up of online influencers:
Moderator:
Cheryl Contee, start-up co-founder and co-founder of Jack & Jill Politics
Joined by:
Feminista Jones, BlogHer's own Sex & Relationships editor, who has been at the center of some raging Internet debates.
Grace Hwang Lynch, BlogHer's own News & Politics editor, who also blogs about her mixed-race Asian family at Hapamama.
Kelly Wickham, manifesto-maker at MochaMomma.
Kristen Howerton, regularly raising her voice on the intersection of race, gender, and faith at Rage Against the Minivan.
Natalia Oberti Noguera, working for change within the power structure as founder of the Pipeline Fellowship.
Patrice Lee, a conservative woman of color who immigrated to the U.S. as a child and represents an oft-unheard perspective.
Hands-On Events and Experiences Motivate Attendees to Pursue Their Passion
In addition to the inspirational speaker line-up, BlogHer '14 will feature a Geek Bar and Writing Lab, along with hands-on workshops both days, around a range of technical plus publishing and writing topics including SEO, monetization, etc. They strive to provide a variety of different learning formats to appeal to everyone.
Skype was just announced as the Official Communications Sponsor of this year's event. As Official Communications Sponsor, Skype will facilitate and further the mission of BlogHer the company, and the conference: Creating opportunities for community and connection.
Skype will also power an all-new BlogHer Buddy System, designed to connect groups and individuals before the conference, enhancing attendees experience and sense of community at the conference. Skype is creating a unique experience at BlogHer '14 by inspiring attendees to live life with more passion.
Attendees will be able to acquire remarkable swag, in exchange for pledging to make the most of life which can include anything from spending more time hiking, to volunteering at a local charity. After the conference, participants will be encouraged to keep their pledges by sharing their progress online.
"As this year marks the 10th anniversary," Elisa says, "it's an opportunity to look back and recognize how blogging has become this tool for empowerment – economic and personal, especially for women, and the role of women as driving force in social media."
The 10th Annual BlogHer conference will be held July 24-26 at the San Jose Convention Center. Click here to register.
Featured Image: Hasloo Group Production Studio via Shutterstock
Article Image: BlogHer 2013 via Facebook