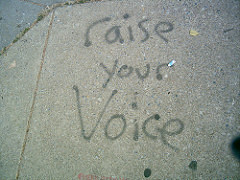 Blogs are all about collaboration, not just speaking to a nameless and faceless audience. As such, finding ways to empower your readers with a voice becomes an important aspect of creating the most effective blog. There are many considerations to make when facilitating conversation in your blog, including design considerations and offering the right mediums for communication.
Blog Plugins
If you are using WordPress, there are a number of plugins available that will give your readers a greater voice in your blog. Consider these:
WP Favorite Posts: This five-star WordPress plugin makes it possible for visitors to create lists of their favorite posts. Installation and use are both straightforward, and users can share, view, and delete items from their list of favorites. You can list the top favorites from your readers' lists as well.
Star Ratings: Here you can engage your visitors and promote your content by experimenting with a variety of different post rating plugins. GD Star Rating, Vote-the-Post, and Star Ratings are some examples that are available to you, allowing visitors to share ratings on your posts.
Chat Forum: Not every site is going to benefit from using a chat forum, but when you use them properly you can build a community while facilitating more conversation. WordSpew and Pierre's Wordspew are two examples of chat plugins that you can install for this purpose.
Design Considerations
The design of your blog can have a definite impact on your blog's readership. Cleanliness and elegance are two design considerations that you should make.
Accessibility: Your blog should be as accessible as possible. Having a mobile-friendly blog design, for example, can open up new opportunities for community among your readers.
Features: Functionality plugins should be considered when implementing design options that are voice-friendly. Additional features and functionality will allow your readers and visitors to find new ways to communicate with you.
Customization: Take advantage of plugins, theme options, and design alternatives to make your blog more accessible for your readers. Customization can have a profoundly positive impact on how easily your readers find it to communicate with you.
Simplicity: Your blog should be as simple as possible to effectively give your readers a voice. You can use online survey software to poll your readers on their opinions of your blog. This will help you determine if you need to go simpler in your design and layout, or if your readers are happy with your blog design.
Layout: Different layouts suit different purposes. Your layout should be clean and free from complication. Your readers should be able to tell how and where they can communicate with you. Ease in communication leads to better communication. Make sure that your layout is relevant to your blog and is user-friendly.
When you empower your blog's readers with a voice and an opportunity to talk back to you, you can open up new and beneficial channels of communication. Getting the community around your blog to talk is an excellent way to solicit feedback, generate free additional content, and create a more loyal reader base for your site.
cc licensed ( BY ) flickr photo shared by Daquella manera via silver prices today