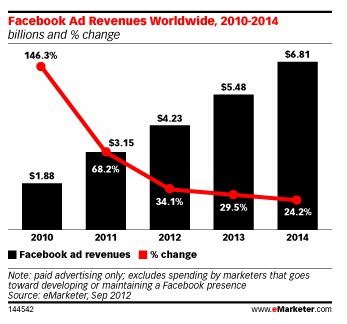 Ever since Facebook's long-awaited IPO, the social media giant has disappointed investors and faced a seemingly never-ending wave of negative PR. Now, just as things were beginning to calm down, eMarketer revised Facebook's projected 2012 revenue by a cool billion dollars to $5.04 billion.
Debra Aho, an eMarketer analyst, said the following of the revision in a company press release:
"Major marketers are still questioning the effectiveness of advertising on Facebook, and they are concerned that their ability to measure results is underdeveloped. Facebook is working on addressing these concerns, but it must move even more quickly."
While the majority of the eMarketer news was negative, investors will be pleased with some of the report's information. Paid advertising, which currently accounts for 83.9 percent of Facebook's revenue, has significantly decreased as a percentage of total revenues. The fact that non-advertising revenues are expected to grow by 45.6 percent during 2012 indicates a more stable revenue stream for Facebook moving forward. The impressive growth in non-advertising revenues has been fueled by an increased use of the site's digital currency: Facebook Credits.
In addition, Facebook investors will be pleased to learn that Facebook's 2013 revenues are expected to jump by approximately 31 percent. The increase in revenue, which includes revenue from new ad products and the ad exchange, should propel Facebook to $6.6 billion in total 2013 revenue.
Shortly after the report was released, the Facebook stock dropped slightly to approximately $19 per share. Do you think Facebook will be able to please the financial markets or should the company focus solely on keeping the social network's 900 million+ users happy?
Image & Article Source Include: eMarketer