If you've studied digital marketing techniques at all, you've probably heard how important it is to compile a list of your customers' email addresses at least a few times throughout your career.
And indeed, having an email list can represent a huge opportunity for your company's marketing initiatives. Once you've persuaded subscribers to share their email addresses with you, you can reach out to these people as many times as you'd like – regardless of whether they ever set foot on your site again. When used smartly, these types of email lists can be used to drive everything from brand engagement to sales, making them a great complement to your existing promotional strategies.
That said, there's a big difference between sending out mass messages to your group and mailing out targeted promotional emails to individual groups of members. Imagine for a second, that you received two individual sales messages from companies you've bought from in the past. One message is a generic sales blast advertising an upcoming promotion, while the other offers a great discount on a particular product you've left abandoned in your shopping cart before.
Which message do you think you're more likely to respond to? Of course it's the one that's custom-tailored to your preferences and past activities!
The key to making your email marketing messages as effective as possible comes "segmenting" your list – that is, breaking your general lists down into smaller groups in order to send out more tailored messages.
Although the concept may seem advanced, segmenting your list is usually quite simple to do. Follow the steps below in order to form a number of smaller email lists and send out messages that are guaranteed to get your subscribers' attention:
Step #1 – Learn how your email marketing program handles list segmentation
As long as you're working with a reputable email management program, you should have access to a list segmentation option that allows you to form small groups of subscribers within your main list.
In the popular Aweber program, for example, creating a list segment is as simple as navigating to the "Subscribers" tab and defining the characteristics that will be used to create the new group: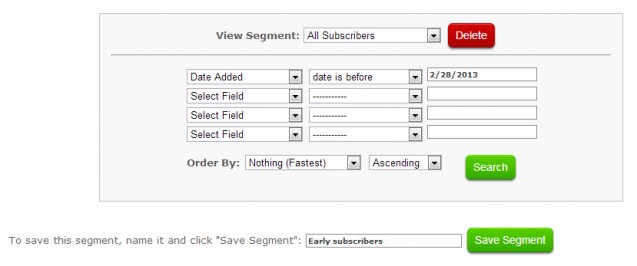 In this example, a segment called "Early subscribers" is being created that includes all of the list members who joined before 2/28/2013. Once saved, this list could be used to send messages to long-time subscribers or to avoid bombarding new participants with too many messages all at once.
To learn more about how to segment your list, visit your email management company's "Help" section and search for instructions on segmentation. As nearly all reputable list providers offer this service, you shouldn't have trouble finding the information needed to segment your list (though a message to your company's customer support team can help to clear up any questions that arise).
Step #2 – Break your list down into popular segments
So now that you know how to create a list, what kinds of segments should you create? In fact, your opportunities are pretty endless…
For starters, why not try creating any of the following list segments?
Geographic area
Depending on how wide-reaching your market is, you might find it helpful to create geographically-specific list segments in order to tailor your promotions to local language or events. Say, for example, that you reach customers nationwide and want to offer Super Bowl promotions to subscribers who live near one of the competing teams. By segmenting your list according to geography, you'll be able to send compelling, highly-targeted messages to the sports fans in your network.
Purchase history
If you rely on one main list to encompass all of your subscribers, you'll likely have people who have never purchased from you, those who have picked up a product or two and others who have acted on every single offer you've sent out in the mix. In this case, consider creating a list segment that targets subscribers your top buyers and offers them special promotions that reward their loyalty. Doing so can be a great way to cement the relationship between your best customers and your brand.
Abandoned shopping carts
Depending on how you have your ecommerce system and email lists set up, you may be able to compile list segments that are comprised of members who have walked away from items in their digital shopping carts. This isn't uncommon, as the Marketing Experiments agency has found that as many as 50% of all shopping carts are abandoned before purchase. Reclaim potential lost sales by creating list segments that reach out to these users and offer them special incentives to complete their orders.
"Power" users
As with purchase histories, you'll likely find that some list subscribers open every message you send out, while others drop every one of your emails into their digital recycle bins. Why not take a second to reward your most loyal readers? Compile them into a list segment and then offer them special "VIP" bonuses to demonstrate how much you appreciate their continued support.
Obviously, the number of list segments you could create is pretty much endless. Take some time to brainstorm what types of segments might be most beneficial to your company – or check out the following articles for a few other ideas of possible groupings:
In addition, keep in mind that the types of segments you're able to create will depend in large part on the types of information you've collected on your subscribers. If all your opt-in form gathers is a name and email address, for example, you may not be able to create the kinds of detailed segments that ecommerce merchants with fully-integrated list management systems can devise.
Step #3 – Customize messages by segment and track the results
Once you've created your segments, don't just let them sit idle in your account! The whole point of creating email list segments is so that you can send highly-tailored messages to your subscribers, so take a few minutes to set up some customized broadcasts in order to test drive your new segmentation features.
After these messages go out, be sure to track the results you receive. You'll likely find that some email list segments respond better to tailored promotions than others, so carefully track your open rates, click-through rates and eventual email-related purchases to determine which of your segments perform best. Build on this data with different list segments and future messages in order to make your email marketing campaigns as successful as possible.
If the process of segmenting out your entire list sounds overwhelming, don't panic. Start small with a single segment and allow your email marketing targeting efforts to expand naturally as your skill set improves. Just don't ignore this tactic. List segmentation can be a powerful way to get more out of your email marketing list, so add this technique to your promotional campaigns today!