We've covered the DuckDuckGo vs Google war in the past… We know it's not the closest race in the world but DuckDuckGo released some impressive new stats today that they have passed 2 Million searches in one day!
It's not compared to the billions daily that Google, Bing or Facebook have but it's a really good start. What's most impressive is the HUGE increase and tripple in traffic since January of this year!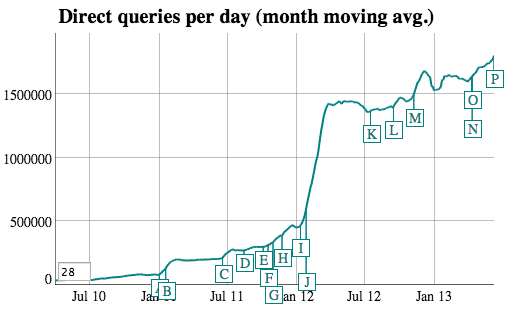 DuckDuckGo had 2,211,203 direct searches yesterday, that's up about 400,000 over Sunday's searches. Very impressive numbers considering how young of a startup they are.
Interesting to note that in February was the first time that they hit 1 million searches in 1 days and a couple months later, they've doubled it.
What do you think of this growth, is it sustainable? Is anyone doing any SEO for smaller search engines like this? If so I'd love to hear some tips on things that are working!