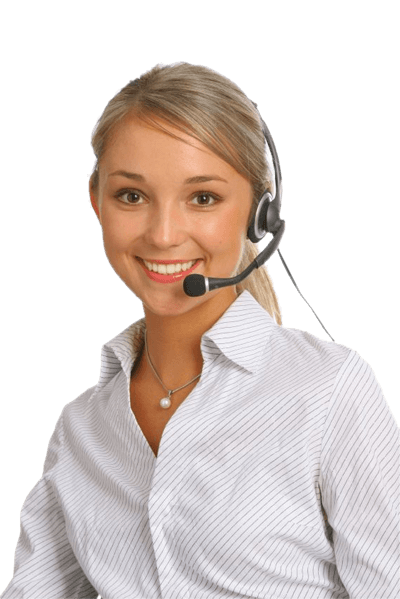 We have a running joke in our offices about clip art and stock photo. One in particular image continues to populate sites all across the Internet so much that each time she pops up on a site Instant Messages with links to her start flying internally. Kind of a running spoof of the "There's that News Van Again" ad, which was a staple commercial in the Philadelphia region in 1993 from Eyewitness News.
I ran across her fanatical customer service smile, white blouse and professional headset probably three years ago and have taken notice ever since. To be quite honest, the first time I saw her I indeed did use a few stock photo credits for her rights to be displayed on a site I was developing for a client.
Over the years, to me, she has now become a staple of haunting distrust. To me, she projects a web sites stale use of graphical web design to show visitors that they can expect a smile and great service when they call.
This time, when I came across her again, I decided it was time look deeper into her existence. I began searching manually with just a few industry queries (which became an interesting exercise on how quickly and easily visitors can find a sites contact page). Considering a visitor within a comparison-shopping state of mind just seeking out quotes this becomes important, as you need to have your visitors know where to navigate.
This soon became an exhaustive task and I switched over to image search on Google and searched by image by uploading a picture of my favorite friendly customer service representative and was returned with only 823 results. Really, only 823? I have been haunted by an image with this low a result? This was really quite a lower number then I had expected.
Regardless, through my research (not stalking) I was able to determine her name is Wendy Jan. Wait, really? She even has her own Google+ profile page. Later I realized I had been fooled when I uncovered she had a Twitter account and her true identity was Reyes Mc keish. Considering the amount of coverage she got online I was then saddened to see how low her engagement was within the social graph.
But What Does This Say About Your Company's Trust?
Being intrigued by "search by image", I ran a few more photos of some of our own company graphics, logos and more. Luckily I didn't uncover anything too out of the ordinary that infringed upon our copyrights or placed us in unruly circumstances. But what a great, and quick, way to check to see your brand "image" within SERPs.
In addition, what an excellent tool to use in choosing your stock photos for not only contact pages but assets for your site to make certain your selection is not saturated within the Internet. For me, every time I see this stock photo I am immediately turned down on the trust level as she has become so recognizable in my searches. My assumption is many others have similar experiences with other stock photos.
Considering a large emphasis on the Trust Factor moving forward within SEO I am intrigued by the thought of Google, having this in depth of image recognition capabilities, devaluing a sites trust marks due to the use of over-saturated clip art and stock images. Would Google penalize a site based on the use of photos and graphics that bring back numerous results on certain pages? Probably not, consider staple graphics such as VISA/MasterCard, McAfee and others.
Still, I'm reminded of a story I was told at a recent holiday party where a friend of mine told me she visited a web site for a spa and was enticed by the beautiful facilities in the photographs on the site only to arrive at a reception desk and be navigated through a clothing manufacturing facility, as she described a sweatshop, to arrive at a facility less than as advertised.
I've spent too much time already on this graphic to truly do a full case study and research to see if this in fact a determining element but I will continue to explore this theory. I am glad to say that, after this review, I have exercised some demons and I am now able to move forward with a positive outlook when I come upon Wendy Jan Reyes Mc keish in the future.
There's more to designing a good contact page than adding a contact form and slapping on a graphic of a smiling face, although I will admit this is still a good practice compared to many of the sites I have seen while searching. Consider using internal resources, photos of staff and social badges as well segmenting departments to make it easier for your visitor to get in touch with whom they are seeking. Web users are creatures of their own personalized behavior and always consider your own experiences when developing sites that will convert better and allow your site to be as trustworthy as you can.