It doesn't matter if you're an SEO, developer, or marketer. Regardless of your specific role in the online marketing community, one thing is for sure – it's not enough to make beautiful websites, optimize relevant keywords, or learn how to interpret data. You also have to make the sale. After all, online marketing professionals have to eat too!
Unfortunately, not all online professionals have mastered the art of communicating with their clients. This leads to decreased sales, a decline in retention, and a lot of hard work going down the internet toilet. So where are we going wrong, and what can we do to improve?
Our Research
Everybody has their own opinion and strategy when it comes to the selling process, so instead of preaching about the 'right' way, I conducted some simple research.
Over the course of two months, I posed as a company in the accommodation/tourism industry and asked more than one hundred digital marketing companies, including SEOs, freelancers, and agencies, to help my company to rank on the first page of Google. I did this so I could find if the company could retain me with their selling skills, and if not, to find exact point at which would have lost a potential client. Here's an outline of my method:
I selected several local businesses related to the accommodation/tourism industry. Each one was located on the dreaded second page of Google when searching for hostels in Spain. We paired our search query with one of five cities in Spain.
By combing the first page of Google search results for SEOs and digital marketers in each of the cities where one of "my companies" was located, I put together a list of more than 100 professionals.
I emailed each company on my list on a Friday afternoon, using either an email address posted on their website (about 90%), or a contact form embedded on one of their pages (about 10%). In this email, I expressed interest in using their services and requested three things:

An initial SEO report for our site, so that I had an idea of what needed to be improved
A time estimate for when I could expect to be ranked in the first positions on Google
And an estimated cost for them to do this work on my site

We rated responses across several criteria, including Response Time, Response Quality (both format and content), Specific Questions Answered, and Follow­-Up Time.
My email query looked something like this:
Hi there,
I found your company website online, and I'm getting in touch to ask about hiring you to help me get more visitors to my site, http://www.localbusinessurl.es. We are a small hostel in the city of [City Name], and we're having trouble attracting qualified visitors. I'd like to get an initial report from you of how my website is doing in terms of SEO so I can see what needs worked on, as well as an estimate for the time and cost of getting my site to rank on the first page of Google search.
I hope to hear from you soon!
Thanks,
[Name]
The Results
Response Time
I measured this on a Friday afternoon because it's a time when companies many tend to become unproductive and slow. Over 75% of our pool of professionals took two full days to respond to my email, if they responded at all. In a world where time equals money, this does not evoke feelings of trust and mutual respect.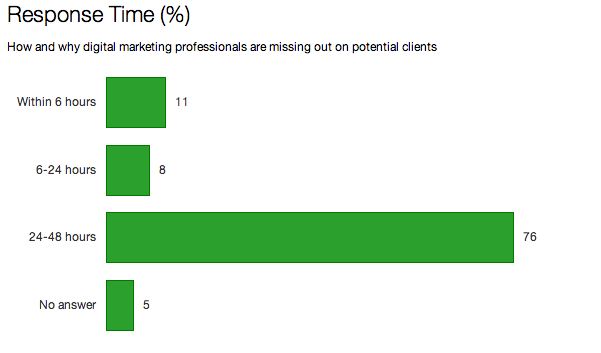 Quality of Response
This section is split into two parts, though each is important to the overall quality of a professional response. The first is the style of the email itself, including the design, structure, and professionalism. The way a professional email looks is an immediate indicator to potential clients about the quality of your work. If an email looks great, is well­-worded, and is branded for a company, a client can see that you take your job seriously. In this case, less than 50% of the emails we received were branded in any way with a custom signature or company logo.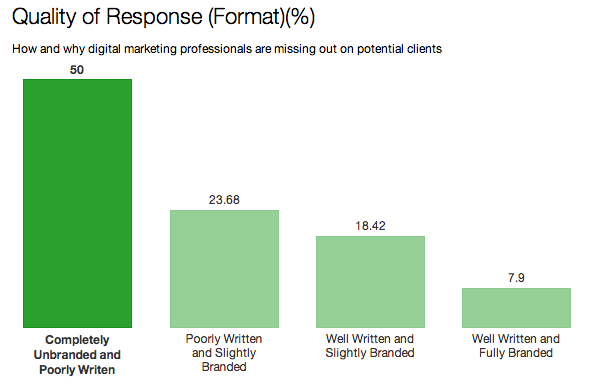 The second part of response quality is the content of the email, including whether they answered my questions in detail, personalised it to my industry, and gave any indication that they had visited my site. This is a critical point: if the format of your email lets clients know you take yourself seriously, the content of your email lets clients know that you'll take them seriously.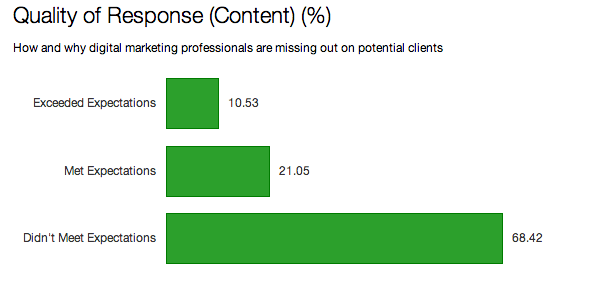 Questions Answered
This explains itself. I simply recorded which of our questions were being answered, if any.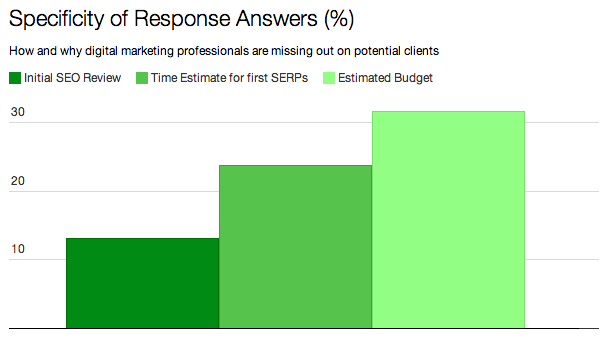 Follow­-up
Finally, I let some time pass before emailing these companies again. Because I had presented myself as a very qualified user who needed help from someone in their industry, I wanted to see the rate of follow-­up by these companies.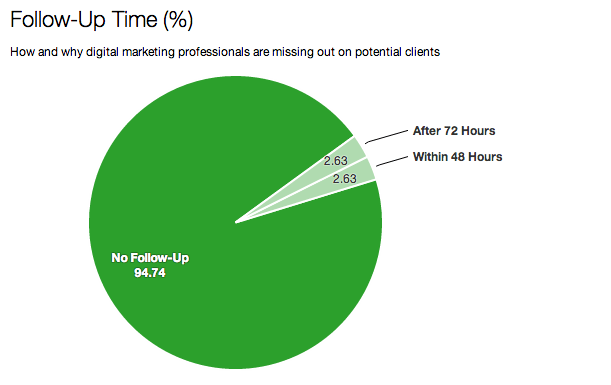 What We Learned
Now you have data about where many companies are going wrong when communicating with potential clients. How about a specific action plan? Here are some tips to get your communications back on track to wooing customers your way.
Respond Quickly
At one point, the Customer Care team at WooRank decided to try to make a priority of answering every email we received within 15 minutes, even if it was just a preliminary response. Though it might not be feasible to respond to emails at all hours, make it a priority to respond to clients as soon as you can, even if it's just to let them know that you're working on their request. Especially when the weekend is coming up, letting clients know that you are in the process of responding gives them peace ­of ­mind, so they can also begin to relax and look forward to the weekend.
Respond Specifically
Potential clients who make the first contact will often have specific questions that they need to have answered before they can make the purchase decision. Andy Paul nailed it with this tweet:
"Prospects need the final 10/20% of data to make an informed decision to purchase your product in the least time #sales" — Andy Paul (@ZeroTimeSelling)
Give the clients as much information as they ask for, and maybe even more. It can help to prioritize a customer's questions from his/her perspective. Of the three questions I asked, which would be most important while making a purchase decision? 30% of respondents gave me a quote for how much it would cost for their work, but only 10% actually sent me the initial SEO report that I asked for. As a customer, I only become interested in what something would cost if I first understand what I would get for my money.
Respond Beautifully
The emails you send matter. Each one should be personalized and branded with your company's logo and information. At WooRank, we've had a really great experience using Intercom.io for our communications, but there are also many other email services out there that help you to customize your emails for a more polished look and feel. Emails are also a great way to remind customers of what you stand for, so don't miss out on the opportunity to display your logo and slogan.
Additionally, the content of your emails should be as thoughtful and enticing as the content of your website itself. All the content marketing in the world won't earn a sale if your emails are sloppy and poorly written. Earn a prospective client's trust by taking the time to ensure that you've answered their questions, done a bit of preliminary research, and gotten an idea of what you could do for them. This doesn't have to take long ­­- 15 minutes on their site mixed with your knowledge of digital marketing can already improve an email response significantly.
Respond Both Now and Later
Follow-­up is one of the best weapons of an online marketing professional, but less than 10% of our contacted professionals bothered to stay in touch. Don't write them a sonnet, ­­ just a couple of lines letting the customer know that you haven't forgotten about him/her, and that you're very interested in working together. Not only does this humanize you, it also makes the customer feel like a priority. I'm not talking about spamming potential customers – that's a great way to drive people away. However, an email within the week to tell them that you're still hoping for a response can go a long way in making you stand out from your competition. Like in any sort of relationship, intentionality goes a long way!
Just Do It
If you're a digital marketing professional, you know about long­tail keywords, W3C validity, and how to structure a sitemap to improve ranking factors. These are essential to your business, and your expertise is likely what gets customers to reach out in the first place.
If someone reaches out, the hard work has been done – a potential client has noticed you. By polishing your sales process, you can not only turn them from potential to actual clients, but you'll find that you can keep them coming back for more.