The nature of work today is different from what it was decades ago.
With rapid advancements in communication and technology in recent years, most people now have the ability to work anywhere.
The statement "Work is a thing you do, not a place you go," is truer now more than ever.
Everybody wants to achieve a great work-life balance but it's not always easy to attain in this era of remote work.
Whereas before, work stops when you leave the office – nowadays, it can be difficult to separate life and work.
Professionals working in the field of digital marketing know this all too well.
Most digital marketers – especially those working as consultants or freelancers – can have more flexibility in terms of working arrangements. They can usually pick where and how long they should work on a daily basis.
We got curious how many hours search and digital marketing pros typically work per day – so we asked the Search Engine Journal Twitter community.
How Many Hours Do Search & Digital Marketing Pros Typically Work per Day? 🕰️
Here are the results from this #SEJSurveySays poll question. According to SEJ's Twitter audience:
38 percent of search and digital marketing pros said they typically work 8 hours per day, every day.
33 percent of search and digital marketing pros responded that they work between 9-12 hours on a daily basis.
15 percent of search and digital marketing pros answered that every waking hour is a working hour, claiming that "If I'm awake, I'm working."
14 percent of search and digital marketing pros replied that they work no more than 4 hours each day.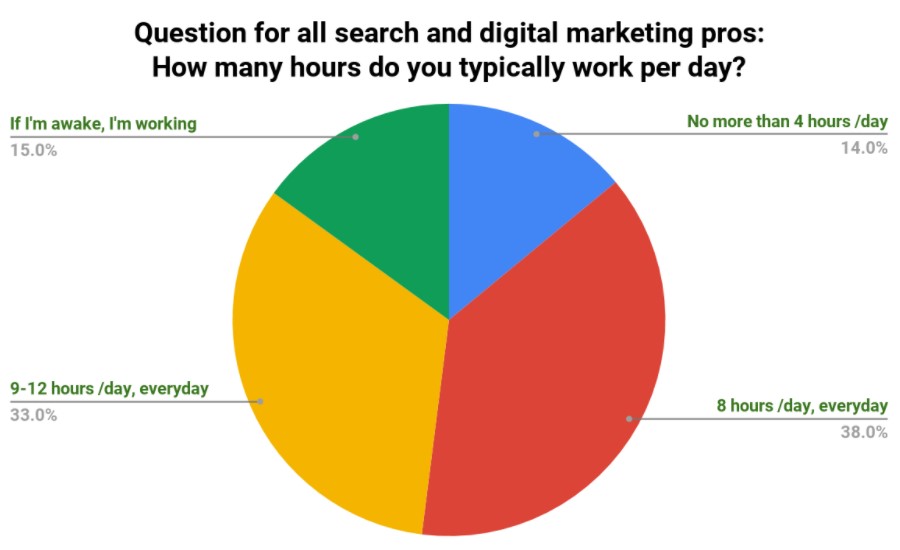 Here Are a Few Comments from Our Twitter Followers
I believe that we all should be measured by our efficiency and results and not by the number of hours we work.

— Irit Gillath (@IritGillath) January 22, 2018
The distance between never working and working all days gets thin when you never feel that you're working.

— Mathieu JANIN (@Matt_Refeo) January 25, 2018
Depends on my current workload. Some days 9-12 or more and others a few hours checking reports and call it a day

— CB5WYO (@CB5WYO) January 22, 2018
If Im awake, I am working. Its my life passion, so if Im not taking physical action, I am ideating, strategizing, learning/consuming content, or discussing my craft. I even dream about it on a regularly. When you live what you do, its not work (and thats not a typo for "love")

— Rachel King (@rachelking237) January 22, 2018
Usually 8-9. Sometimes throw in a couple more on evenings / weekends.

— Jon Stanis (@jonstanis) January 22, 2018
Working Efficiently as a Digital Marketer
Regardless if you're a business owner, a full-time employee, a freelancer, or a fresh graduate still looking for a job in marketing, everybody wants to achieve a great work-life balance.
This is a good thing as there's nothing wrong with prioritizing one's well-being.
Keep in mind that the number of hours one puts into work doesn't always correlate to the quality of their output.
Whether you are able to enjoy a four-hour work week or you have to pull an all-nighter just to finish a project, it all boils down to productivity.
The key here is to be more efficient in everything that you do.
More Insights on How to Survive in Digital Marketing
Need more tips on how you can avoid burnout, be productive, and survive the world of digital marketing? Check out this list of articles from our SEJ contributors and get awesome career advice:
Have Your Say
How many hours do you typically work every day? Tag us on social media to let us know.
Be sure to have your say in the next survey – check out the #SEJSurveySays hashtag on Twitter for future polls and data.
---
Image Credits
Chart by Shayne Zalameda