A little over a month ago, Digg launched Newswire, a real-time, Top News section that attempted to get users back into curating the stories that go popular, versus just reading the popular stories showcased on the Digg front page.
Today, a month and a half later, Digg CEO Matt Williams emailed a select group of invitees letting them know their accounts were included in a closed beta release of Newsrooms.
"Newsrooms are the first step in creating the most relevant news around any given topic, as ranked by social signals across the web and refined by top contributors on Digg. So what does that mean? It means that for the first time we're combining the strength of signals from news in social media (Facebook Likes, Tweets, LinkedIn Sharing) with our greatest asset — the active Digg Community, to create the most valuable stream of news on any topic. For topics as broad as technology or as specific as Lady Gaga, our goal is to become the first place for the news that matters most to users."
For a long time now, Digg has wanted to take everyone else's signals to better determine the popular content for their site, but to-date have really done a poor job in doing so. Let's take a closer look at this new release.
The Newsrooms
As you can see from the screenshot, there are featured Newsrooms, then a list of all Newsrooms along with avatars of the top 5 leaders in each room and everyone's recent Newsroom activity.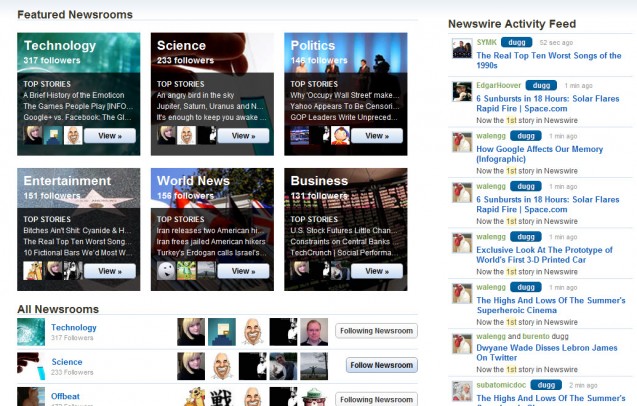 There does not appear to be any way to make your own Newsroom yet, but it is a possible addition for a later date.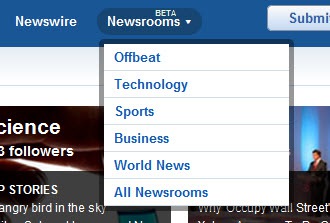 Here you also have the option to follow the Newsrooms you like, which makes them easy to access through the top Newsrooms drop down navigational link.
Additionally, following a Newsroom gives you the ability to submit to a Newsroom.
You might note that this is all very similar to how Reddit handles its SubReddits and submissions as well.
Once you actually get into the Newsrooms themselves, you will notice some new and interesting things.
Digg Buttons
The Digg buttons have been updated to show both the Digg and Bury options simultaneously, offering users the chance to change their vote with ease.




If you were the one who submitted the article, then you will see a Digg button without voting options.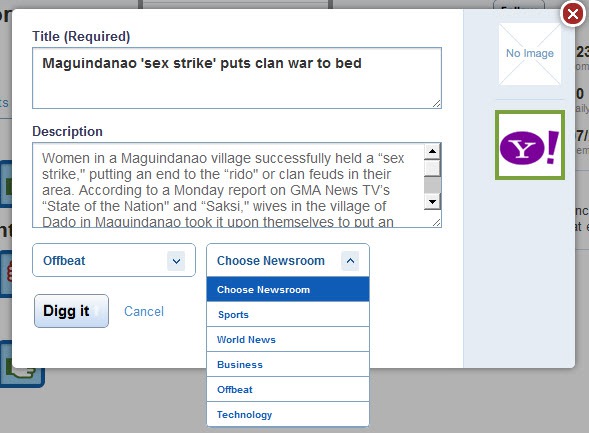 And lastly, in the newswire, similar to a real newswire, it includes unsubmitted news stories that you can single-click submit.
Front Page and the Newswire
In each Newsroom, you land on the 'Front Page' which showcases the stories that have been determined to be the most popular at the time. If you click on the Newswire tab, you see the available news stories that have not yet been picked up, to either vote or single-click submit them.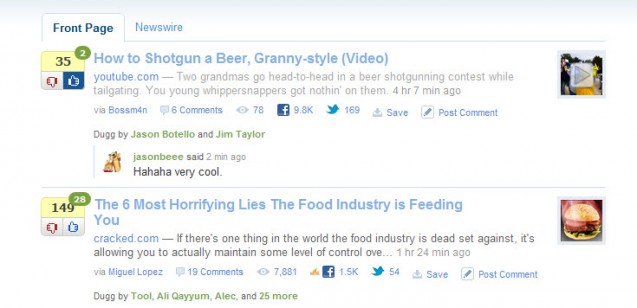 Unfortunately, when single-click submitting, you do not currently have the ability to change the title or the description, which leads to some pretty ugly submissions. Additionally, there is a very limited selection of sites in the newswire, which leads me to think the inclusions are just partners of Digg or hand-selected by Digg admins.
It would be good to have a method for suggesting sites' RSS feeds for inclusion into the Newsroom's newswire, but nothing is available yet.
Facebook and Twitter
As Digg mentioned in their invitation email, they are looking at Facebook Likes, Tweets and also LinkedIn shares, as a metric for popularity in their new Algorithm.


So on each page you can see the Facebook Likes and Tweet data, although there is no LinkedIn data for some reason.
Unfortunately the Facebook and Tweet information is not linked, so you cannot easily visit or find the submission on those sites.
Leaders in Newsroom
Yes being a good user on Digg is once again an important factor, and Digg has even gone as far as to start giving people Mixx-like awards for their activities.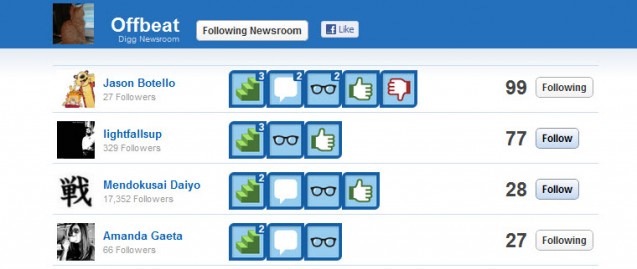 However in just the last 24 hours, we have already seen some members commenting on every single submission and voting everything they see, just to get some of the badges and points. So we wonder what Digg will do to avoid awards gaming, since it appears that Leaders in Newsrooms are meant to have more authority with their votes and actions.
The Awards
There are three elements to each award: an icon, a level associated with each award, and an awarded title.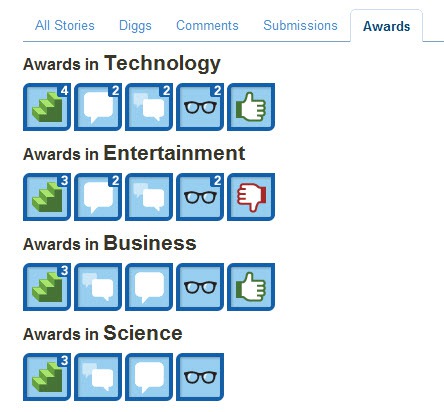 You can hover over each award to see the title and the amount of points it is applying to your overall Newsroom score.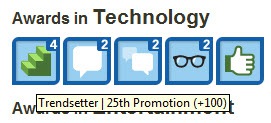 Each level has a different number of total points, depending on the action and level.
Here are the actions that result in rewards and points:
Submissions being promoted to the Front Page of the Newsroom
Comments
Replies to other comments
Viewing articles
Digging submissions
Burying Submissions
And yup, there is an award for Burying, which seems to be an attempt to minimize the negative connotation for voting content down.
Newsroom Activity Feed
Just about every action made in a given Newsroom is updated in a real-time sidebar module. It shows the comments and replies you have made, what articles you read, along with all your Digg and Bury activity. It also shows what members have joined the Newsroom and what submissions have been promoted to the Newsroom Front Page.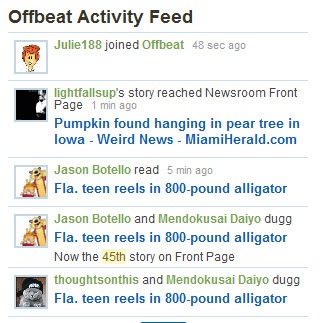 Slideshows?
Lastly, there is a new tab in the Settings called 'Slideshare', but it is not clear what this is supposed to be for.
Conclusion
Although it seems Digg's new strategy is simply to be a better aggregator of everyone else's information, it is the first time in years I am really using the site again, finding new content to read, commenting, and actually looking for articles to submit again.
The visibility of the content in the Newsrooms seems promising to website owners wanting exposure, as the front page of Digg will not be the only place to get decent visibility and traffic. The Front Page in Newsrooms and also on Digg as a whole are showing a vastly larger diversity of domains that are going popular, which leads me to think the changes they have made algorithmically are good so far.
Of course, this all needs to leave Beta and go live before anyone can say for sure if this is the transformation that resuscitates Digg, but it is the first change in over a year that shows they are at least still trying.