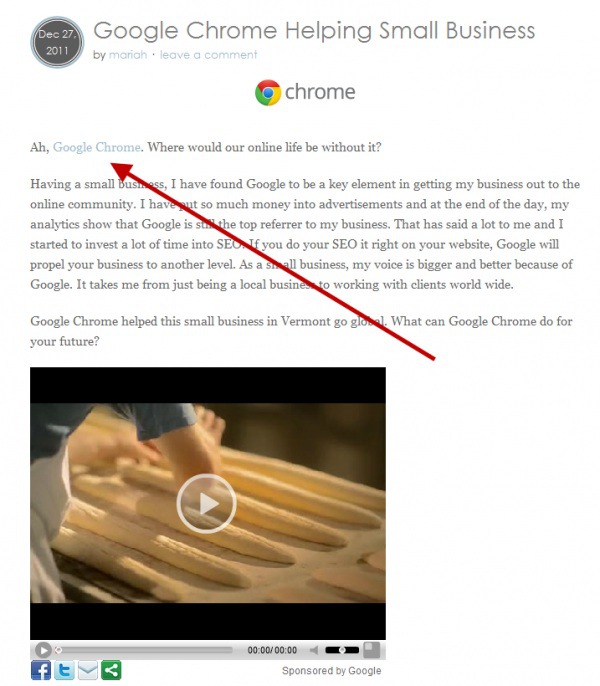 Over the holidays, Google Chrome "sponsored" a campaign that paid hundreds of bloggers to write glowing reviews about how Chrome can help small businesses. The sponsored posts, which were primarily posted by somewhat influential "mommy bloggers," included a promotional video of Chrome and neglected to mention factual details on how Chrome can actually help small businesses.
Aaron Wall of SEO Book, who initially discovered the marketing campaign, showed that a simple "This post is sponsored by Google" search query uncovers over 400 pages of content related to the "sponsored" marketing campaign. Although each of the posts clearly states that it was "sponsored by Google Chrome," some of the paid posts include followed links instead of the Google required nofollow attribute, which violates Google's own rules.
The Google Webmaster Guidelines is clear that purchasing links that pass PageRank is a direct violation:
"However, some SEOs and webmasters engage in the practice of buying and selling links that pass PageRank, disregarding the quality of the links, the sources, and the long-term impact it will have on their sites. Buying or selling links that pass PageRank is in violation of Google's Webmaster Guidelines and can negatively impact a site's ranking in search results."
Since Google requests that web users inform them of sites attempting to manipulate search engine results with paid links, maybe we should let them know about Google Chrome purchasing links that pass PageRank. Considering that just last year Google penalized JC Penney, Forbes, and Overstock for similar violations, it will be interesting to see if Google penalizes their own browser!
Since the story broke, some of the links have been removed and Google has not responded to requests for more information.
[Sources Include: SEO Book & Image by Search Engine Land]