Want to see what other books we've covered? Read our other reviews in the SEJ Book Club archive.
For the November edition of #SEJBookClub, we read "Dave's Way"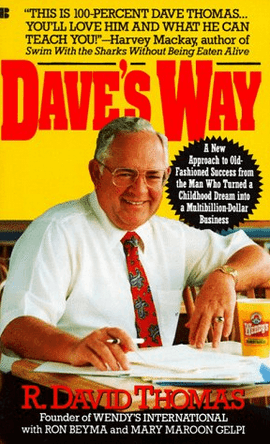 (affiliate link), written by Wendy's founder and spokesperson Dave Thomas. The book was originally published in 1991 and chronicles Dave's life through his childhood, military service, and all the way through building his very successful company. Although Dave passed away in 2002, his legacy is still going strong.
Here are a few statistics about Wendy's you might not have known:
Dave built his burger empire using an "aww-shucks" approach to customer service, food, and even marketing.
But, what could a man who dropped out of high school possibly have to teach the tech-savvy marketers and entrepreneurs of today?
Quite a bit actually!
Today, marketing and business advice is filled with buzzwords – those catchy words that get overused to the point of exhaustion. Instead of focusing on the next big thing, lets take a look back to how business was done in the 1960's and 1970's. I think you will be surprised about how relevant his advice is today, I know I was!
1. The World Is Your School (page 54)
Phil Clauss was one of Dave's early business mentors and a close friend. One of the most important lessons Dave remembers Phil teaching him was to keep learning. "Let each new day teach you something new." Phil said, "Go out and look for new ideas."
This lesson is still completely relevant today! Between resources like Code Academy , publications like SEJ and Social Media Examiner, and conferences like Pubcon, there is a nearly unlimited number of learning opportunities. Even though Dave didn't graduate high school until he was in his 60s, he made the most of every learning opportunity that came his way – in the form of failures, mentors, and new experiences.
2. Paint the Place (page 79)
A bit of chipped paint here, a poor quality image there – no big deal, right? Dave says any business that is struggling is likely suffering from low morale. He tells a story about pushing to get paint to brighten up the mess hall when he was in the military. With so many other things to worry about, why did he choose to focus on something purely cosmetic?
Because showing confidence and letting your employees and your customers know you plan to be around matters. Insuring confidence in your brand might mean a fresh logo, a site redesign, or a change in branding. Just keep in mind that the cosmetic things do matter.
3. Stay Small Until You Get It Right (page 99)
Wendy's grew really fast, opening over 500 restaurants in just 7 years, as I mentioned earlier. But Dave was dedicated to ensuring they didn't grow before they knew what they were doing. Dave didn't hire people until he could afford them, and he kept his burger restaurants small and manageable until he knew he had a recipe that worked.
There is nothing quite like the exhilaration when your new business or idea takes off and starts building momentum. But keeping your business small until you have it right helps make sure all your problems get ironed out when they are small. It is much easier to fix a problem with one restaurant (or website!) than 500.
4. Adding A New Product Won't Save Your Stumbling Business (page 114)
It seems like an easy fix, right? Business is slow, so you (or your marketing team) come up with a brand new product that is just going to knock everyone's socks off. Dave thinks otherwise. He said,
"Too many people want to hit a home run with the latest fad menu item, rather than having a sparkling, clean restroom…Well-managed operations are more important than anyone product you sell."
This is a really important lesson for us today. Many technology businesses are solely idea or product driven – the newest dating site, the coolest messaging app, the best new software. No matter how great your idea is, remember: your business is more than just your idea. Focus on building a successful business instead of racing to try the next big thing.
5. Talk In A Believable Way (page 166)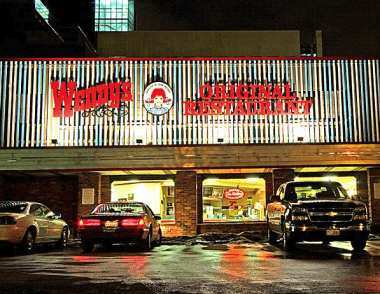 Dave was more than just the founder of Wendy's, he was also their spokesperson, starring in one of the company's longest running series of commercials. His down-home, relaxed attitude drew in customers with their authentic feel. Dave said,
"Your message can be honest and real, but if you overdo the effects and visuals, you lose being believable."
Using an authentic voice is the best way to build trust and connect with your current or prospective customers. That doesn't mean you should use Dave's down-home approach – it means you should determine your brand's authentic voice.
If you aren't a high-end brand, don't try to be fancy. Or, as Dave said – don't create ads where "…the employees all look like fashion-show models, the sound track sounds like it came from Ben-Hur, and you get the feeling the company does more good works than Mother Teresa."
6. Get Your Hands Dirty (page 159)
Dave says he never had a high opinion of marketing consultants. Ouch. He claimed they "act like they know everything about their client's business, but they're too lazy to get inside and understand them." Instead of hiring fancy firms, Dave insisted his advertising people 'do time' in Wendy's restaurants so they could understand the brand and taste the food before they tried to sell it.
It's easy to scoff and assume Dave just didn't understand advertising. But, as the founder and head of a multi-billion dollar company, and the star of many of their commercials, I think he offered some valuable insight for both marketers and entrepreneurs. Learn your brand. Whether you are marketing yourself or your client, take the time to really explore what the brand means to its employees and its customers.
Did you read along with us? I'd love to hear your comments on the following questions:
Dave talks a lot about focus – from keeping your menu from getting too big to making sure you write a good business plan. Do you think staying hyper-focused is still a successful tactic?
The down-home style of marketing really worked for Wendy's, but do you think it would work in today's climate? Why or why not?
Dave re-enrolled in high school in his 60's because he didn't want his success to encourage kids to follow in his footsteps. Do you think the college dropouts like Bill Gates and Steve Jobs encourage more young adults to forgo college – and does it matter?
December #SEJBookClub
Our next book club will be lead by Debbie Miller and will feature the book: Start with Why: How Great Leaders Inspire Everyone to Take Action (affiliate link) by Simon Sinek. Read with us and join in!
Want to see what the SEJ Book Club has read or is planning on reading next? Check out our GoodReads profile and add us as a friend!
Want to see what other books we've covered? Read our other reviews in the SEJ Book Club archive.
This post contains Amazon affiliate links.
Image Credits
Featured image: created by SEJ
Image #1: Dave's Way book cover via Amazon (affiliate link)
Image #2: Original Wendy's Restaurant in Downtown Columbus via Wikipedia