This is a sponsored post written by SEMrush. The opinions expressed in this article are the sponsor's own.
If you are an experienced content marketer, you definitely know what a struggle content ideation sometimes is.
On the one hand, you want to be creative, and on the other, you have to think about content effectiveness.
When these two conditions are met, you get a relevant piece of content that provides value to people and meet your marketing goals.
The only question is how to understand which of your content ideas is the one that people are craving and ready to engage with. The secret is in validating each creative idea from a data point of view.
Discover What Content Already Works
Before starting to search for ideas, look at the content you've created before and see what already performs well.
To do this you have to define which essential content metrics you should consider when measuring the effectiveness of the particular piece.
Depending on your marketing goals, these metrics can be divided into four categories:
User behavior.
Engagement.
SEO.
Sales.
For example, if you want to understand which topics resonate most with your audience, pay attention to engagement and users' behavior metrics, such as number of sessions, bounce rate, shares, backlinks, and so on.
To get this data you have to collect all the URLs of webpages with content you want to analyze.
SEMrush's Content Audit is a useful tool for this. It allows you to choose particular sections of your domain where you publish content and check how well each published piece performs.
As of now, the tool provides this data as number of social shares, backlinks, Google Analytics, and Search Console stats.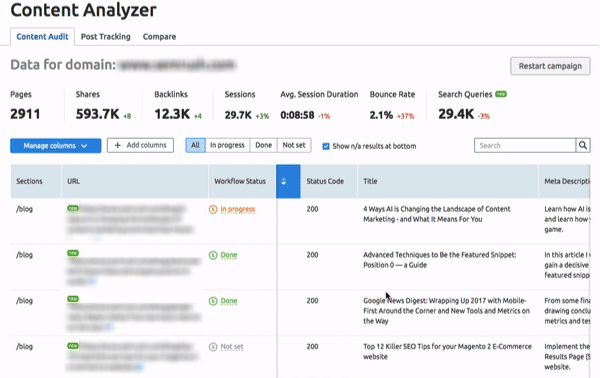 You can sort all the articles by the highest number of shares or backlinks and check which topics are getting the most resonance and attention among your audience.
Spy on Your Competitors & Industry Trends
Your competitors who target exactly the same audience might become a source of great content ideas that you haven't executed yet.
More than that, you can pick up interesting ideas not only about certain topics but also about content types, formats, and even distribution channels.
The easiest way to do this is to start monitoring your competitors' brands and track what they publish on their blog and how often, how many shares and likes they get, and in which media they appear.
The same works for market trends. Just select a couple of industry keywords and set up daily or weekly alerts. Check what appears in media around a particular topic, what buzz in social media appears around it.
Sometimes these valuable insights together with content ideas can also give you a deeper understanding of your audience and customers.
Once you have collected and analyzed all this information, think about a new approach to this topic.
What is not covered yet? Or, how can you do it better?
Analyze the Most Resonating Headlines
If you are still unsure which topics are getting the most attention in the industry, think at a deeper level – about subtopics and headlines.
It doesn't matter what you're writing – blog post, news or ebook – the headline is the first thing people see and it should be something that grabs their attention.
The only problem is to understand which one will resonate with your audience and be of interest to them. Don't just guess if a particular piece gets people's attention – base your decisions and strategical planning on data!
Think about the engagement metrics we've mentioned above, and distinguish the best performing (and therefore resonating) headlines based on it.
With the SEMrush Topic Research tool you can discover the most resonating subtopics and headlines for your piece of content.
Just think about the topic or keyword you want to write about, type it in and hit the Get content ideas button.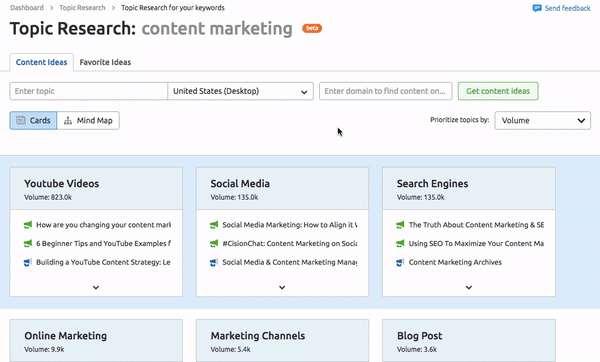 You'll get a list of cards with subtopics, inside of which you will find the titles of the top 10 most prominent articles, prioritized by the number of backlinks the pages have.
You can also switch the view to Mind Map, and get a nice graphic presentation.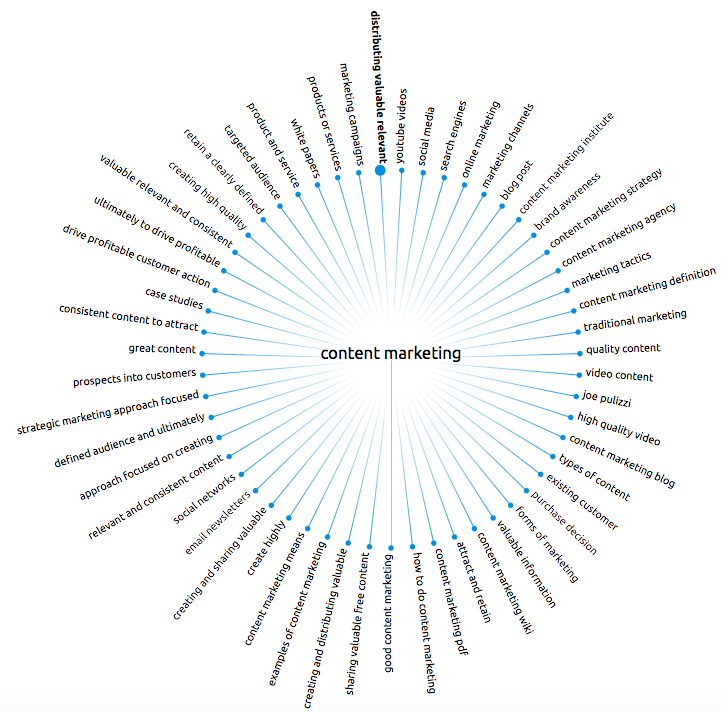 Besides the headlines, you can also find information about the questions people are asking on your topic and related searches that are frequently queried along with the analyzed topic.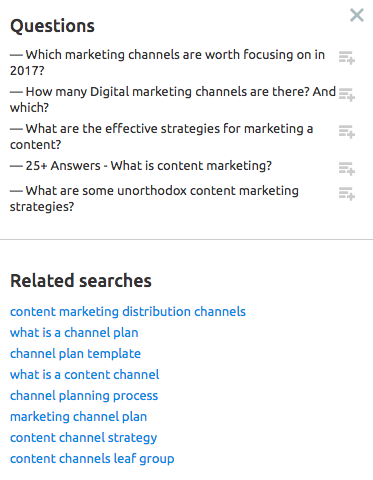 Use this information to create content that answers people's questions or resonates with their intent, based on results of related searches.
Content marketing combines two different elements – creative and analytics – that sometimes clash with each other, making the process of strategic content planning complicated and time-consuming.
Based on these three approaches you can validate different content ideas that come to mind and plan your content strategy based on data and analytics, saving you time and effort.
---
Image Credits
Featured Image: Image by SEMrush. Used with permission.
In-Post Photos: Image by SEMrush. Used with permission.