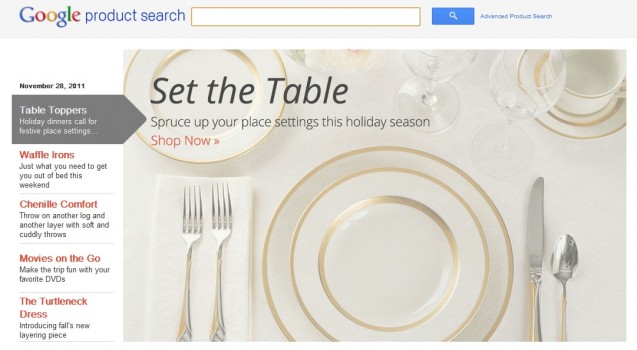 The day before Thanksgiving, Google updated Google Product Search to help consumers easily find the products they are looking for at the best price. Now, the Google Product Search has a 'Best match' feature that highlights the product a user is most likely searching for. In addition, Google Product Search enables consumers to sort products by popularity, read product reviews, and find local stores that carry the item.
Also, mobile users are now able to instantly access Mobile Product Search using the Google Search app 'Shopping' tab. This option will allow consumers that are shopping in traditional stores to easily read reviews, research prices, and consider similar products on their mobile devices. Considering the record breaking online shopping season that is already well underway, the updates to Google Product Search appear to be perfectly timed.
Although there was wide speculation that impressive offerings from brick-and-mortar retailers had the potential to decrease online spending this year, online shoppers spent $816 million on Black Friday, which marks a strong increase over last year's $648 million. The following retailers posted impressive year-over-year Black Friday gains and contributed greatly to the overall 26% increase in spending this year: Amazon, Wal-Mart, Best Buy, Target, and Apple.
Amazon, which saw approximately a 50% increase in overall sales this Black Friday, issued a statement indicating that Kindle sales were four times greater than last year. Although Amazon did not provide actual sales data, they did say that the Kindle Fire is the top selling product on Amazon and that they had already sold millions of the new Kindle family before the holiday weekend shopping even began. With today being Cyber Monday, analysts expect Amazon and other online retailers to see a continued spike in traffic and Kindle sales moving forward.
Last year, Cyber Monday internet shoppers spent over $1 billion in online purchases making it the top grossing sales day in internet history. With the impressive year-over-year gains online retailers have seen in 2011, it is a reasonable expectation that this year's Cyber Monday will break all online sales records.
Sources Include: comScore, Business Wire, Google Commerce Blog, & VentureBeat]