Lisa Barone wrote a post this week lambasting companies that are too timid to get involved in social media, and rightfully so. The reality is that the conversation is going to happen with or without your engagement, and getting involved only allows you to address issues when they arise. ESPN this week banned sports reporters from using Twitter. Apparently the company is unaware that people are already discussing sports related content and ESPN, and the presence of their staff in the space not only gives them a voice, but also can win new brand advocates and drive valuable traffic to their web properties.
Companies embracing social media are to be applauded. However, if the effort ends at the conversation a company is merely covering a gaping wound with a band aid.
The beauty of the conversation a company can engage in via social media is that it can serve multiple purposes for a functioning company. It can help with public relations, market research, product development, and most importantly it should be an extension of the company's customer service policy and initiatives.
The issue is that many companies have a disconnect between their social media efforts and their core internal processes.
My Travel Nightmare
Search & Social for sometime was using Travelocity as our travel booking engine of choice. We spend a good amount of money in a 12 month period on travel due to our busy conference schedule, and we trusted this business to Travelocity.
In March, when I was set to attend SES NY, I noticed that my flight had been booked for a red eye, which for me was not acceptable since I had to present early the next day. I tried to change my flight via Travelocity but was sent through hoops since I had booked my flight and hotel as a package. It looked like I was going to be unable to find a solution for my problem, and Travelocity looked as though they did not want to salvage a valuable customer.
I tweeted about my experience and quickly got a response from one of the Travelocity accounts.
Hooray!
I talked via email with a PR rep who was handling the social media for the company, and he was going to look into my issue and get me a resolution. However, after some time, he was unable to get my issue resolved due to a disconnect between him and customer service. Travelocity had not given him the tools he needed in order to effectively leverage the social conversation he was involved in. This made me even angrier as I was now not even able to book a new flight. Social media had made the situation worse by soaking up valuable time. We have never used Travelocity again.
An Organizational Analogy
Social media is a key for companies that can unlock immense ROI. For one, it can save companies from a costly firestorm that could not only tank profits but also cost money to cleanup. Beyond that obvious circumstance, it also serves as a valuable public relations tool, can help you get feedback on products, allows you to monitor customer conversation for market research, and can help resolve customer service issues that might normally turn into the aforementioned firestorm.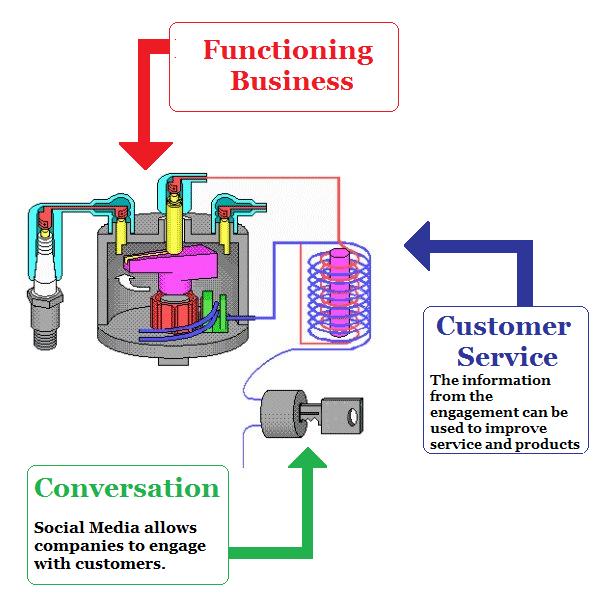 If social media is a key to unlocking the full potential of a functioning company, then internal organizations such as customer service function as the ignition. For the engine to start from the use of the key there MUST be a connection between the key and ignition. Travelocity did not have this connection. The social media caretaker on their end was treated like a customer and not an internal worker trying to get results. A company must arm their social media team with the tools needed to completely unlock the platforms potential, either that or their presence is little more than a farce, and in the end it could do more harm than good, as was the case in our situation.
In the end, social media isn't a cure all to fix what ails yah. It is another marketing and public relations weapon to add to your arsenal. Your presence is a necessity. Connecting that presence to functioning internal processes is the next step, and without it your social campaign may be nothing more than a curtain covering up your company's inadequacies.