Custom Google Search is a FireFox addon that provides the user with great tools to easily create and switch between Google custom search engines.
First, have the addon installed and immediately after the restart you will be asked to name your very first search engine and look through the "How to start" guide.
Let's try to create one simple, but SEO-relevant custom search engine using the tool.
I love using Q&A site for content inspiration and keyword research: the question – answer format discovers plenty of new opportunities to use your keywords to:
Create topic-relevant FAQ resource or glossary;
Get cool content inspiration answering popular questions;
Run additional research for writing your post.
So for this experiment I am creating a new custom search engine using popular Q&A websites.
1. Naming your Search Engine
The first step is to give your search engine a name – in my case that's very simple: it's Q&A in my case.
Of course, if you are going to create a number of search engines, you want to choose a descriptive name.
Once your custom search engine is created, the FireFox addon adds it to your FireFox search bar: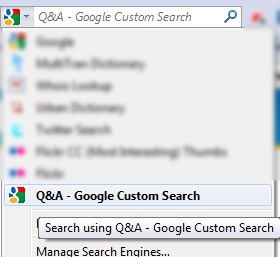 2. Understanding the Settings
Your search engines can be accessed via:
Tools -> Google Custom Search -> Manage Search Engines
From there you can control your search engines' behavior and algorithm: add or remove domains to crawl, create a domain blacklist, etc.
To add a website list (Q&A sites in my example), click "Add List" and select "Search Only websites listed here":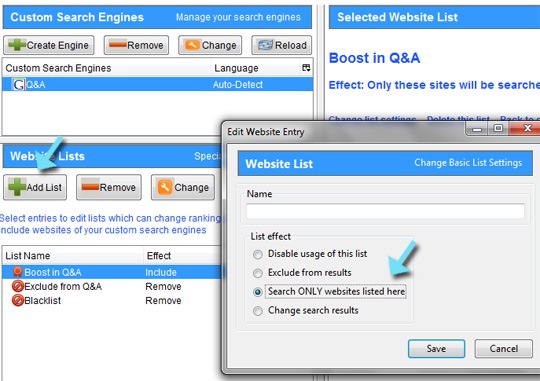 Now that you have added the list, add domain names to crawl (in the right-hand panel):
In my case these were:
*.linkedin.com/answers/*
*.askville.amazon.com/*
*.answers.yahoo.com/*
*.wiki.answers.com/*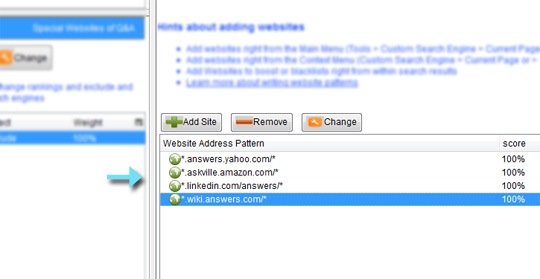 Test it!
From here you are pretty much done. You can now start playing with your custom search engine using it and improving your algorithm:
1. You can re-rank results right from the SERPs: use icons to boos any result or block any page from results: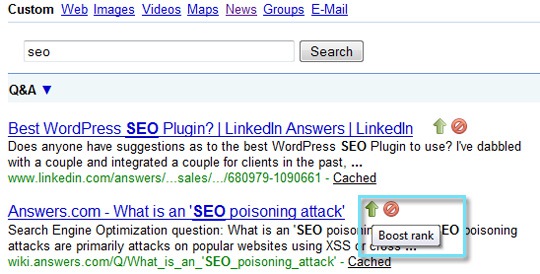 2. You can add or block domains using the right-click context menu: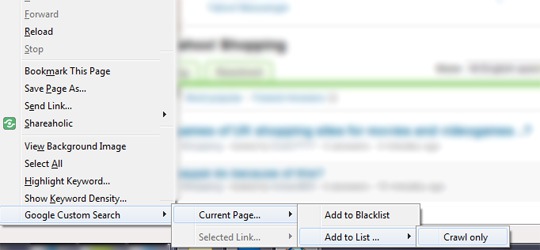 3. You can set your own search refinements:
If you ever want to refine your Google custom search results using another search engine, you can set these in
"Custom search engine settings" -> "Refinement options"
There just check those search engines you prefer to use to refine your results (if any):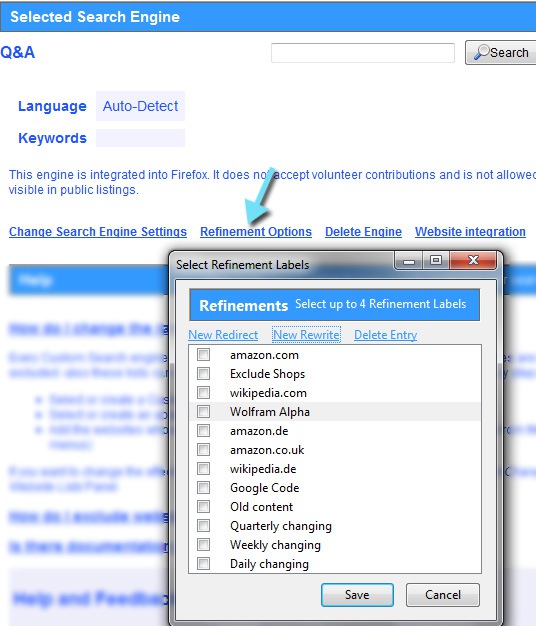 And here are some best options at a glance – enjoy!