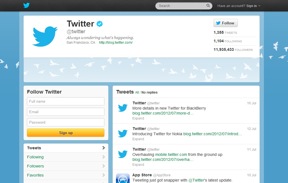 When it comes to popularity, Twitter is not as famous as Facebook. However, it can also become a helpful social media marketing tool for your business. Your Twitter page can serve as a landing page, where your target audience can connect with you and know more about your brand. However, it has few characteristics that you need to take into consideration if you want to convert your followers to loyal business patrons.
Your Profile Background
If you can take advantage of Facebook's cover photo for your brand's marketing purposes, you can also do the same with your Twitter background. You can use this to brand your account, although you need to measure your page properly so you won't cover up your branding.
A 1280-pixel screen resolution is common nowadays, which means you can take advantage at least 108 pixels from the left side of your profile background.
First thing that you need to do is to customize your background's color scheme, Make sure that it goes in line with your business' signature hue. Then on the left side, you can include your logo, your business partners' name or your other social media account information. Just don't over do it or your page will look cluttered.
Your Profile Page
In order to assure your target market that they are following the right Twitter Page for your business, you have to personalize your profile.
Make sure that your Twitter handler, or your @username, is similar to your business name or at least relevant to it. Next, add your business' core value in your About Me section, and don't forget to include your business' web address. You can also incorporate your brand's primary keywords on your About Me section, as this could help your target audience to find you via Twitter search.
Your Profile Image
No Twitter user trusts an account that has the default egg avatar. That's why it's important that you upload your own Twitter avatar immediately. If you can't find one, you can just add your picture or business' profile logo for awhile.
Whether you want to use your own photo or your business logo depends on your Twitter's purpose. If you're using the micro-blogging site as a way to connect to your fans, you can use a business logo. But if you're a known personality in your industry and you represent your brand, you can use you profile image and add a small version of your business logo at the bottom.
Creating a Twitter page is not just about promoting your business. It also has to do with building trust and relationship with your target audience.
image: Twitter screenshot