Last week I had some great time speaking to Apture representative who encouraged me to go ahead and give their tool a try at SEOSmarty.com. Before I share my experience with you, go ahead and see the service in action at my site (scroll a bit and notice a well-branded bar above the screen allowing you to share the page):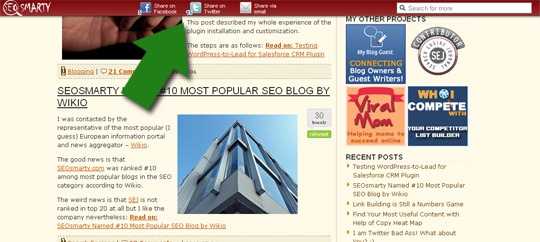 The Apture bar allows the user to do the following:
Share the page on Twitter and Facebook (these also work as count buttons instantly showing how many times the page has already been shared so far);
Share the page via email;
Search the web for anything you want without ever leaving the page:

The search will open in a tiny pop-up;
The search results will open in new tabs
Note: one of the latest service update was introducing "Multiple Site Search" – which allows you to let users searvh within your network of sites – cool!
I shared the tool with a few friends and all of them loved it: the bar really looked both engaging and clutter-free!
The script was pre-made for me, so to get the full understanding of the process I decided to go ahead and create the bar for my other site, Sexy Social Media.
Here's what the process looks like:
1. Go to this page to create your Apture bar first. What you will need to provide at that page is the following:
Your site URL;
Your email address;
The logo you want to use on the bar;
The base color and the color effect (shaded bar or pure color):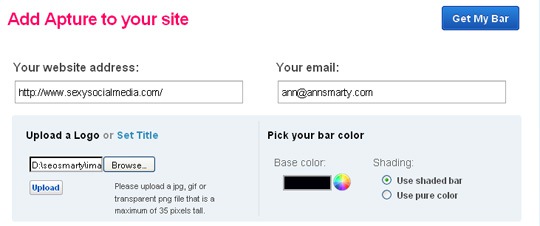 The page will allow you to instantly preview your bar: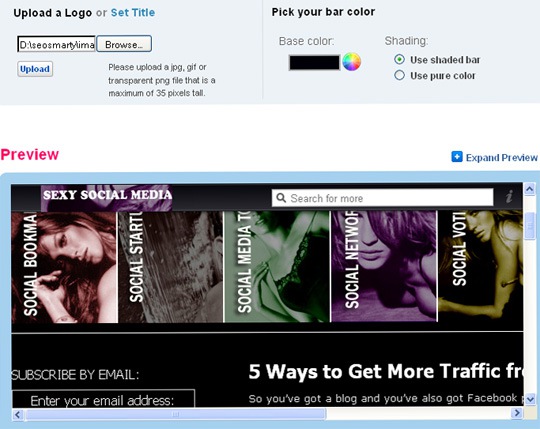 2. After hitting "Get My Bar" you instantly get the code to add before closing /body tag in your page code: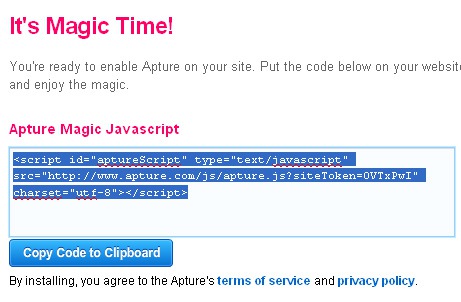 3. You should also activate your Apture account (by clicking a link in the email) to unlock some further features:
Customize the bar entrance point
Set your Twitter name to use in the generated Tweet;
Setup your Amazon affiliate ID to make money from Apture
Get Stats weekly about how your readers are using your Apture Search Bar.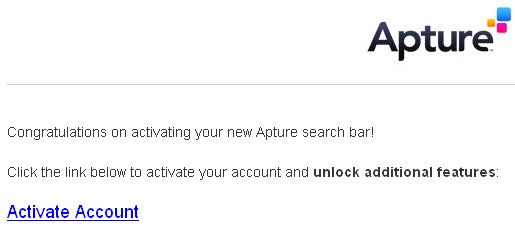 The stats looks impressive by the way. Here's what I received after a few days of running the bar: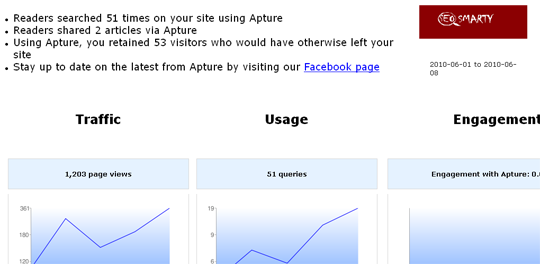 4. Learn additional tutorial to make the most of the great service:
How to make a logo compatible with the bar
How to color match the bar to your site
How to store the amazon affiliate code in Apture so you can make money from products purchased in the bar