A content marketing strategy is a must.
Building a content marketing strategy will help ensure that all your time, energy, and money are focused on reaching a particular goal that helps your business grow. Concentrating on this goal will prevent you from creating irrelevant content pieces that will stand in the way of attracting new visitors and listening to the needs of existing customers or clients.
Additionally, a content marketing strategy will help you reach a much broader audience and distribute your content more effectively to professionals, bloggers, and journalists.
A smart content marketing strategy will also help drive more organic traffic to your website on a daily basis. There's no better source of traffic than organic search because it delivers relevant traffic with little or no additional investment required.
So how do you build one? Here's a five step process for creating a content marketing strategy that works.
1. Define Your Goals
This is the most important step. It will put you on a path toward building the winning strategy.
Although defining your goals may sound easy, it isn't always. You need to think about how you want content marketing to help you and what objectives you will accomplish once it's integrated into your work schedule.
Your objectives might include increases in:
Organic traffic.
Unique page views.
Leads generated.
Sometimes, misguided by a poorly defined strategy and questionable goals, we get this kind of tunnel vision that prevents us from seizing the moment. These questionable, or rather, futile goals are any KPIs that are tangential to attracting new visitors, generating more leads, and onboarding new clients.
Here are a couple examples of bad KPIs:
Frequency of posts. This KPI is focusing on quantity when you should be focusing on what you get out of your content marketing. Squandering your potential by creating a myriad of posts that provide zero value won't earn you readers and will be counterproductive to your marketing strategy because the investment needed to create all those posts will be extensive.
Brand awareness. This KPI is incredibly hard to measure through any one channel. Understanding how recognizable your brand is to a particular audience will require some intricate and costly research. Instead, consider much simpler metrics for gauging brand awareness, such as direct traffic growth and search queries for branded keywords.
2. Investigate the Competitive Landscape
Find out what kind of content your competitors and other industry leaders have produced, and how this content is performing.
You can use BuzzSumo to analyze specific posts and articles created by your rivals and industry experts. Not only will this tool tell you all about your SMM signals like shares and likes, but it will also tell you your number of links.
The only thing BuzzSumo doesn't offer is organic traffic analysis. Thankfully, there are tools like Ahrefs and SEMrush. I prefer using Ahrefs' Batch Analysis tool, which allows you to process up to 200 URLs at a time.
3. Find Out What Content Has Worked Best for You
When some people hear someone say, "Go to Google Analytics" out loud, shivers often run down their spines. But it's really not that complicated.
Google's support forum typically explains everything in a step-by-step manner. So, go to Google Analytics and check which of your articles are getting the most page views:

Find out which pages generate the most organic traffic. To do that, check the "Search Analytics" report in the Google Search Console: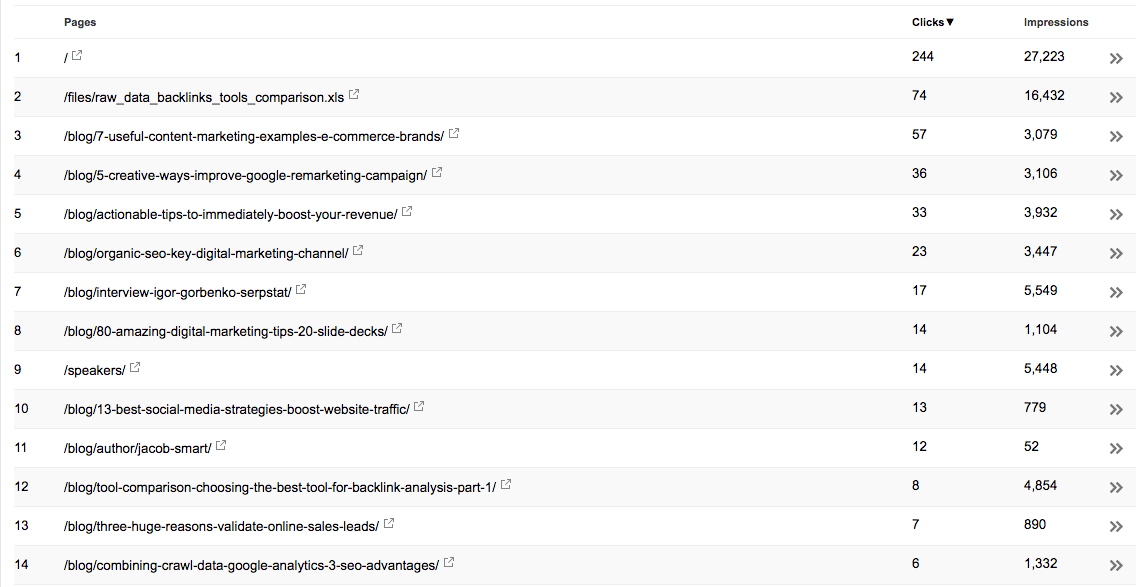 After that, analyze your content performance using BuzzSumo.
4. Learn About Your Audience's Interests & Needs
Tune into what your users are telling you using their keyboards. See what your target audience is searching for in Google using a tool called Answer the Public. This tool scrapes Google's autosuggest search queries.

Humans are curious by nature. We're always asking questions.
What questions are your users asking on Reddit or Quora? Use this search term to find topics for your future articles: site:quora.com "your keyword".
Twitter Audience Insights is another great source of information for getting to know your users better. This will give you an idea of what kind of content is highly appreciated in your industry.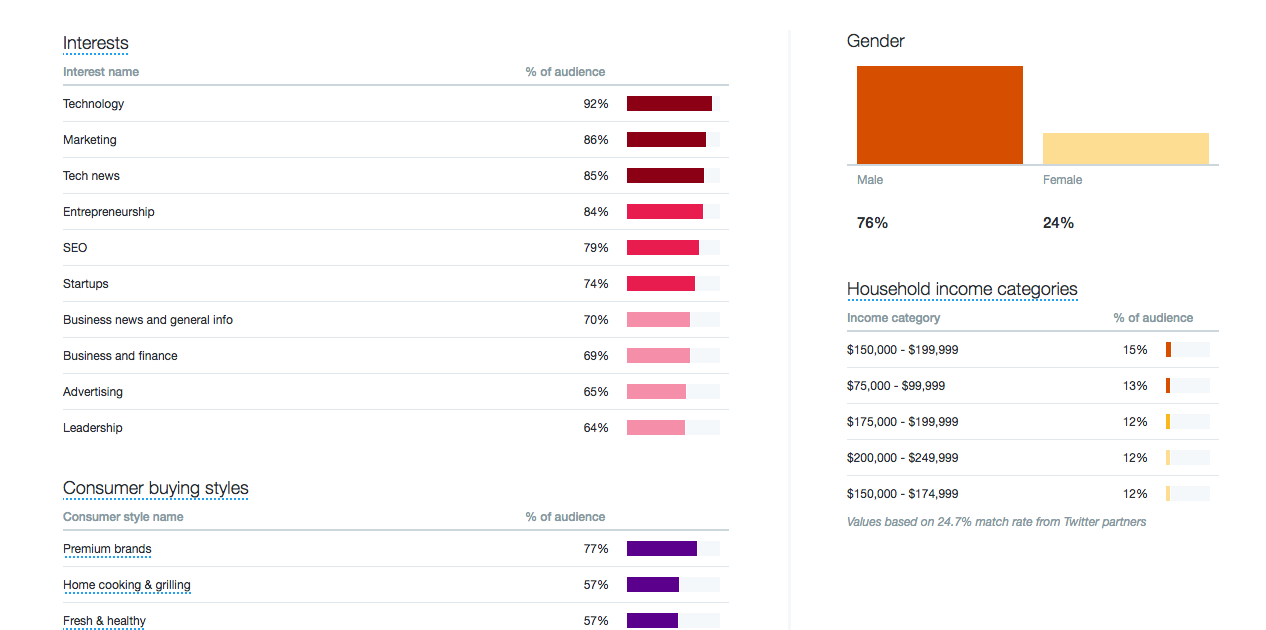 5. Create an Amplification Plan
During this stage you need to deliver a detailed plan for how exactly you're going to distribute your content and get it exposed to a broader audience. Here's an action plan that you can use to better promote your content and, as a result, generate more traffic, attract more leads, and increase your sales.
Use Paid Ads on Facebook
If your budget allows for it, find a couple hundred dollars to run a few Facebook ads. Also, video Facebook ads cost less, so if you can pack a creative message into a 20-second video to support your ads, don't hesitate and just go for it. You'll pay less to reach more users.
Pay attention when setting up your ad and selecting different audience interests. Use brands that your audience also likes. For instance, if I were creating an ad for the digital marketing industry, then for a post about 'content marketing,' I'd add the key phrase "digital marketing industry" as one of my audience's interests.
I'd also select an additional interest for my target audience. Let's say for the purpose of this example it's Canva. Tweaking these details gives me the assurance that users who encounter my post are interested in its subject.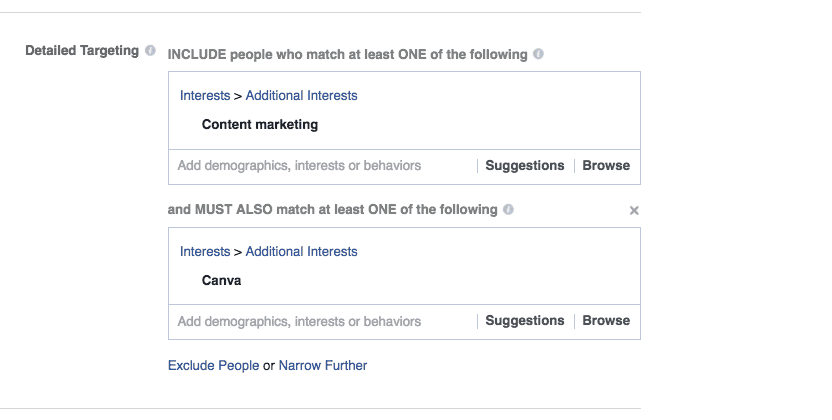 Targeting the correct audience also allows you to reach users who are already familiar with your product. If you have 10,000 emails in your user database, then your best bet is to create a custom audience.
If you don't have that many users, then Facebook will charge you more for an ad like that. The smaller your audience is, the more you have to pay for a targeted ad, so it's not always cost-effective.
Use the Power of Outreach
This part requires some leg work. Start by preparing a list of sites and bloggers that you're planning to contact well beforehand. This will help you speed things up and will score you a decent number of links and social shares, and as a result, steady traffic and fresh leads.
Typically, you want to look for articles related to your own. You can find them with the help of BuzzSumo. Besides that, you can get a list of referring domains (where your backlinks are coming from) using BuzzSumo, Ahrefs or Majestic.
Once you have a list of sites you want to connect with, then comes the most dreadful part: You need to figure out how you are going to reach out to them. There are a couple of ways to do that, and I want to go over the pros and cons of each of them:
Filling Out Websites' Contact Forms
You'll find these on most bloggers' sites. Putting together a list of URLs with contact forms you can paste your information into seems to be pretty easy. One of the pros here is that it doesn't take a lot of time to put things together, but the response rate might be next to zero.
Sending Emails
This is my favorite method of promoting content. Yes, you need to spend a horrendous amount of time finding these email addresses. But with the help of tools like Hunter.io, Findthatlead.com, or Slik.ai, you can save precious time and enjoy peacefully sipping your latte or watching your favorite show.
Another cool thing about sending emails is that you can check if the email you sent was opened or not, and follow up on the conversation when needed. Tools like Yesware, Mixmax, or Mailtrack will help you determine whether your email has been opened and read.
Using Social Media Channels
In case you decide to use social media to chase down an expert, I wouldn't use Facebook to send messages because people rarely use this social network for work purposes. However, Facebook groups, especially closed groups, are the right place to do that. You'll be able to reach your target audience and effectively promote your piece of content.
The same goes for LinkedIn groups. The only thing that you should keep in mind is to never share a link to your article without writing a short intro to your content. That would look abrupt and spammy. Ideally, you need to write a separate introduction for each group for which you're going to publish your content, and that's why it's a time-consuming task.
Another option would be connecting with industry professionals and content producers on LinkedIn. This tactic has proved to be highly effective, and it can be used together with email outreach.
We also can't forget about Twitter. Using BuzzSumo, you can find a list of users who have previously shared similar content. Those will be the people you want to talk to.
Outreach Mix: Emails & Social Media Channels
You can dramatically increase your email response and open rates by connecting with people on LinkedIn first (before you send them emails). Yes, it requires some extra time, but it's always good to know you've established meaningful and potentially strong connections. People who have heard your name before will be more likely to respond to your emails.
Conclusion
Now you know how you can build a powerful content marketing strategy from scratch.
Sure, you can just write some content, publish it on your site or elsewhere, and do a couple of social media shout-outs. But that won't bring the traffic and leads you want in the long run.
You need to know exactly what kind of posts resonate best with your audience and get strategic about your outreach plan.
Image Credits
Featured Image: Unsplash
In-post Images: Screenshots by Alex Tachalova. Taken June 2017.