Consumer Packaged Goods (CPG) brands are currently fighting an uphill battle to gain real estate on search engine results pages because brick-and-mortar businesses dominate organic results via the traditional Local Pack (i.e. Maps) and general organic listings.
Consumer Packaged Goods have the same goals as retail stores, which is to drive sales from consumers walking into a store to purchase products. From a Search Engine Result Page (SERP) analysis, when a consumer is searching for a specific product by brand there are inconsistencies within the local pack appearance. Queries such as "toothpaste" and "perfume" may not display local pack Google results, but the same queries might appear in Bing results.
Searches like "lighting," "sneakers," "dress shoes" and other similar terms may show within the local pack in Google, but may not appear in Bing. Universal Search results do appear, but the search engines are displaying knowledge graph information, product listings ads, and other info instead of the local pack.
KW: "Toothpaste 80202"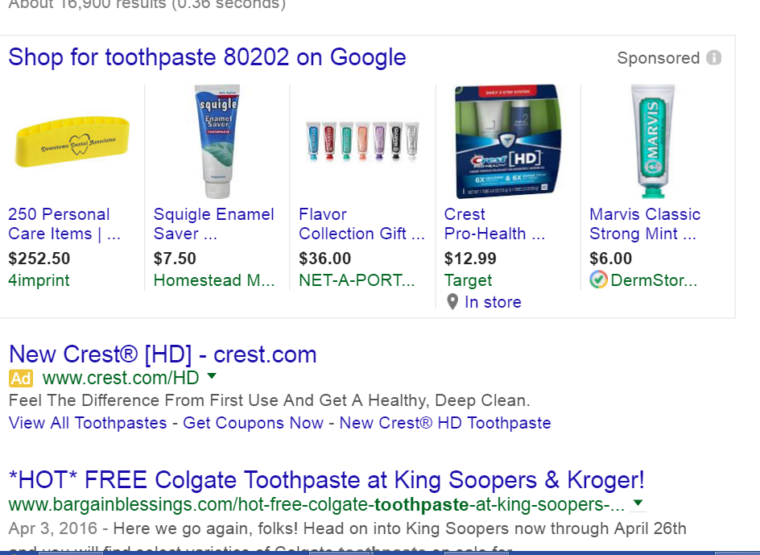 So how can CPGs assist the search engines in making more of a correlation between locations and products? By creating a natural connection to business locations, using content on their website properties. Building location pages offers an SEO opportunity for CPG brands to gain more traffic from organic listings and improve their ROI in search marketing. By building out individual landing pages that focus on featuring location-based content, CPG brands can enhance their ability to rank higher on some non-branded searches from the following combinations:
Keyword + Zip Code
Keyword + Town
Keyword + City
Keyword + Neighborhood
Keyword + Near me (fastest growing query set)
Here's how I recommend achieving this for Consumer Packaged Goods brands:
Step 1: Create a Location Page for Consumer Packaged Goods
Create a location page that resides on the consumer packaged goods brand domain, and promotes the store locations where the products are located. On these pages, you can feature the NAP details, description of the product, and their SKU's. By also having your meta and schema markup in place, you can provide the search engines more localized info in order to create a connection with your products.
This strategy will allow CPG brands to not only rank for individual product phrases, but also piggyback on branded phrases and search terms of their retail partners (in some cases, an agreement/understanding will need to be in place with partners).
It's worth noting that the competition likely to arise in this area for ranking will most likely come from directories like Yelp, Yellow Pages, and others.
Step 2: Re-Architecting Backlinks and Outreach
There are thousands of internal and external backlinks that likely lead to your homepage as a CPG brand, or other areas of the site, and it will ultimately make sense to redirect them to the aforementioned new location pages. Links are still an important influencer within Google's Algorithm, and although this is a manual process, it's important to pass Pagerank to these new location pages to help achieve higher rankings. There has been some debate about this since Google stopped providing Toolbar PageRank scores back in March, but there is no doubt that Google continues to use PageRank as a contributing algorithm factor regardless of whether or not scores are accessible in the way they once were.
The more external links CPG brands can gain from sites that are geographically targeted can provide even more long-term ranking value. Internal links that are more relevant to the new location pages should be redirected to a page that allows consumers to gain more detailed information.
Step 3: Retargeting Lists
Now that you have developed all of these new pages, it's important to ensure a proper retargeting program is complementing your efforts. It would be advisable to make sure you have retargeting lists in place, so that when a consumer leaves your site, you have the ability to show an interested consumer a product ad to bring them back into the sales funnel.
Your new location pages can also be connected to activity that is currently happening in the store with the use of beacons. Product information such as what is in stock, and quantity of units known in the store, are real-time data points that can be pushed to the location pages from the physical store location-based on inventory. With the growth of mobile adoption, beacons have the potential to allow Consumer Packaged Goods brands to connect more digital efforts to actual in-store sales.
As brands continue to look for more innovation around digital, creating location content is an opportunity for CPGs to become more visible within the SERPs. This organic traffic from the search engines is very desirable as consumers are deep in the funnel and close to making a purchase. Creating location pages will give CPGs a chance to drive consumers to their own assets, while assisting their retail store partners by driving more consumers in-store visits.
Image Credits
Featured Image: Jeffrey Deng/unpslash.com
In-post Photo: Screenshot by Andrew Beckman. Taken May 2016.