With the constant evolution of Google's search algorithm, the mobile first index shift, and the rise of AMP, content creators need to reduce bloated word counts. We need to hone in on clear, concise, and compelling copy.
Google announced in early November that their "algorithms will eventually primarily use the mobile version of a site's content to rank pages from that site." Their ranking systems have traditionally analyzed the desktop version of the page's content in evaluating relevance. One year into Google's open source AMP project, we're starting to see a shift.
Going forward, if you already have a responsive website, you have no reason to worry. However, if you have a mobile version of your website that is incomplete or has much less content than your desktop site, it will impact your rankings negatively.
Things You Should Know About AMP
When you're on mobile, you just want the goods, and the AMP project is about serving that core content as quickly and as cleanly as possible. AMP stands for Accelerated Mobile Pages. It's an open-source technology developed in part by Google which allows you to optimize the load time of your site when users access them from a mobile device.
AMP is based on a slimmed-down version of HTML that stops external resources, extension mechanisms, and third-party JavaScript from slowing your loading party. Instant loading is great for users, great for SEO, and therefore great for business.
In early 2016, Google started steering users towards AMP search results pages by placing them in the top section of the search results. Since then, the AMP Project's findings have given us a clear picture of where we're headed in 2017.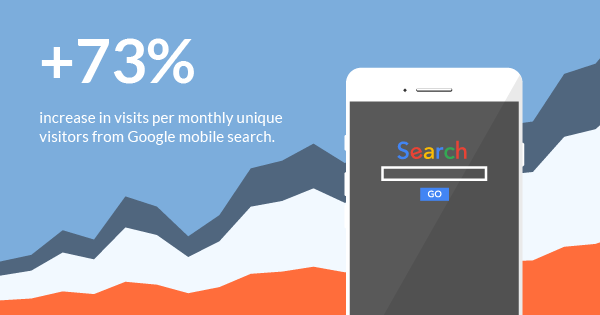 Source: Search Engine Watch – Accelerated Mobile Pages (AMP): one year on – stats and infographic
In case no mobile or responsive site exists, meaning only a desktop and AMP version are available, Google clarified that it will index the desktop version by default — at least for now. That comes as a bit of a surprise, since it is fair to assume the most mobile-friendly version (meaning the AMP in this scenario) would be chosen for indexing. Let's stay tuned.
The Difference in Formatting Content for Mobile Vs. Desktop
We are far past the point where optimizing user experience for mobile is just a nice-to-have for e-commerce businesses. Today it's a must and for your content, that means less is more. Condensed content should definitely be on your agenda for the next year.
While someone sitting at a desk likely has more time and a larger screen size to absorb your website content, a user accessing your site from their phone can only stomach bite-sizes of everything: text, images, graphics, you name it. One critical component of mobile optimization is trimming down your website content to be concise without losing the initial meaning or its intended impact.
Here's how you should approach your Condensed Content project:
To the point headlines: With the loss of screen space, your headlines need to be spot on. No beating around the bush and definitely no clickbait titles. Be precise and straightforward.
Shorter paragraphs: Go through your desktop content and create a summary of each paragraph. Short and sweet. That'll help you get rid of all unnecessary fluff and minimize brick-wall content that is unappealing for mobile users.
More "do," less "say": Move from wordy content to enticing calls-to-action. This may be the perfect time to brush up on your CTA skills. Protip: anchor text CTAs over end-of-post CTAs always!
Clear, Concise Writing is More Important Than Ever
It's clear that cutting down on content instead of condensing content is not the way to go. You might lose the value and meaning of your text and hurt your SEO rankings. So when slimming down to optimize for mobile, we can all benefit from a quick recap on the golden rules of great content writing.
Write directly and simply: A lot of fluff doesn't help the urgency or importance of your message. Try to avoid highly complex sentence structures and academic phrases in exchange for clear, concise writing that doesn't beat around the bush.
Use an active voice: Unless it's status quo in your industry (legal, for instance), an active voice is always more likely to engage your audience than using passive language. It makes people feel directly addressed and establishes a closer relationship with your reader from the start.
Strong verbs win: Active, thought-provoking verbs are what brings your copy to life. They create that movie in your reader's mind that is easily recalled and memorable.
Write with your phone voice: A lot of business emails are anything but straightforward. We tend to think that the more elaborate our word choices, the more impressed the person on the receiving end will be. There's really not much compelling, clear, or precise about phrases like "subsequent to the previously addressed matter." Just write the way you'd speak to someone over the phone. That is a great rule of thumb to keep the tone professional but not too formal. For example, "As I said in my last email" is something everyone understands.
The Silver Lining is Condensed Content
Since Google included Panda in the core algorithm last year, many SEO specialists recommended removing thin website content to avoid being demoted by an algorithm update. However, that might get you into more ranking trouble. A better way to protect your page is precisely the opposite: add specific, useful, high-quality content and keep doing it. Staying away from common Panda triggers is also good advice:
Similar content: multiple pages on your website that talk about the same service or product, share parts of their content and target the same keywords.
Spammy content in your user comments or forums.
Featuring ads that ruin your user's experience when surfing your site.
Having an overkill of affiliate links cluttering your website.
Keeping the "mobile first index shift" in mind, the rising star here is definitely condensed content. So copywriters: Tame that inner chatter box. Narrow in on straightforward but powerful words that make your website highly relevant for users on both desktop and mobile. That'll put you on stable SEO grounds (and might even help you improve your core messaging to your target audience).
Image Credits
Featured Image: Brock Murray
In-Post Graphic: Lisa Kupfer