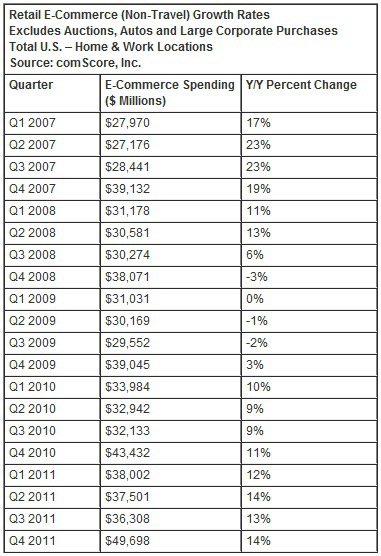 For the ninth consecutive quarter, the fourth quarter of 2011 achieved strong year-over-year growth in online retail spending. The recent report, which was released by the leading online market researcher comScore, indicated a 14% increase in sales compared to the fourth quarter in 2010. Online retailers raked in an impressive $49.7 billion in sales. Also, during the fourth quarter, an all-time high 52% of online orders included free shipping.
Online shoppers spent a record breaking $161.5 billion in 2011. This 13% increase over 2010 was assisted by several top performing product categories, which each experienced a minimum of 18% growth compared to last year. Some of the top performing categories included: digital content and subscriptions, jewelry and watches, consumer electronics, software, and toys.
Mobile devices, such as tablets and smartphones, also contributed to the increase in sales last quarter. As a result of widespread mobile usage and strategic marketing campaigns by Amazon and other large Internet retailers, the use of price-checking apps became mainstream. These apps allow shoppers to easily research pricing, features, and order from online retailers while shopping in physical stores.
Gian Fulgoni, the comScore chairman, predicted that the value-driven nature of consumers will drive the continued growth of online shopping:
"The fourth quarter of 2011 capped off what was yet another strong year for online retail, one in which every quarter achieved double-digit increases versus the prior year. In the face of continuing uncertainty regarding the U.S. economy, consumers increasingly went online for their shopping needs. Price and convenience continue to be the critical value drivers for e-commerce, and unless those conditions change we can expect to see more channel-shifting to online in 2012 and perhaps even an acceleration in the current growth trend."
With a record ten individual days exceeding the $1 billion in online spending mark last quarter and nine consecutive quarters of growth, the future of online spending looks bright.
[Sources Include: MarketWatch and comScore; Image by comScore]