Editor Note: SEJ was given a press pass by Content Marketing World.
Day two of Content Marketing World started off a little bit later in the morning, which was much appreciated after a long (but awesome!) day yesterday.
Breakfast was just as tasty this morning, and I even took a picture so you could be jealous. You are welcome.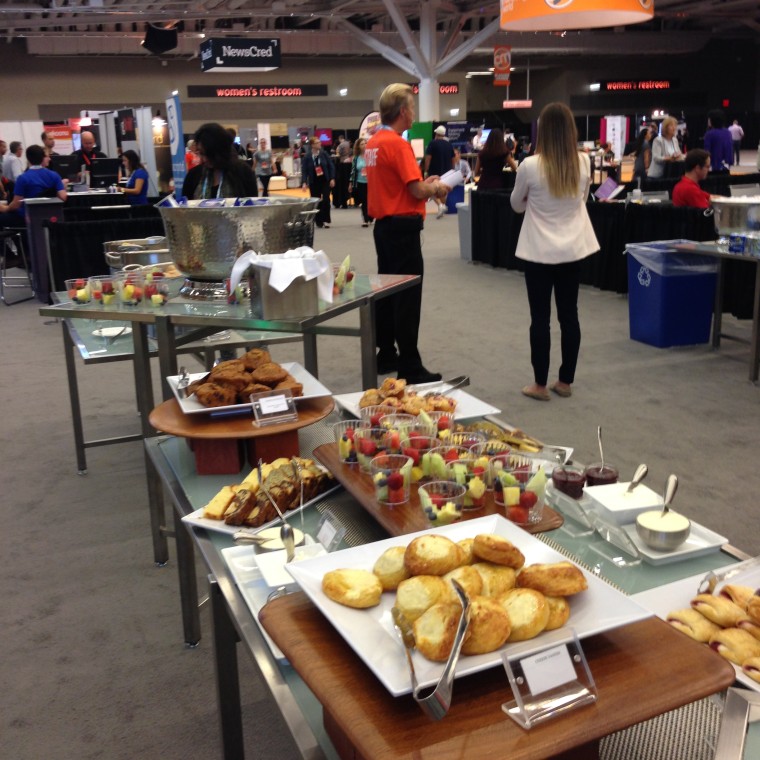 Highlights of day two included an interesting panel on print media (yes, really), the Content Marketing Awards, and a round of CM Hollywood Squares, which was hilarious.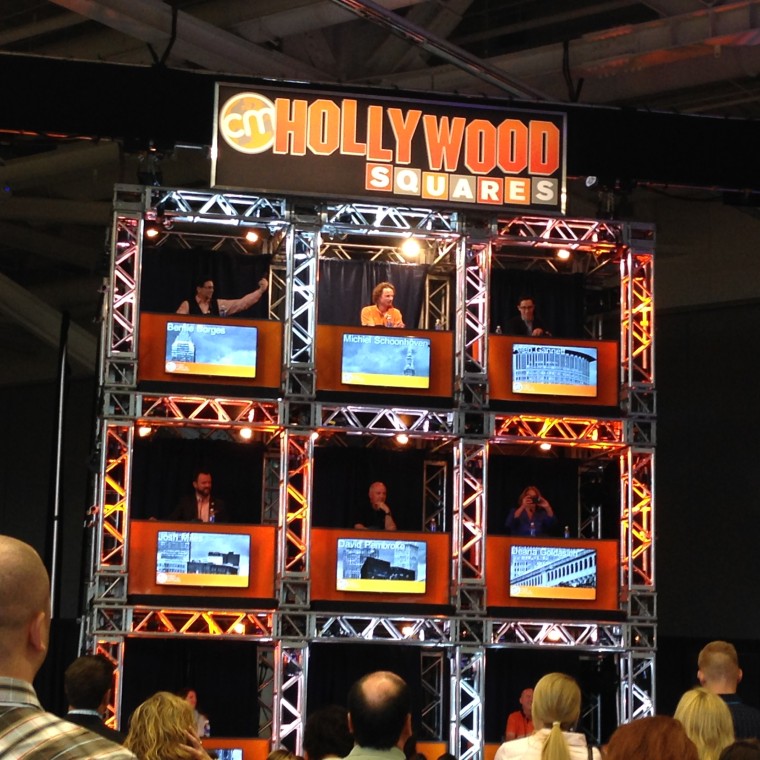 Here are highlights of a few of my favorite sessions of day two:
Opening Keynote: Rajiv Chandrasekaran
Formerly a war correspondent with the Washington Post, Chandrasekaran recently left his position to go work with Starbucks to create what he calls "Social Impact Story Telling" — which seems like an odd career change for a man who is used to seeing literally the very worst of humanity.
Why would a war correspondent want to partner with a coffee company?
It started as a project with Howard Schultz to co-write "For The Love of Country," a book which told the stories of American veterans and how their lives have been effected by serving, and often giving their lives, in service of our country. He read one of the stories during his speech. It was authentic, it was real, it made many people tear up — and not once did it try to sell coffee.
Most of all, it was more than just a book — it was just one part of a commitment from Starbucks. They also promised to hire veterans, open more stores near bases, and donate 3 million dollars to veteran causes. Those actions created a context where the book felt authentic and not like a marketing ploy.
The Takeaway
Above all, be authentic. If you are not, consumers will see right through you. He also says brands must recognize that telling human stories is not about money, it is about aligning values and doing something impactful.
This was apparently one of the first public speaking engagements Rajiv has done and it was extremely moving. He was a fantastic choice for a keynote and I actually already picked up one of his books.
Create Ugly: Clever, Sneaky, Downright Brilliant Ways Prolific Content Creators Make the Quality Versus Quantity Debate Useless
According to Jay Acunzo, the quality versus quantity debate is useless because you can have both — if you are a prolific writer. Enter the "just write better!" argument that gets passed around way too often. As if it is simple. As if you just stopped being an idiot and created awesome content you wouldn't be struggling.
But it isn't simple.
However, it can be easier to create more content – by doing what Jay calls "Create Ugly". He then goes on to give a list of 5 things all prolific writers do. I actually wrote them down in my notes, but I think Jay says it better. He has a lot of energy and is really engaging story-teller.
So, instead of giving you all his secrets, I am going to recommend seeing him speak. You won't be disappointed.
Here are a few of my favorite highlights:
Imperfect action is better than a perfect process. In other words: create ugly.
Find joy in the process of creating.
Leave your industry echo chamber
Work out your creative muscles by working on side projects.
Panel: Can Print be a Logical Choice for Your Content Marketing Strategy?
Print is dead. Right? Before seeing this panel, I would have agreed. This was a fantastic panel of four experts who are all involved with producing a real, live print magazine. They argue that not only can print be highly effective, in some cases it can be more effective than digital.
Here are a few highlights from the session:
Print is not dead. In fact, no old media is dead, they have just changed.
Print media is here because it is efficient, but it does have a problem with measuring that efficiency.
Print should not be on its own, it should be paired with digital assets.
Stop getting caught up on ROI. What is the ROI of a brochure or of going to a trade show? It cannot always be measured.
Because print is utilized less, people pay it more attention and have longer attention spans when interacting with it.
Don't be brand forward. If you over brand, you lose credibility.
My Take On Content Marketing World
Go. Seriously.
Particularly if you are a writer or editor or just really like those things. Or, if you have ever gotten frustrated trying to explain to a client or boss that not everything you produce has to be salesy. Or, if you like good food (did I mention the food was good?).
Most of the conferences I have been to tend to cover a ton of different topics, which is fine. But being in a room with more than 3,000 other content marketers was an amazing experience. There was a lot of love, a lot of excitement, and a lot of high-level information, which was truly refreshing.
Joe Pulizzi's Challenge
It is easy to go to these conferences and get all jazzed up. You have new ideas flowing new information to take back to your bosses to show them how awesome content marketing is. And then you get back to the office and get back into a comfortable groove.
Joe knows that is how it often goes down, which is why he issued a challenge during the wrap-up session. Paraphrasing Jay Baer, he asked,
"Are you just going to go back and make some content, or are you going to make a difference? You have more opportunity to change the world than most. I really believe if you go back to your company…and lead it in the right direction, you have the ability to help people lead better lives."
I am already looking forward to next year.
Image Credit: All Images Were Taken By Author