Begins now your journey young Padawan. You must teach your birds to fly with the power of the force and defeat the Pigtroopers of the Dark Lord Pig Vader.
Yes, Angry Birds Star Wars is finally here for mobile devices from planet Earth to a galaxy far far away. The new game launched Thursday on most major platforms: iOS, Android, Amazon Kindle Fire, Mac, PC, Windows Phone, and Windows 8.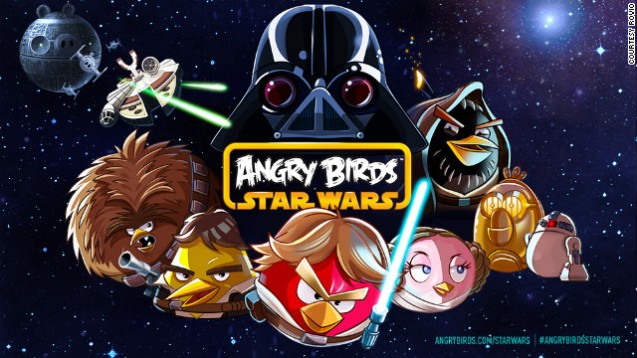 "It's a banner day for us," said Peter Vesterbacka, CMO of Rovio. "This is our best Angry Birds game yet, and we're excited for our fans to finally meet Luke, Leia, and the rest of the gang! But it's more than just a game launch: we think fans are going to just love the new animated trailer and the Angry Birds Star Wars products, sure to be a big hit this holiday season."
"We can't wait for fans around the world to experience the fun of launching the Angry Birds characters into the Star Wars universe," said Colum Slevin, head of Studio Operations for Lucasfilm Ltd. "This is the kind of creative partnership that has helped Star Wars remain vibrant and beloved for over 35 years."
Check out Dan Rowinski's review for ReadWrite.com:
The game starts at the beginning of Episode IV: A New Hope with the familiar Red Bird as Luke Skywalker. Red Bird cannot do much at first, he is just the same bludgeoning bird that every Angry Birds game starts with, except for a tuft of wispy blonde hair that would make Mark Hamill proud. We are soon introduced to Black Bird, the bomber of old, who has traded in explosions for the Force in his role as Obi-Wan. After several levels fighting bad piggy Tuskan Raiders, Red Bird learns to use a Lightsaber.

Yup, you can now use a Lightsaber and the Force in Angry Birds.

It gets better. Yellow Bird is introduced soon enough… as Han Solo, complete with blaster. Then comes the kicker. After achieving a certain number of stars, you unlock the Millenium Falcon.

That's right. The Millenium Freaking Falcon.

The Falcon is an not your ordinary bird though. It is an egg, and you only get five of them to start. When you unleash the egg, you target a certain spot and tap the screen. The Falcon then appears, blasting everything and anything in its path. It's an awesome trump card to bulldoze your way through even the most difficult levels.
And just in case you haven't quite gotten enough information to close the deal, here's the Angry Birds Star Wars trailer
Image Credit: Rovio