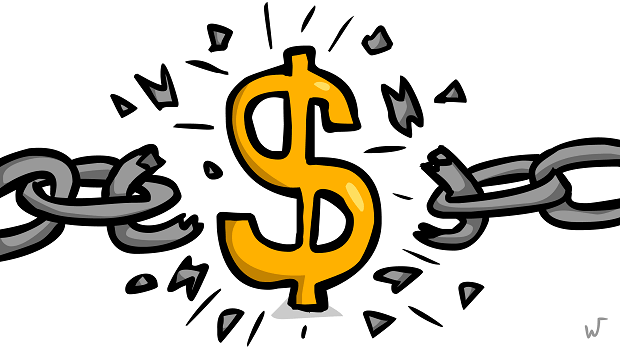 It's 2013. Google's Penguin algorithm update has long since been released, established and written about. The whole internet, every reputable SEO company and blog have discussed it down to its finest details.
Yet, there are still legitimate businesses out there using black hat tactics, either oblivious to Penguin, or still thinking they can bypass it.
I'm in a privileged position – SEO is my job. I keep up with the latest news and I test things again and again. I admit, not everyone, especially not business owners and those who aren't involved in SEO are in that same position. But even so, that doesn't explain the requests and services I see on sites like Fiverr and PeoplePerHour: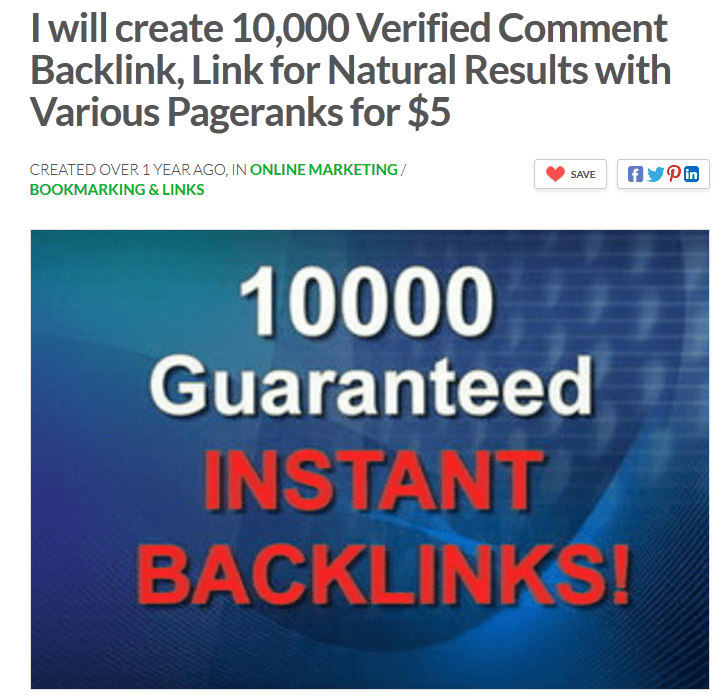 10,000 GUARANTEED instant backlinks! Sounds great… won't get you anywhere, unless you are having a link popularity contest with one of your mates. But I'm far too old to play childish games now…
Check out this offer below – "Google Page 1 Guaranteed":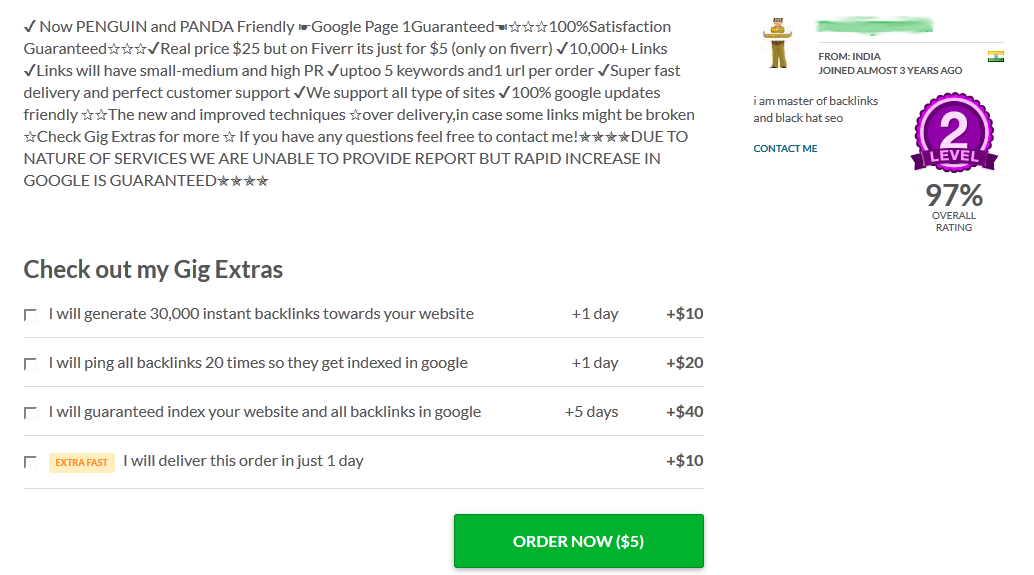 The "master of backlinks" – love it! At least he admits to being "black hat seo". Either way, he seemingly delivers what he says and has a 97% rating. He's just doing what he says he will do – it's the customers that are the foolish ones. How many of them benefited from their $5 purchase? I could probably guess…
Actually, I won't guess. Over the past 8 weeks I have tested it for myself. I purchased this package and asked for the 10,000 links to be pointed to a domain of mine.

To be honest, I wasn't expecting a 45 day wait for all of my links and I had been hoping to publish this blog in July. But still, I stuck with it. After all, "rapid increase in Google is guaranteed" – I mean, I could really do with all that traffic from my site appearing much higher in Google than it currently is.
This domain of mine was ranking on page 6 of Google for "womens underwear online" at the start of this test. And as the links started coming in to my domain, towards the end of this campaign, I had dropped out of Google of that specific keyword, as tracked by Authority Labs below:

At the start of the campaign I was asked for five keywords to target. The keyword above that I listed was the only one at the time ranking in the top 100 of Google.

After submitting 4 other keywords to build links for, all related to and mentioned on the homepage of my website, and waiting 45 days for "rapid increase in Google is guaranteed" – none of these keywords ever made it into the top 100.
So for $5 (£3.43) I got my website booted out of Google for one of the terms I was targeting. Fortunately, I was nowhere to be seen before. It won't keep me awake at night.
This is just one of many people selling this kind of service. I didn't mean to pick on this particular individual or highlight his work personally – he just happened to have the most attractive offer in my eyes on Fiverr.
But with all these link sellers in the world, many people, webmasters, business owners, lazy link builders are being brainwashed into believing this actually works. I mean, even I was – otherwise I wouldn't have wasted my hard earned £3.43 on these 10,000 links 😉
And here's just one example of the millions (and millions) of someone requesting links (directory submissions) for very cheap: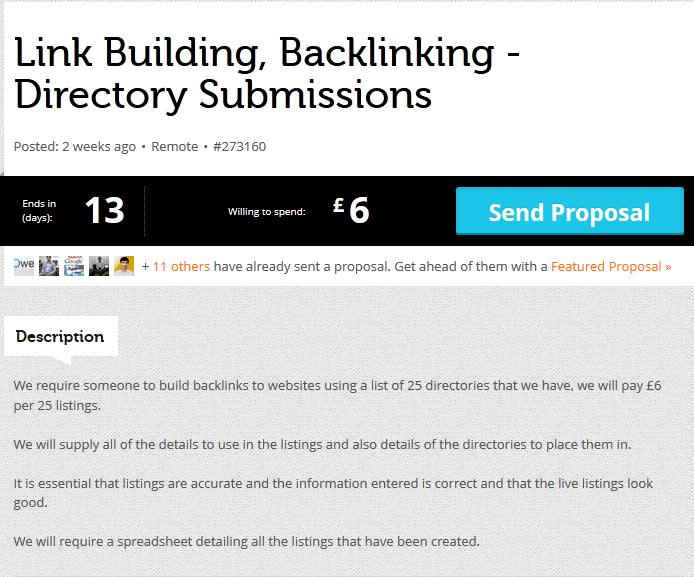 In this example I wonder what the purpose is of being listed in 25 directories? Again, if it's for a popularity contest Simon, I don't think that's going to get it done. And if it's for gaining traffic, or positioning in Google SERPs, I'm fairly confident it's not going to have the desired effect (don't worry – I didn't waste my time or cash testing this service).
At what point does someone, clearly with a low-level of SEO knowledge and research think it would be a good idea to build 10,000 links or 25 directory submissions? I mean, what keyword have they searched in Google (or maybe Bing) that has told them "you need 10,000 links" or "you need 25 directory submissions"? Or who has told them this? Somewhere out there, whether it be on the internet or in the pub or at a conference, someone is giving out some very bad advice.
And I was hoping that in 2013 we would see the end of this. Apparently not.
I check hundreds of backlink profiles on a weekly basis. It's part of my job. It's part of my learning. And I'm still coming across sites with a lot of dodgy links, usually those in uncompetitive or low competitive niches to be fair. Fewer and fewer results on page one in competitive niches these days have a black hat backlink profile (payday loans is an exception).
(For the record, I am not against Fiverr or PayPerHour – in fact I love Fiverr and use it regularly… just not for work.)
OK, so how does Barrie do it?
I want to show you what you can achieve, and what we have achieved using only ethical link building techniques.
Here are the results of a campaign we ran for a client between January 2012 and January 2013 (13 months):

At the start of the campaign our client's website was getting 60,000 non-paid search visitors (this doesn't include referral visitors).
A link building and traffic generation campaign takes time – there were a couple of dodgy links to remove at the beginning of the campaign, there were content marketing efforts to put in place, there were links to build to start improving the traffic levels.
By month six; July, we had increased the traffic to 100,000 visitors (63% increase) on a monthly basis for this campaign. Although at this point we have failed to double the traffic, an extra 40,000 visitors a month for this client was substantial to their business.
And come the twelfth month of our campaign, admittedly now at their peak season (end of November up to Christmas), the traffic peaked at 175,000 visitors – nearly three times the levels of traffic in January at the start of that year.
After the peak comes the decline, but January 2013 still continued to be an excellent month with 120,000 visitors – and that was double the visitor levels of the previous year.
But ultimately, what is the point of link building? Some people, even in August 2013, from the examples I displayed at the start, still don't understand the purpose of link building.
Ultimately, these really are examples of getting what you pay for. Spending $5 and £6 really isn't going to hurt any business' budget. There's a high chance that these cheap tactics will damage your website's chances of ever ranking high in Google, as shown in my example. Low quality backlinks run the risk of getting your website penalised and giving yourself a disadvantage. So why go there in the first place?

Building lots of links is not link building. It never should have been and for the past 3 years or so it hasn't been. At least not for the bright sparks and ethical marketers amongst us. Link building is about driving relevant traffic and potential customers to these websites. If the client is paying me X amount to do this for them – my minimum requirement is to provide them with a lot more money than they are paying me. Otherwise it's a fail. And they are not going to continue paying me for their services.
And here is how the sales went:

The graph follows a similar pattern, although, admittedly, January 2013 hasn't quite doubled January 2012 this time. Although I must point out that telephone sales are not tracked in Analytics (feel free to call me a rookie).
So what do you want to get out of your link building? 10,000 cheap backlinks? Or an increase in sales? Talk to me.