As many of you know, in November of last year, one of the search industries most appreciated members, Dana Lookadoo, was in a freak cycling accident that left her with a broken neck, broken back, several broken ribs, a broken scapula and broken ankle…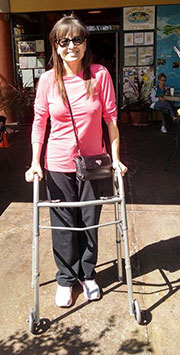 Dana has been recovering at a truly inspiring pace. The initial diagnosis was quadriplegic, and her orthopedic surgeon said she'd never walk again.
Now, months later, she is able to walk short distances with a walker, and has even begun climbing stairs with the aid of a quad cane. It's truly a miracle to watch unfold, and to be able to participate as a member of her rehab team.
But there's a lot involved with the process she's gone through and continues to go through. Not only was this a devastating blow to her physically/intellectually/emotionally/spiritually, it has been taking a toll financially.
The scale of the challenge
Dana's racked up over $2 million in medical expenses to-date. Insurance doesn't cover all of it and more bills mount daily.
Complicating this reality has been Dana's inability to get back to work full-time. At this point she's only able to work a few hours a week, in very short sessions.
Industry Support
People throughout the industry and in Dana's other circles have been stepping up in blessed ways since the beginning. From individual donations to an SMX West fundraiser, endless cards and gifts and support, industry people have been proving over and over again that we are truly a family.
Yet the expenses continue and for all her miraculous improvements, Dana has a long long road ahead, and many more miracles are needed for her to get past this.
For a Great Cause: Bloody Panda and Bloody Penguin
In order to help Dana with her expenses, Laura Lippay, herself one of the most appreciated people in our industry, created two hilariously awesome paintings, and they're going up for auction on eBay. It's our hope that someone(s) will bid on the paintings, as all proceeds go to Dana's medical bills.
About the pieces:
From Laura's auction listing:
This auction is for both pieces.
They're each 10 3/4 inches wide by 7 1/2 inches tall.
They're ready to hang.
The pieces of wood aren't flawless by any means. The wood is very soft, so they've got a fair amount of imperfections and blemishes, which kind of adds to the scrappy look I wanted them to have anyway (hence the scrap wood).
They're very light in weight.
They're drawn in ink and the blood on each piece is acrylic paint.
Each piece is also covered with a clear semi-gloss with a touch of hunter green acrylic paint in it.
The auction begins 9AM Pacific Time on Tuesday, April 22nd. (The link won't work until it starts).
How you can help
Spread the word. Share the auction on social, tip off your friends.
Bid. 100% of the proceeds go towards Dana's medical expenses.
Thanks for all the continued support, we are truly grateful!
If you'd like to stay up to date on Dana's progress, you can join the "Updates about Dana" Facebook group.