Pinterest is growing to be the most engaged social media network in the world. I love Pinterest and have spoken on the topic several times annually for the last two years. What's the #1 question I get asked by attendees? Whether or not they should buy Pinterest followers.
Getting a large following on Pinterest isn't easy, especially if you're a business without a strong following online. It's true that some businesses purchase Pinterest followers. But is this a good idea?
In my research I've found that you can purchase Pinterest followers from $10-85 per 1000 followers, with the average price around $20/1000.
Pros of Buying Pinterest Followers
Well, the most obvious benefit is that you look like you or your business is popular. This works on new Pinterest folks who haven't checked out your account before (unless they look at your re-pins).
Buying Pinterest re-pins will make your pins look like they are very active. These tend to come from inactive accounts, but it will still make you look very active and this is good for faking that you're amazing.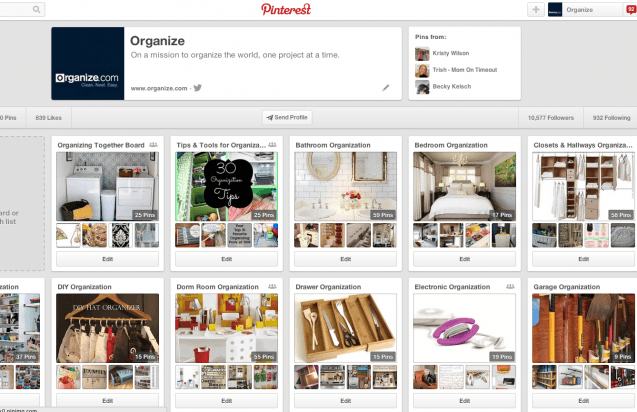 Above is a screenshot of Organize's Pinterest account, a company I help out with. Did I purchase followers with this account? Nope. I've built this account from the ground up. I've worked on this for a long time and put in countless hours to be able to get 10k+ followers. You'll notice that my followers are very active and actively re-pin things that I do.
Why didn't I buy followers? I'll explain the cons of buying followers below.
Cons of Buying Pinterest Followers
When you purchase Pinterest followers and/or re-pins, to your Pinterest friends you will look like you are killing it. But your robot "friends" will see right through you.
Pinterest's algorithm (much like Facebook and other social networks) works on popularity signals. This basically means that when your posts attract a lot of engagement, Pinterest will show you more often and at the top of the stream. If you post something and nobody likes or re-pins your shares, you'll become less relevant.
Facebook used to refer to the concept of filtering content based on popularity factors as Edgerank. I'll call Pinterest's ranking on pinners and pins as Pinrank. The more people that follow you that don't indicate your pin is important, the more your Pinrank will go down. The more your Pinrank goes down, the less your pins will show up at the top of the Pinterest search results to popular pinners. (So if you've purchased Pinterest followers make the effort to keep your Pinrank up or you'll be worse off than before.)
It reminds me of the old question "Would you rather have a million friends or 5 amazing friends". Most people (especially ranking robots) say that it's better to have 5 amazing friends.
Another reason not to buy Pinterest pins or followers is you run the risk of getting your account banned by Pinterest. I'm aware of 2 or 3 accounts that were banned due to buying followers. This is in violation of Pinterest's Uses policy.
One account that got banned was for a company that had hired a full-time employee to manage their Pinterest account. After 8 months, the employee purchased about 10K followers and subsequently got the account banned. The company lost everything, including the money they paid for the followers. I wonder how many people have had this happen.
Another con for buying followers on Pinterest is traffic related reasons. We all know that social networks influence traffic. I've found and tested that when I buy pins I see an increase in traffic for 2-3 days then almost all the traffic will go away. This potentially will hurt your search results and could cause ALL your traffic to go away because of spamming.
So should you buy Pinterest followers?
My personal recommendation would be to do everything legit and to not purchase Pinterest followers. I think it's just a safer bet, long term. It's much like black hat SEO. You might get away with it for a while, but eventually you're going to get caught.
Have you ever purchased Pinterest followers? What was your experience?
Featured Image Credit: Screenshot of buycheaplikes.com