So much of marketing (SEO, PPC, social media, content marketing, and the rest) is about getting visitors to your site.
But when it comes down to it, that is not the most important goal of e-commerce – it's sales.
No matter how much web traffic you get, problems on your website that limit conversions ultimately make your marketing efforts futile.
Luckily, you don't need to spend a year studying optimization to get more sales. Read on to learn how you can start boosting your e-commerce conversions today.
Write Amazing Copy
You should never make do with your manufacturer's product description for two main reasons:
It's bad for SEO.
It doesn't show visitors why they should buy from you instead of others.
Take the time to write unique, compelling descriptions for each product. Here are some points to remember:
Lead with benefits. Specifications and features are important, but the majority of your copy should focus on benefits.
Highlight your unique selling proposition. Why should someone buy from you and not your competitors?
Make it long and short. Include all the essential information in the first paragraph. Then go into more detail for people who want to read on.
Include a call to action. Make it prominent in your copy.
Optimize Your Visuals
Your product images are more than just a visual representation of your product.
They should communicate value, like your web copy. Make sure your images highlight your product's benefits and USP as well.
For example, check out this featured image for a desk organizer on Amazon: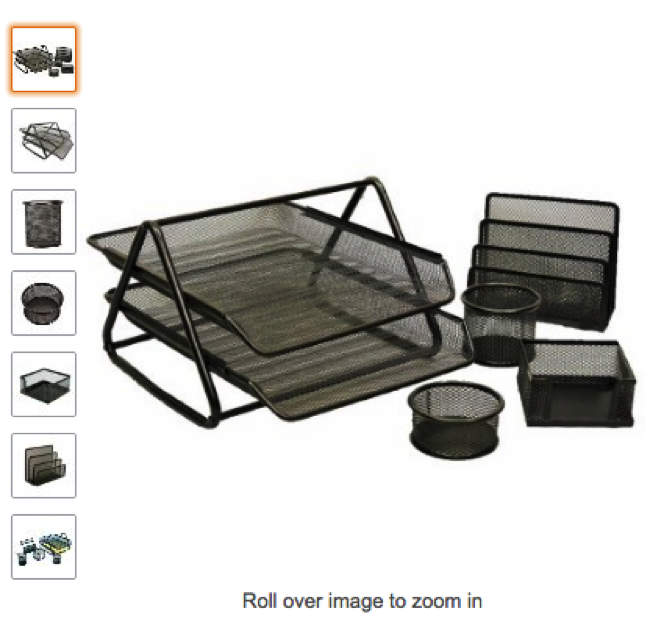 And compare it to this one: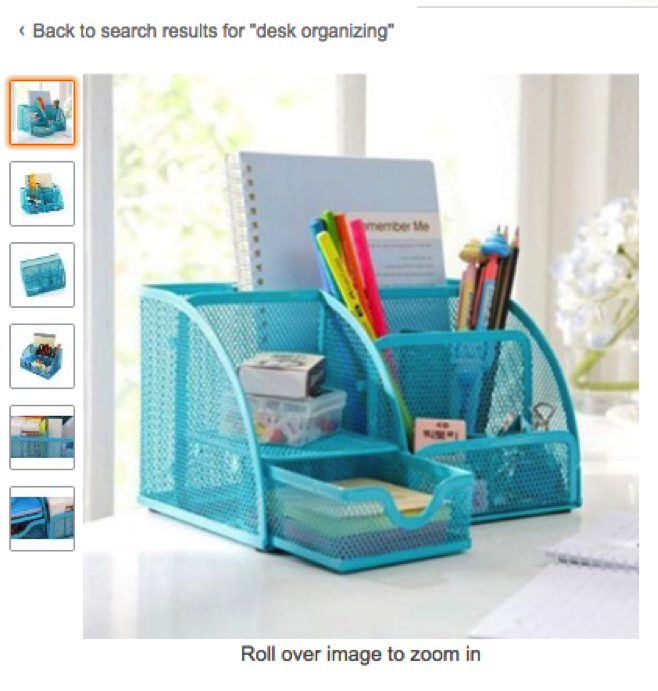 The second image does a much better job of highlighting the product's benefits – by actually showing a clean desk and organized office supplies.
The first image is just a pile of metal. Viewers have to imagine its real value themselves.
Selecting the right images to feature can say a lot about your product, so choose wisely.
Offer Social Proof
Some e-commerce sellers shy away from boldly displaying customer reviews with their products, but it can do a lot of good: 90% of shoppers say positive online reviews influence their purchasing decisions.
Show visitors your e-commerce store is trusted by real people:
Feature customer reviews
Highlight testimonials from customers
Ask influencers or celebrities to become brand advocates
Offer data on your growing number of happy customers
If you need some inspiration for ways to incorporate social proof into your listings, check out how Booking.com does it: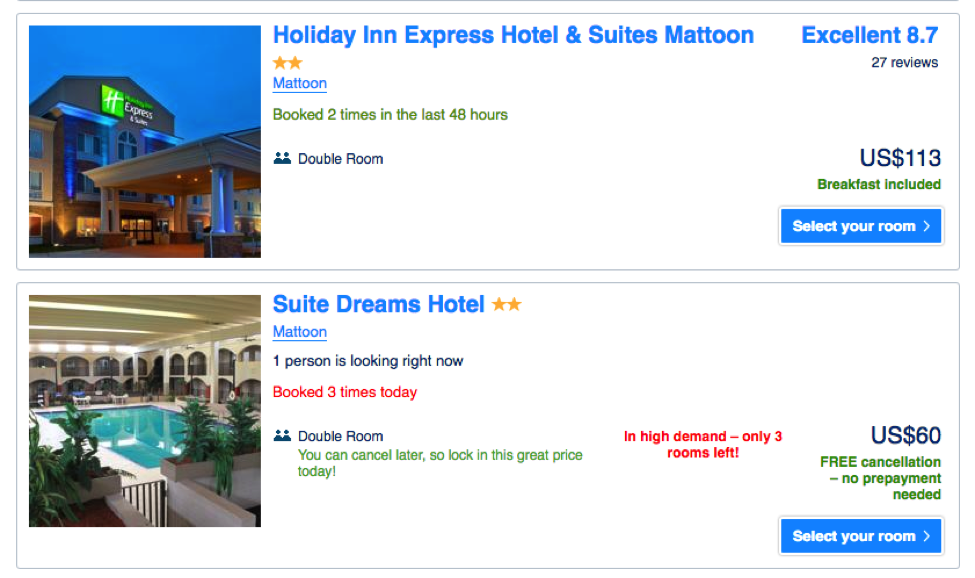 They display average rating, number of reviews, and how many people have booked a hotel recently. Highlighting what people are saying and what they're actually doing offers an extra layer of social proof.
Booking.com also shows you when other people are looking at the same listing as you, which adds a nice sense of urgency to it.
Highlight Sales and Specials
Discount shopping is not a new thing. And with the help of Groupon and similar services, people are always on the lookout for sales.
Some people (47%, in fact) simply won't buy a product if it isn't on sale. So make efforts to highlight sales on your product pages, and make it easy for shoppers to find specific sections for sales and specials.
For example, REI does a great job of highlighting sales, deals, and savings: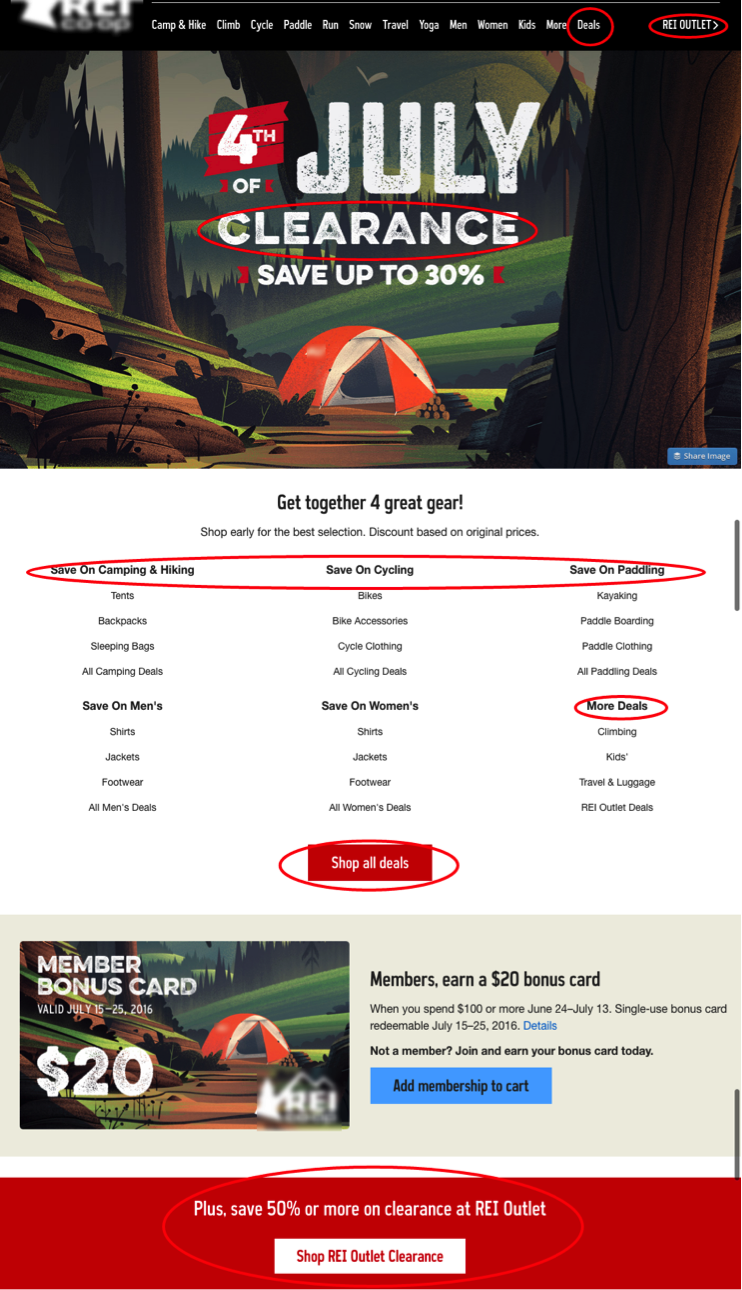 Offer Support
Customer support during the shopping experience is expected.
A LivePerson report found 83% of consumers said they consistently need some type of support during their online shopping. What's more, 31% of them need online support immediately, while 40% of them require assistance within five minutes.
A great way to cater to your website visitors' unique needs is with live chat. In the US and UK, 31% of shoppers say they're more likely to make a purchase after using live chat.
So make it as easy as possible for shoppers to contact you during the purchase process.
Simplify Checkout
Requiring sign ups is good for segmentation and email marketing, but bad for sales overall: 23% of online shoppers abandon a cart if they have to create a new user account to check out.
Offer options, such as guest checkout, to decrease cart abandonment.
Another factor to consider is payment options, as limiting payment options can also affect conversions. Which payment methods do your customers want to use? There are a lot to choose from:
Debit cards
Credit cards
PayPal
Bitcoin
Gift cards
Make the checkout process as easy to navigate as possible, and remove any major barriers to completing the process.
Tackle Cart Abandonment
No matter your efforts to encourage conversions, cart abandonment is a reality of e-commerce. According to Baymard Institute, 67.45% of online shopping carts are abandoned.
If your cart abandonment rate is significantly higher than that, you might have some design flaws to address in your checkout process. Otherwise, make efforts to get back in touch with your "almost conversions".
You can:
Send out a cart abandonment email
Remarket to them with Adwords PPC or Facebook ads
When you do remarket, I recommend offering discounts. According to a 2014 e-commerce survey, 54% of shoppers will purchase products left in shopping carts if they are offered again at a discount.
Gilt got creative with their cart abandonment email by making the items "expire":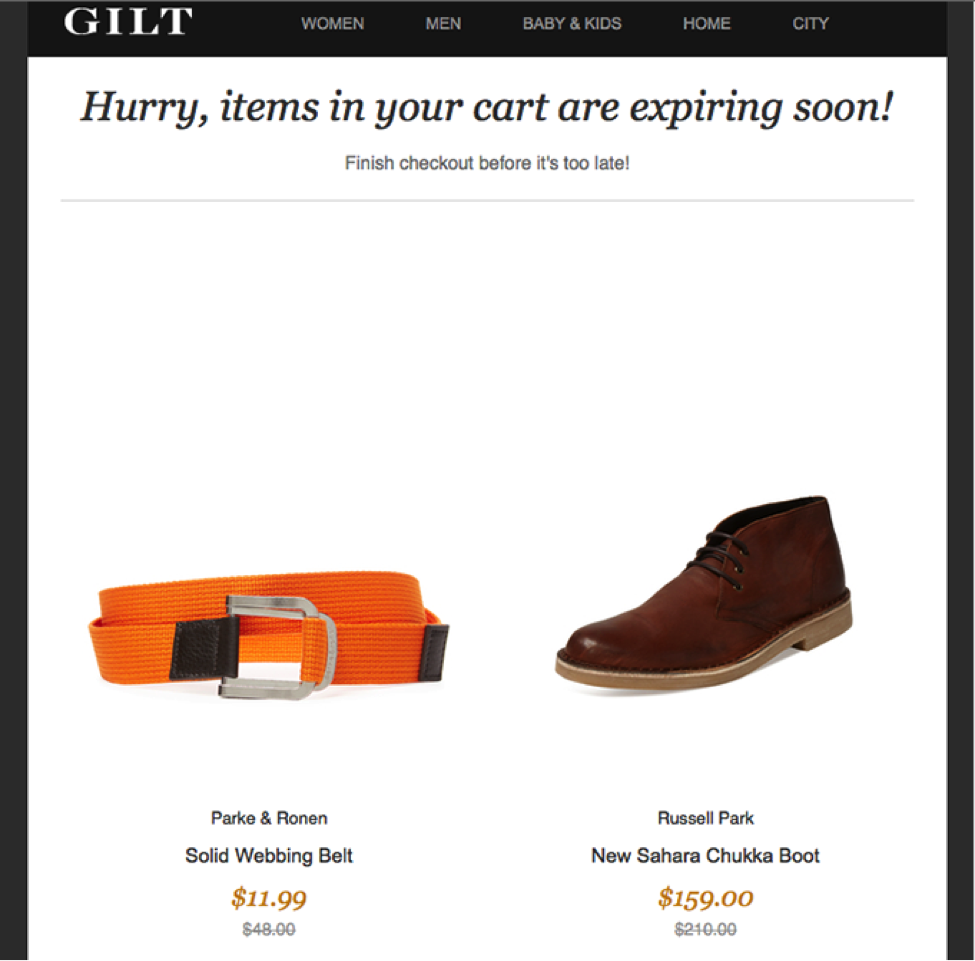 It's another nice urgency tactic.
Offer Free Shipping
Many e-commerce sellers hate to hear it, but you need to offer free shipping if you want to boost conversions.
Here's what happens if you don't offer free shipping:
It increases cart abandonment. During the checkout process, if shipping and handling costs are too high, 44% of customers will abandon the shopping cart outright.
It sends shoppers to your competitors. Forrester research found "75% of consumers would buy from another retailer that offers the same product but with free, two to three-day expedited shipping. If you don't keep your shipping rates up to par with your competitors, you'll be sure to lose conversions."
Eating the shipping costs might not sound like a fun prospect, but there is some good news about it:
93% of people say free shipping on orders would encourage them to purchase more products.
Orders with free shipping average around 30% higher in value than those that charge for transport.
Encourage Loyalty
Encouraging repeat customers is probably the most important strategy to boost conversions in e-commerce.
In fact, 43% of profits come from retained customers for average e-commerce stores. The margin increases to 80% for best in class.
Encourage customer loyalty by offering a points or rewards program for repeat purchases. More Forrester research found that one customer in a loyalty program spends up to 13% more than two non-members.
Here are some loyalty strategies you could consider:
Using a simple point system
Charging up front for VIP benefits (like Amazon Prime)
Offering discounts and free samples
Using a tier system with increasing benefits to encourage more purchases, like in this example from AHAVA:
Skip the year studying optimization. Instead, take advantage of these strategies to boost conversions today.
Know any other tips to increase e-commerce conversions? Comment below.
Image Credits
Featured Image: FirmBee/Pixabay.com
Screenshots by Matthew Orlic. Taken June 2016.