BloomReach today released Continuous Quality Management (CQM) technology delivering ongoing web page quality visibility and management. If you haven't checked out BloomReach, they are a pretty sweet analytics software that helps customers analyze the long tail. CQM introduces four types of continuously updated quality metrics for every page managed by BloomReach including content, behavior, uniqueness and flux. CQM gives marketers more control over the quality of each page published by combining marketer judgment with machine-learning to deliver the best user experience, matching content to intent.
I reached out to their CEO Raj De Datta who said "Marketers often are at a great disadvantage with very limited visibility into every page on their site – especially when they have thousands of pages to manage. When you only have access to metrics like bounce rates, time-on-page, conversions, etc., it's easy to judge a page through these metrics in isolation which can lead to wrong assumptions. It's difficult to understand which pages should be retired or created or manually edited. By giving them access to understandable scores that use our big-data algorithms that our Web Relevance Engine has refined throughout the past four years, we feel that marketers – in conjunction with our product and engagement managers – can make well-informed decisions and take action to have a direct impact on individual web-page quality, ultimately improving the discoverability and revenue-generation of an entire site."
The Metrics of Continuous Quality Management
The four types of metrics within CQM are Content, Behavior, Uniqueness and Flux. Every metric can be used for analysis, filtering and to set thresholds for action.
Content is determined by interpreting a page's topic and comparing the content to the topic. Content Quality considers the number of unique, relevant products on the page as well and the fit of the products and their attributes to the intent.

Behavior is measured by integrating traffic metrics such as bounce rate, conversion in addition to other factors.

Uniqueness is measured using BloomReach's

Dynamic Duplication Reduction (DDR)

technology to determine how much of the content on the page is unique versus other pages on the site.

Flux captures the rate of change of products on the page, which is critical to understanding why quality can degrade over time and critical to predicting pages that require further inspection.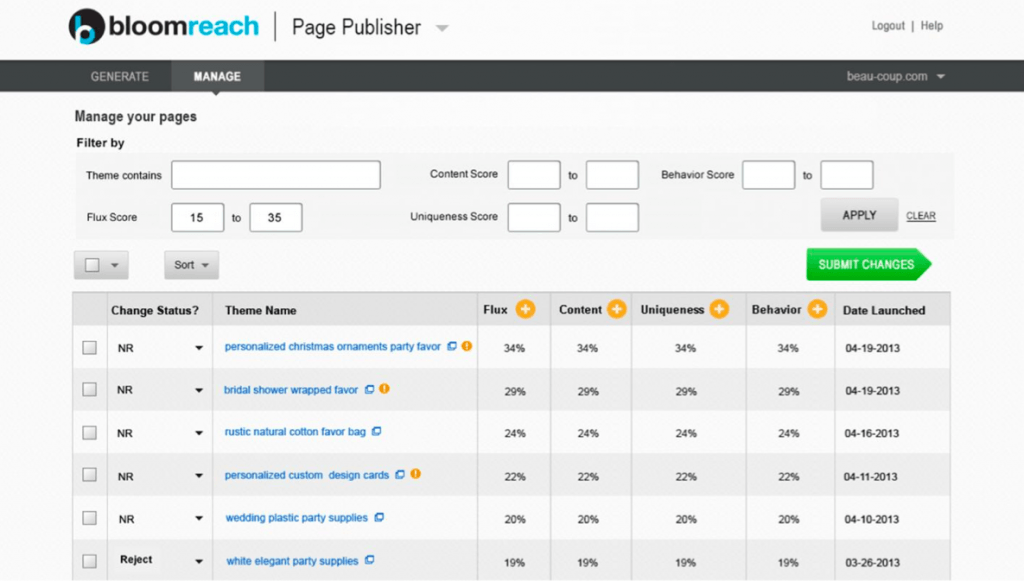 "The perfect balance of technology for generating high-quality content and relevant experiences are those that let machines do what they do best – interpret and act on unmanageable amounts of data – and leave the fine tuning and quality assurance to humans," said Raj De Datta, CEO of BloomReach. "The launch of CQM gives e-tail marketers a proven tool to manageably capture the long tail at scale with high quality, relevant content."
I'm interested to see where this technology takes our World. Does anyone use these guys, I'd love to have a deeper understanding of how they are liking the service.